Contributed by Rebecca Youngs, MIT RD
Here is a quick and flavorful grain salad that is perfect to bring to your next cookout or to make ahead of time and save for lunches throughout the week!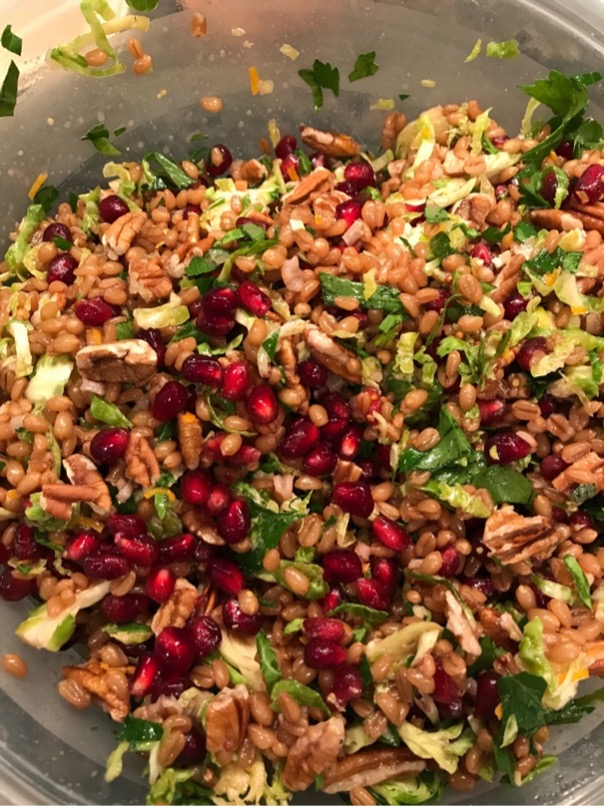 Key Nutrients and tricks:
This recipe is best with a chewy grain like Farro, Wheat Berries, or Barley, but it can easily be made with brown rice or quinoa.
To make this a lot easier, I used Poms pre-packaged pomegranate seeds! Pomegranate seeds are fully edible and full of antioxidants, fiber, flavanols that can act as an anti-inflammatory agent, and many bioactive compounds.
I love to add roasted pecans to this recipe for an added crunch and healthy fats. If you do not like pecans, try adding walnuts or almonds.
Brussel sprouts get a bad rap, but they are actually delicious and full of so many nutrients. By leaving them raw, they add crunch and soak up the dressing. If you do not like Brussel sprouts, try adding in arugula or watercress. You can buy them pre-shaved from the store.
If you are going to make a batch and save leftovers, leave out the goat cheese until the day you are eating it.
Ingredients:
2 cups of Farro
10 oz. of pomegranate seeds
¾ cup of roasted pecans, chopped
1 ½ cups of shaved Brussel sprouts
1 orange
½ cup of chopped parsley
½ of crumbled goat cheese + 3 Tbsp. of large chunks
¼ cup of red wine vinegar
¼ cup of olive oil
1 tsp. whole grain mustard
1 tsp. honey
Salt
Pepper
Directions:
Cook grain of choice in water or vegetable stock according to package instructions. Drain off any excess water and cool.
In a large bowl, combine the shaved brussel sprouts, pomegranate seeds, pecans, and parsley. Using a zester, zest the entire orange and add to the mixture. Add in the Farro.
In a small bowl, combine the red wine vinegar, olive oil, juice of half of the orange, mustard, honey, salt, and pepper. Mix together with a whisk. Add the dressing to the salad mixture and toss until coated.
Store in the refrigerator for 45 minutes for the flavors to develop.
Before serving, add in the crumbled goat cheese. Flake off some large chunks and place on top. Serve cold or at room temperature.