Our commitment to excellent service was rewarded recently when Fleet Feet Tucson was named as one of the Best Running Stores In America for the ninth year in a row.  The 50 Best Running Stores were selected after a year of research and reporting that included feedback from more than 1,000 consumers and input from a team of store "raters" from the Franklin Resource Group, the sports industry's 
leading in-store merchandising company.  More than 200 stores were ranked on 20 aspects of the visit, from a prompt greeting to being thanked for the purchase. Stores were also rated on product knowledge, environment and community involvement.
But, all you really need to know before coming into Fleet Feet Tucson is that we are here to serve you.  So, whether you're walking, running, training, working out in the gym, or just want to be comfortable in your daily life, we're here for you.
Anne Stancil, Fleet Feet Tucson's owner, takes pride in our commitment to provide outstanding customer service for every customer, every day.  Talk to me, tell me what will make a difference in your efforts to be active, and we will do our very best to meet your needs.  Stop in and let Anne and our outstanding staff help YOU run, walk and live a better life.
Anne feels like she is cheating somehow by owning a store where she can share her passion for fitness and health everyday.  She'll tell you it doesn't really feel like work. Having worked for Fleet Feet for 11 years, it was only natural that Anne become an owner. Originally from Atlanta, Anne moved to Tucson in 2010 from Madison, Wisconsin, where she worked for Fleet Feet Sports Madison for five years.  She began as a part time staffer in Madison while attending graduate school, but soon left her PhD program to work full time because she loved working at Fleet Feet. She was thrilled to continue her work with Fleet Feet Tucson, starting as a part time staff member, eventually working as the General Manager of both locations. Purchasing the business from Jeanne and Pete Snell in the spring of 2016 was a dream come true. An avid runner and triathlete, Anne enjoys participating in everything from 5K runs to Ironman triathlons. Her passion is helping others reach their goals, so if you need some motivation, she'll be happy to offer encouragement and advice.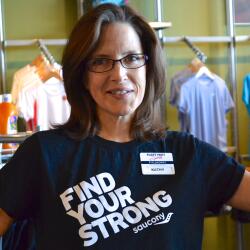 Kathy Bauer, Shipping and Receiving, Apparel Buyer
Parents usually inspire their children, but in Kathy's case it was watching her daughter's track meets that prompted her to put on running shoes. Kathy, a Tucson native, quickly found she enjoyed the simplicity and freedom running regularly gave her. Over time she's made great friends through running groups and has pushed herself to new limits. A veteran of several marathons and over a dozen half marathons around the west, Kathy can recommend more that just great gear, but also great places to run.
Hailing from the Boise, Idaho area, Matt began competing in triathlons in the late 80's, eventually finding that running was his true passion. Serving the last 20 years in the public service field, Matt has found his solace in running. The stresses of his job would melt away as the miles were put behind him. In 2008 Matt decided to run his first marathon and hasn't looked back since. Working at Fleet Feet is a dream come true, because it combines Matt's love of running and passion for helping others--the perfect combination for a recipe for happiness. 
Amanda has always had a passion for helping people and for health and wellness, so coming to work for Fleet Feet Tucson is a great fit. After serving over seven years in the Air Force and teaching with TUSD for 10 years, Amanda brings her talents to our sales floor. In addition, Amanda coordinates our Community Kicks program, which provides footwear to those in need in our community. When not working and coaching one of Fleet Feet's training groups, Amanda enjoys running with friends and spending time with her dogs and cats, all of whom she rescued here in Tucson.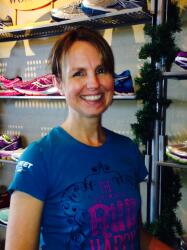 Valerie Hentig, Fit Specialist
Valerie found her way to Tucson from Western Michigan, and while she misses home from time to time, was happy to trade her snow shoes for trail running shoes. Having worked as a dental hygienist for over 20 years, Valerie wanted to share her passion for fitness and health with others, and working for Fleet Feet is the perfect fit! When not working, running, and hiking, Valerie stays busy taking care of her three boys (4 if you count her husband!). After a brief relocation to Michigan, Valerie and her family realized Tucson was calling their name and came back--lucky for all of us!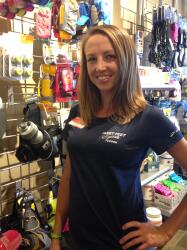 Carly Keim, Fit Specialist
Carly comes to us from the beaches of Florida, and we're hoping to turn her into a permanent desert dweller. She's traded in her wakeboard for trail shoes, and is getting familiar with mountains, rocks, and dirt. Carly is an experienced wildlife educator--which came in very handy one day when we had a lizard sneak into our back door. As an animal lover, Carly's favorite running partner is her dog, Turtle. In addition, Carly runs to raise awareness for Duchenne Muscular Dystrophy in support of her nephew, Markie. Learn more about Duchenne MD and how you can help by visiting runforoursons.org.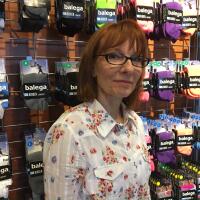 Suzie Tucker, Fit Specialist
We didn't have to look very far to find Suzie--her husband Matt works for us as well! She comes to Fleet Feet with a wealth of experience working in retail. Most recently, she worked at both Relax the Back locations here in Tucson. We thought it was only natural for her to apply her knowledge of anatomy and mechanics to the feet! When not working, Suzie enjoys spending time with Matt and their son, Vince and creating beautiful crafts.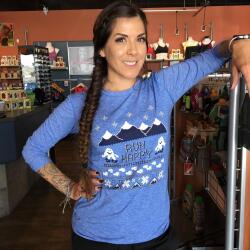 Liz McDougald, Fit Specialist
Liz is all about fitness and health. She came to Fleet Feet as an instructor for our free INSANITY classes, and we decided she needed to be here all the time! Having worked as a teacher and restaurant manager, Liz brings her talents and passion for helping others to our sales floor. Liz still teaches our INSANITY workouts and other classes as well, and she'd love to show you how cross training can improve your fitness and wellbeing. When not at work, Liz is busy raising her 4-year-old daughter with her her husband. 
Max Ridgeway, Fit Specialist
Scott Roeder, Fit Specialist