Marion Turner
Head Coach and Training Group Coordinator
RRCA Certified, CPR and First Aid Certified
Marion is from Brisbane, Australia, a retired Navy wife who somehow landed in Tucson in 2009. She has been running most of her life and has run lots of half marathons and hopes to one day run a 50 miler and run rim to rim of the Grand Canyon. Marion has a degree in cello performance and when not running, hiking or working at Fleet Feet, she is teaching at her private cello studio. She believes that running is an incredible way to stay healthy both mentally and physically and she firmly believes in the power of running to "outrun the dark".
---
Anne Stancil
Coach
RRCA, AED, CPR and First Aid Certified
Anne is Fleet Feet Tucson's owner and has been coaching Fleet Feet Training programs for 15+ years. Originally from Atlanta, Georgia, Anne began running in college as a way to stay in shape and relieve stress. She never dreamed that running would change the direction of her life in 2008 when she left her PhD program at the University of Wisconsin-Madison to work at Fleet Feet full time. And the rest, as they say, was history. An avid runner and triathlete, Anne has raced and trained at every level. She's proud to have raced three full-distance Ironman Triathlons, but enjoys shorter-distance training these days. Her passion truly lies in helping others reach their goals and continues to be inspired by our training group participants.
---
Morgan Zerbe
Strength and Conditioning Coach
NASM-CPT, PES, CPR and FIrst Aid Certified
Morgan is a native Arizonan originally from the Phoenix area. She moved to Tucson in 2007 to study at the University of Arizona. Growing up as an athlete, fitness has always been a big part of Morgan's life. However, she really learned to enjoy running for the sake of running when she joined the Fleet Feet Training groups in 2012. She has even gone on to complete several 5k and 10k races along with several Ragnar endurance races. Morgan's drive to help others has led her to her day job as a civil servant and to become a Certified Personal Trainer. Morgan joins the coaching staff as the strength and conditioning coach for our Fleet Feet Tucson training groups.
---
Holly Timpf
Coach
Holly grew up in Tucson and has lived either here or in Phoenix for most of her life. Holly joined the Fleet Feet running group in 2019 and ran her first half marathon. Since starting, she has completed 11 half-marathons. Holly is a CPA, works a full-time job, and raises a 6-year-old daughter. Life is busy but she believes that running is a value-added activity that enhances her life. She believes that running can bring people together and is in awe of the friendship that can develop between two or three strangers on a long run. Holly has a goal to someday run a marathon.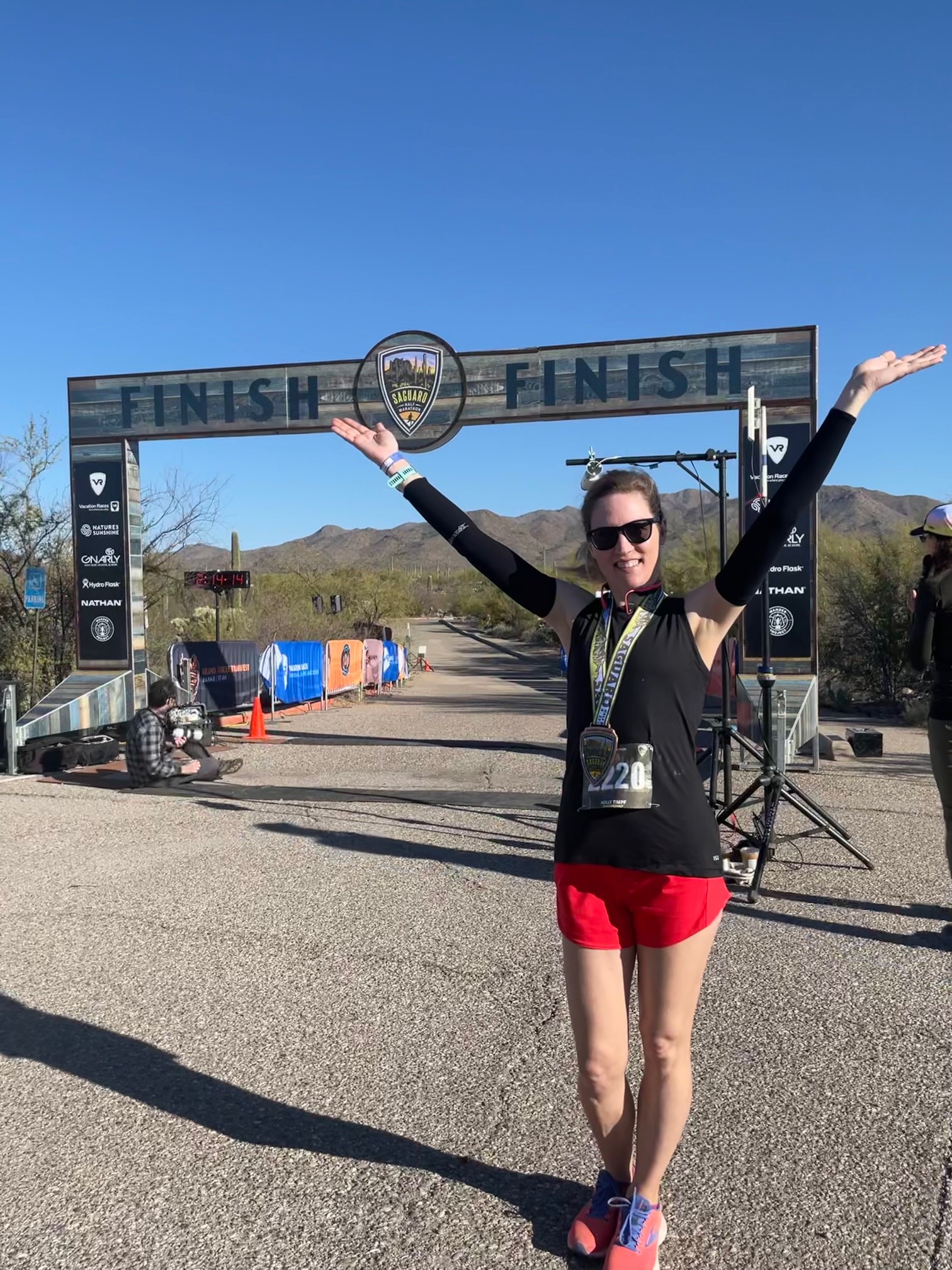 ---
Felicia Hernandez
Coach
Originating from Williamsburg, VA, Felicia has traveled far and wide living in various states across the country as a Navy wife. She started running as a young adult when her dad dragged her along for a run, and she quickly discovered that she loved the mental and physical challenges, seeing her times continually improve and mileage increase, as well as traveling to fun race destinations. Felicia most recently picked running back up after her daughter was born to get back into shape and build community in a new state. She started attending Thirsty Thursdays, joined the 10K and half marathon training groups, and working at Fleet Feet. In addition to being a runner, Felicia is a wife and mom to a 2.5-year-old girl, 9-year-old rescue pup, and 8 chickens. In her spare time, she enjoys hiking and being outdoors, yoga, wine tasting, and a good book.
Meet Our Coaches
Program Start: April 11, 2023
Program Fee: ex: $120 excluding race fee