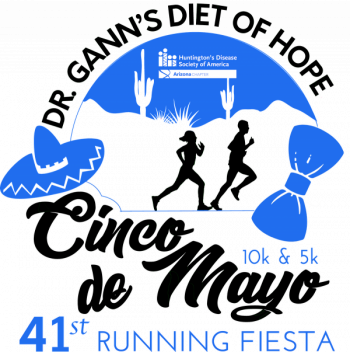 Dr. Gann's Diet of Hope Cinco de Mayo 10K/5K/1 Mile
Sunday, 5/7/23, Cholla High School 2001 W Starr Pass Blvd, 6:30am
Event Description
The 10K race is part of The Running Shop SAR Grand Prix.
The 40th annual edition of Tucson's most festive 10K and 5k winds its way through Starr Pass in the foothills of the Tucson Mountains. Run or walk the gorgeous course with beautiful mountain scenery and great views of the Tucson basin. Afterwards, join us for a Cinco de Mayo Celebration featuring a live mariachi band.
All participants receive a Technical Shirt and Post-Race Breakfast featuring hot Breakfast Burritos, Cookies, Coffee, Eegees, a super-cool finisher medal, and more!
Kids will enjoy a Sombrero-Topped Kids Race, Pinata, and Water Balloon Toss.
Kids will also love the Fitkidz 1 mile race, free for kids ages 12 and under!
Also, join in the team competition with 5 or more of your friends to compete for a team prize from Tap and Bottle!
This race is part of The Running Shop Grand Prix, produced by SAR.
Event Timeline:
6:30am – 10K walk
6:35am – FitKidz Mile
7:00am – 10K run (Running Shop Grand Prix Race) & chair
7:05am – 5K run/walk & chair
Fees & Registration
To Register online, click HERE
Registration fee for all events is $36 prior to the first price increase. SAR members get $2 off. FitKidz mile is free for kids 12 and under.
Print a mail-in registration form HERE.
Volunteer
Please volunteer HERE.
Packet Pickup Info
You can register and pick up your packet at the following locations:
Fleet Feet – Friday, 5/5/23
|
7607 N Oracle Rd #121, Oro Valley, AZ 85704 | 3:00 PM to 6:00 PM
Race morning – Sunday, 5/7/23
| 5:30-6:30am at Cholla High School
2001 W Starr Pass Blvd
Course Info
The courses roll up and down in the beautiful Star Pass area with a downhill fast finish!
View 10K Map HERE
View 5K Map HERE
Awards
10k:
►Top 3 Overall Finishers (Male and Female) 1st $50,2nd $35, 3rd $25 gift card to Fleet Feet and Pint Glass
►Top 1 Masters Finisher (Male and Female) $35 gift card to Fleet Feet and Pint Glass
►Top 3 in each 5-Year Age Group (Male and Female) Pint Glass
►The following Age Groups will be awarded 19 and under, 20-24, 25-29, 30-34, 35-39, 40-44, 45-49, 50-54, 55-59, 60-64, 65-69, 70-74, 75-79, 80+
►Top 3 in chair division (no gender) Pint Glass
Note: No double dipping
Note: Anyone 70+ in the 10k walk is eligible for age group
awards
5k:
►Top 3 Overall Finishers (Male and Female) 1st $35, 2nd$25,3rd $20 gift card to Fleet Feet and Pint Glass
►Top 1 Masters Finisher (Male and Female) 1st $25 gift card to Fleet Feet and Pint Glass
►Top 3 in each 5-Year Age Group (Male and Female) Pint Glass
►The following Age Groups will be awarded 19 and under, 20-24, 25-29, 30-34, 35-39, 40-44, 45-49, 50-54, 55-59, 60-64, 65-69, 70-74, 75-79, 80+
►Top 3 in chair division (no gender) Pint Glass
Notes: No double dipping
Beneficiaries
Huntington's Disease Society of America (HDSA)
Cholla High school scholarship fund Marichi program
SAR and the SAR FitKidz Program