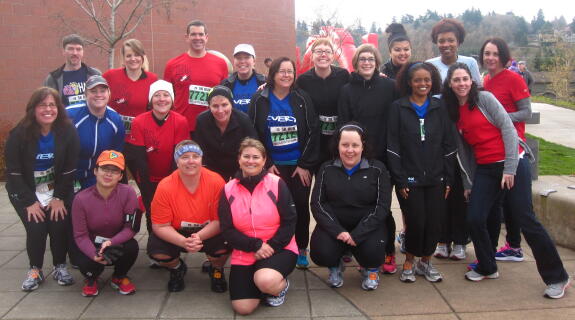 Be a part of the Fleet Feet Seattle Mentor Team!
Mentors play an important role in ensuring the success and enjoyment of our training program participants! Do you have what it takes to be a Fleet Feet Seattle Mentor? We are currently looking for mentors for our training programs ranging from 5K to Marathon distance.
The Fleet Feet Seattle Mentor Team is a passionate group of run and walk mentors who help people reach their goals of running and walking.
What is a mentor?
At Fleet Feet Seattle mentors are an invaluable resource to participants of our training programs and an "on the road" representative of Fleet Feet Seattle. Mentors attend the training program workouts and provide support to the participants. The primary roles of a mentor are as follows:
Maintain a positive attitude with the group and be a motivating force.
Model courteous and safe running behavior to the group.
Be able to keep (with GPS watch or by feel) the assigned pace for the group.
Send a weekly email to mentees to check in and provide support.
Educate participants about products and solutions unique to Fleet Feet Seattle.
What are the requirements to be a mentor?
Able to be a Fleet Feet Seattle store ambassador.
Can attend at least 80% of training program practices.
Has successfully completed at least two races at your desired distance.
Check in with each mentee during the run at each practice.
A desire to motivate others and help them achieve their goals.
Read weekly emails from the head coach and have a working knowledge of the workout and route.
Pass along information from the coach that is important to the participants.
Attend a Fleet Feet Seattle Mentor Training Session.
What are the benefits of being a mentor?
The feeling of knowing you've helped someone 'Be the Movement' and assisted them along their running or walking journey.
Free entry into the training program that you will be mentoring.
Free entry into the goal race.
Training Program discount in-store for the duration of the program.
Did I mention the feeling you get from helping someone along his or her running or walking journey?
Join us today and submit a mentor application!
Questions? Feel free to contact Drew, our Training Program Director.