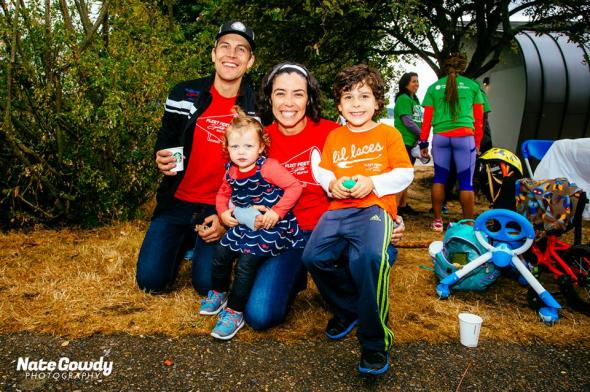 Brian and Andrea have been with Fleet Feet Sports Seattle since it opened in 2010. Prior to that, Brian was the manager of the Seattle Running Company.
It all started the evening Brian had ACL surgery. (No, it was not a running injury. It was an Oregon Coast sand dune air guitar jumping injury.) Andrea and Brian attended a mutual friend's party up in Bellingham. Andrea knew no one, and Brian was on crutches AND on post-surgery medication. They chatted, eyes sparkled. A few weeks later, Andrea lasted out a three-hour Pearl Jam conversation with flying colors, and they have been together ever since.
Having grown up in the Pacific Northwest, Brian has always had a love for the outdoors. However, he really didn't discover running until his early twenties. In fact, prior to college, he more or less dreaded running. The spark that really got him going was the opportunity to climb Mt. Rainier with his Uncle Bill. He began to run on a more regular basis to get in shape and actually started to enjoy it. Shortly thereafter, he discovered trail running and completely fell in love with the sport.
In 2003, Brian moved to Seattle and soon found himself working at the former Seattle Running Company, which would go on to be our Fleet Feet Sports of today. He became the manager of Seattle Running Company and fell in love with Seattle's supportive and dynamic running community. During that time, Andrea would run the occasional 5k, but mainly found herself traveling the state to support Brian at his races.
We have great staff, great customers, and great vendors, and feel so lucky to be able to combine our passion for fitness with work.
These days we find ourselves living in Ballard, which makes for a nice 7 mile run into work for Brian to the Capitol Hill store, or a nice stroll down the street for our new Ballard store. We have two little people, Jack & Amalia, who often make appearances at the store. We have the sweetest border collie mix named Kiwi.
We look forward to being a part of this community for many years to come!
More about Brian's Running and Race Directing:
* The Central Governor, Chapter 16 of Scott Jurek's Memoir: Eat & Run: My Unlikely Journey to Ultramarathon Greatness
* Interview with Scott Dunlap, well-known trail running blogger
* Interview on Ultrarunner Podcast
* Interview on Ginger Runner Podcast
* A Decade On, film about Brian's return in Western States
* Teanaway Country 100: The Hardest Hundred You've Never Heard Of
Locations
Capitol Hill
911 E Pine Street
Seattle, WA 98122
M-F: 11 am - 8 pm
S: 10 am - 6 pm
Su: 10 am - 5 pm

View Store
Ballard
5404 22nd Ave NW
Seattle, WA 98107
M-F: 11am - 7pm
S: 10am - 6pm
Su: 10am - 5pm

View Store