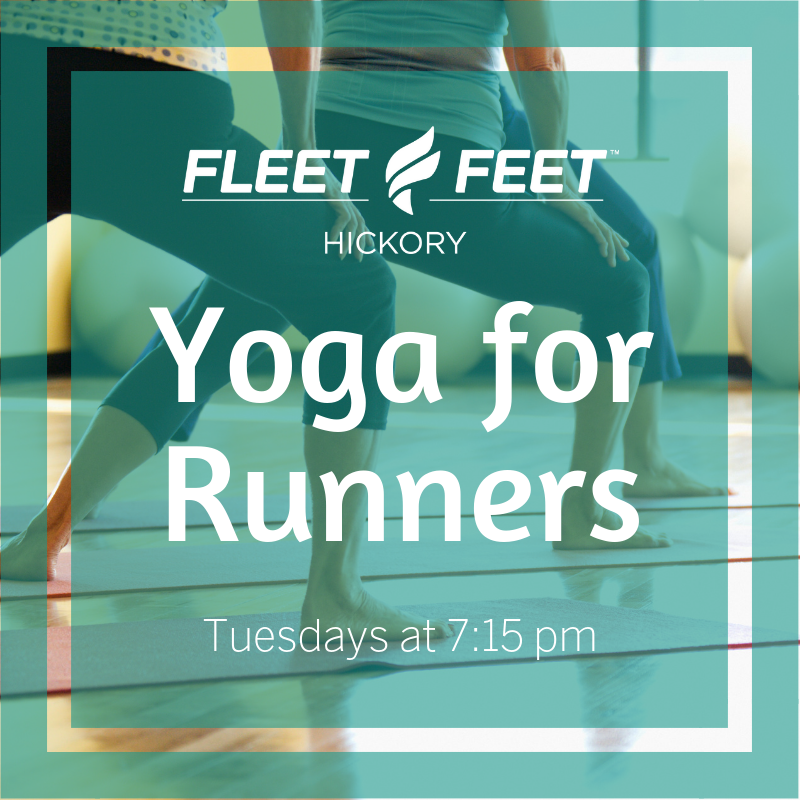 STARTING JUNE 13, 2019, YOGA FOR RUNNERS WILL BE ON SUMMER VACATION. WE WILL UPDATE YOU WHEN IT STARTS BACK UP AGAIN. HAVE A GREAT SUMMER!!!
Classes will be held at Fleet Feet Hickory on Tuesdays at 7:15 pm.
Each yoga class is specifically designed with the active person's body in mind. All levels welcome and encouraged to attend. No prior yoga experience is necessary. Yoga will challenge and inspire you all to take care of your body and mind all while having fun! Join us and improve your flexibility and strength, improve your balance and body awareness and strengthen your core.
Ali Haines, RYT 235 has been practicing yoga for over 20 years and teaching since 2011. She teaches Hatha classes.
"Yoga provdes a wonderful opportunity to explore limits, learn about the mind-body connection, develop strength in suprising ways, and find inner peace." -Ali Haines
Prices: $5 a class
5 for $20
10 for $40
Program Start: May 14, 2018
Program Schedule: Monday's from 7:15 - 8:30
Program Fee: $5/ class, or $20/ 5 classes $40/ 10 classes