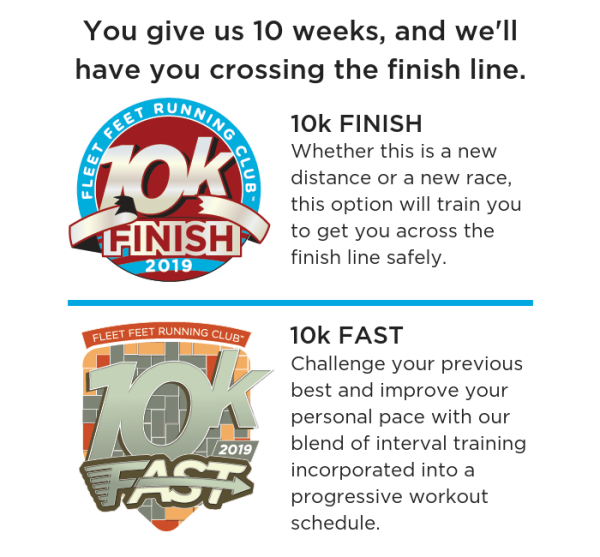 Want to do the Cooper River Bridge Run in 2019? We have the perfect group for you!
Training begins January 22nd!
Our 10k program offers a 10 week coached intermediate running program that will help you build endurance, learn pacing, and accomplish miles. Our 10k training prepares you to run or run/walk a 10k in an effective and safe manner. This program is designed to provide a solid foundation for running longer distances, and offers pace groups for various abilities with support, motivation and encouragement from experienced coaches.
The cost of this 10k group is $115 and includes:
Race registration for Cooper River Bridge Run
10 weeks of training
2 weekly coached sessions with experienced coaches (Tuesdays at 6 pm and Saturdays at 7 am)
A comprehensive training plan for every day of the week
Weekly clinics on topics relevant to running and healthy living. (nutrition, hydration, injury prevention, etc.)
Exclusive Fleet Feet Hickory discounts for the duration of the training group
Free MilestonePod ($30 value) This simple shoe-worn device gives you: a smart shoe odometer; gait and performance metrics; and a convenient GPS back-up.
Technical T-Shirt
Special treatment for Fleet Feet participants at Cooper River Bridge Run includes:
Special race entry pricing of $35 (included in the cost of the training program).
All Fleet Feet training program participants will be in one corral. (Anyone wanting to move into a qualifying corral may do so.)
Special Fleet Feet only bag drop and Fleet Feet-specific tent and finish area sponsored by Mizuno in Marion Square.
After Party at Tradesman Brewery with food trucks and live music.
Sponsorship from Mizuno.
Program Start:
January 22, 2019
Program Schedule:
Tuesdays at 6 pm and Saturdays at 7 am
Goal Race:
Cooper River Bridge Run
Program Fee:
$115 includes race registration
Description:
Information Meeting: January 18, 2019 at 6 pm