Foot Soldiers Local Eagle Scout Project Raises Shoes and Socks for the Homeless
Columbus, Ohio (June 30th, 2013) -  Foot Soldiers is an Eagle Scout project founded by Sam Hickman and sponsored by Matthew 25:35. It's goal is to provide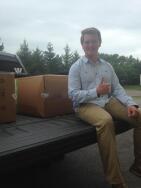 gently used shoes and new socks for the homeless in downtown Columbus.
Foot Soldiers founder, Sam Hickman, says he saw the need for the Eagle Scout project after traveling to Nashville and Chicago on mission trips. " I noticed so many people on the streets went barefoot and had no shoes. This inspired me devote my Eagle Scout Project to a shoe and sock drive that would help the homeless right in Columbus, " explains Sam.
Foot Soldiers is gaining community support and has two permanent drop off locations and two local events planned. "We have been lucky to get the help from Chief Highley at the fire station, as well as Jon Cook and the McConnell Art's Center," Sam notes.
Most of the community involvement began on social media outlets, where the grass roots campaign began. Foot Soldiers can be found on Facebook, Instagram, and Twitter @footsoldierarmy. Currently there are over 200 followers across all three social networks. 
The Foot Soldier shoe and sock drive runs from July 1st-July 18th. Foot Soldiers has two permanent drop off locations: the Worthington Fire Station and the McConnell Arts Center. The Worthington Fire Station is accepting donations 24/7. The McConnell Arts Center is accepting donations during business hours.
Foot Soldiers will also be at the Worthington community Fourth of July celebration. The Foot Soldiers tent and table will be on the lawn of McConnell on July-4th, from 5-9. Foot Soldiers will also be accepting donations at Kroger (Worthington Mall), on July 5th, from 11-3.
About Foot Soldiers: Foot Soldiers is an Eagle Scout Project sponsored by Matthew 25:35 and Sam Hickman. Its goal is to raise gently used shoes and new socks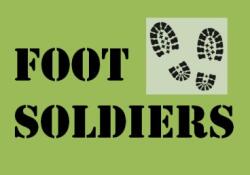 for the homeless in downtown Columbus. The drive runs from July 1st-18th. Distribution to the homeless is July 19th. For addition questions, follow us on social media or email footsoldiers2535@yahoo.com 
Foot Soldiers Local Eagle Scout Project Raises Shoes and Socks for the Homeless More Info »