Get Better Stay Better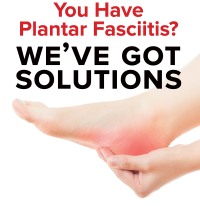 Fleet Feet Sports has a wide range of product options that fit all budgets to help ease and find relief from Plantar Fasciitis.
Remember, Plantar Fasciitis is a medical condition, so please consult your physician on specific treatments or diagnoses of the condition.
The Strassburg Sock
Feel Better (while you are healing)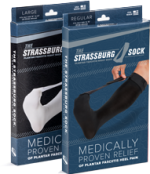 Icy Feet
PF Massage Ball
PF Compression Sleeve
Superfeet insoles
Shoe Recommendations
Massage Rollers
Training Advice
Every case of PF is unique to each individual but the methods to find comfort can work for most. To find some relief take a holistic approach to find your best pain free days ahead. We at Fleet Feet Orlando use a two method approach to relief, active and passive.
A passive method is most commonly referred to utilizing products that are easy to adjust to and do not require much more than adding them into your daily attire.
Wearing quality supportive, lightweight footwear is the #1 recommendation as a starting point and to avoid going barefoot. Also best for prevention and return of condition.
A supportive and accommodative insole such as Superfeet can be placed into your footwear and is recommended to help stabilize the foot and reduce the stress to the plantar fascia. Also best for prevention.
Support Sandals to avoid going barefoot for quick trips or around the house.
Wearing a night splint like the Strassburg Sock. A medically proven relief and healing method with a significant reduction in time of healing.
A PF sleeve provides medical grade compression, arch support and protection against strains. This can be worn in addition to socks and shoes for the ultimate daily grind comfort.
An active method of treatment requires the individual to put more effort into personal massage therapy. Muscle contraction needs calcium, magnesium, sodium. These electrolytes are vital for the human body to function efficiently. Before beginning an "active" program. Make sure you are hydrated properly.
Utilizing a personal massage tool such as the MediDyne rollers for the lower extremities especially in the lower calf region.
The PF Ball from Strassburg Medical is perfect solution for instant relief anytime by massaging the affected area.
Using an icing method like Icy Feet to reduce inflammation.
Trigger point therapy