Discover Workplace FIT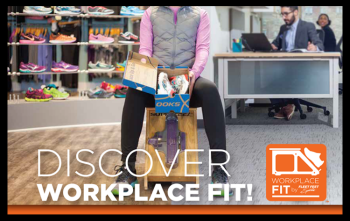 Fleet Feet Sports is driven by the mission to engage and inspire the community to get healthy, fit, and active. Our experienced, professional staff are available to provide your workplace with personalized fitting based on your company's needs. The staff at Fleet Feet Sports is eager to help your company promote a healthy lifestyle which can in turn produce a more enthusiastic and productive workplace. We can help make your company event, health initiative, training program, and/or health fair more engaging for your team! We will bring our customized service to you! Bring our in-store service to your employees for free!
Premium selection of running shoes in a range of sizes and widths
Professional service from our experienced team of fit specialists
Important essentials including insoles and socks
Set-up and service for groups of all sizes
Special on-site savings and offers
Five Easy Steps to Success!
Select a date and a three-hour window of time
Reserve a centrally-located space
Decide on employee out-of-pocket costs utilizing our customizable payment plans
Promote internally using our turnkey marketing materials
Use our pre-event employee sign-up form for on-site efficiency
There really isn't a "Best Shoe" or "Best Brand." Everyone has unique needs and what is best for someone else, may not be best for you. The path to your "best" solution starts with getting fit to determine which shoes give you what you need based on the 3 criteria stated above.
Now booking, contact us today!