Originally from Spokane, Chris Schroll and his wife Kristin moved to Portland to run our Drop Shop location. Then coronavirus happened. Chris and Kristin have helped navigate our store reopenings in Portland, and are currently taking the lead at our Lake Oswego location. Below is Chris' perspective on friendship with...Chris.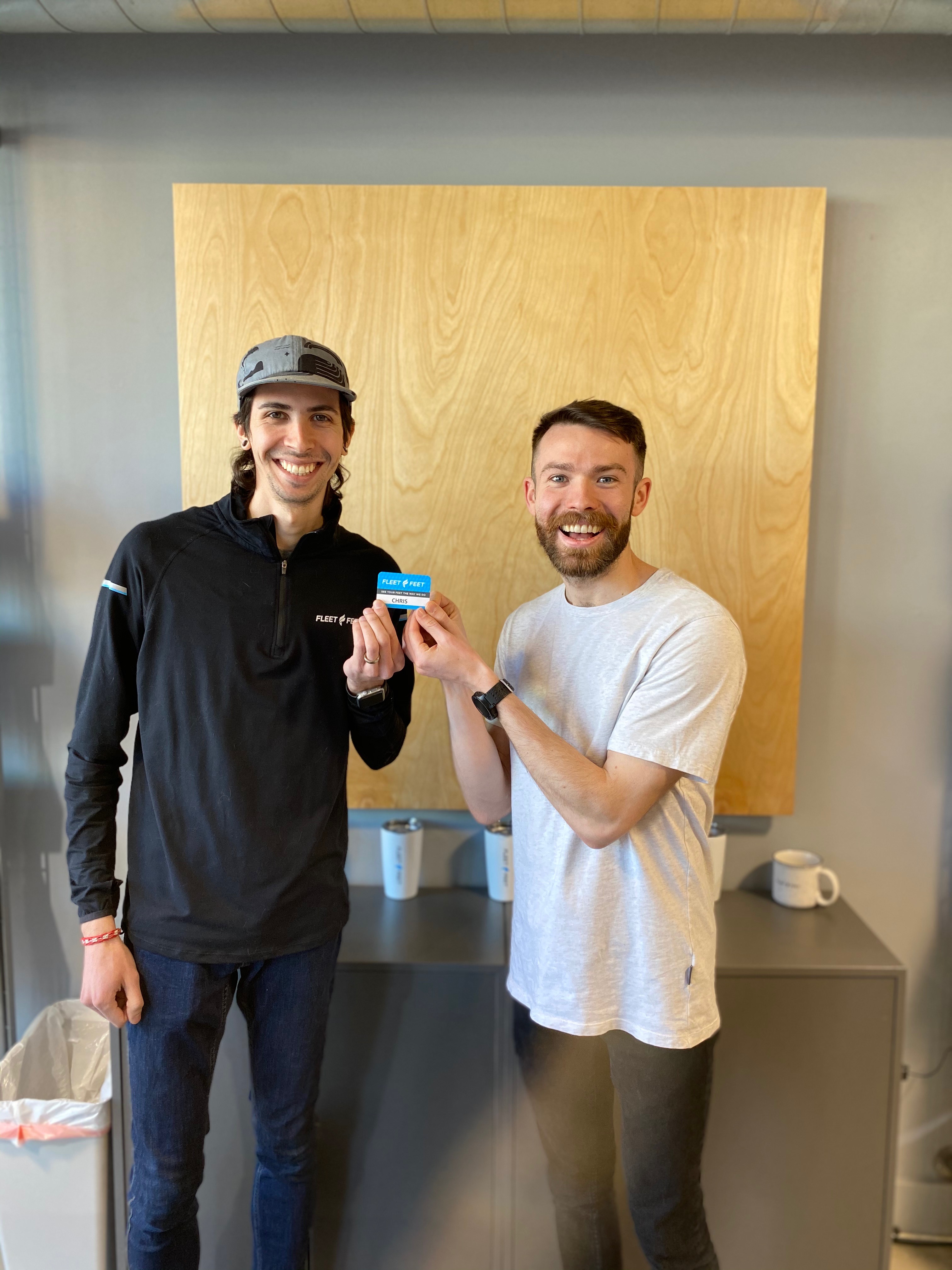 In the beginning, there was only one Chris. I roamed Spokane free, claiming the trails and running routes as my own. As I floated along my usual routes, I held firm in the belief that no Chris has, nor ever would, run these trails like I had. I was a lone wolf, and I wasn't about to share my namesake with any other.

Then, one fateful summer day, I saw him. A few inches shorter, but lean and dark haired like myself. The most distinguishing feature between us was his abundance of facial hair; my bare face paled in comparison. I knew in that moment I was no longer the only Chris in the running game. Only one question remained; would he be friend, or foe?

As we were first introduced, I knew what was coming. Your name is Chris? Mine too! He would exclaim. I would smile along politely, but inside I would be reassuring myself that I am the superior Chris. We began to talk and I learned that he and I overlapped in our collegiate careers, but we never ran into one another. Definitely foe. He told me he was more of a "middle distance guy" in college. Probably cocky, most of them are. Inside my head, I was fitting him into a box: he probably believed his natural blend of fast and slow twitch muscles, allowing him to cover a single mile both efficiently and quickly, were superior, while I held that the countless miles I had covered with my overwhelming proportion of slow twitch muscles had earned me the right to claim dominance. He is most definitely foe.

Then we started to talk about music and realized that we liked most of the same artists. I also discovered that we both had tattoos, and liked good coffee, and that he had trained for and ran a marathon, and was preparing for the Chicago Marathon that fall. In those next few days, I came to realize that maybe there could be two Chris'. Maybe…

Chris and I actually became rather good friends. I kept up-to-date on his training for Chicago, and even joined him for a portion of one of his long runs, and he kept checking in on my return to competing as I attempted to bust the rust off my legs. We made plans to train and race the Missoula Half Marathon this June, but those plans were derailed by the global pandemic.

Despite my move to Portland physically separating us, we still try to keep a check on each other's training. Conveniently, Chris is originally from Portland, so it made it a bit easier. We still try to motivate each other, mostly through smack talk, but we also enjoy geeking out over race results and the latest shoe tech.

With COVID-19 putting a stop to road racing for the foreseeable future, we've both gravitated towards trail running more often, which is nice, except now he is running my old routes and I have this sudden urge to go back to Spokane and remind him which Chris owns the trails out there….