Meet the Team: Fleet Feet Mechanicsburg
By Karen Hendricks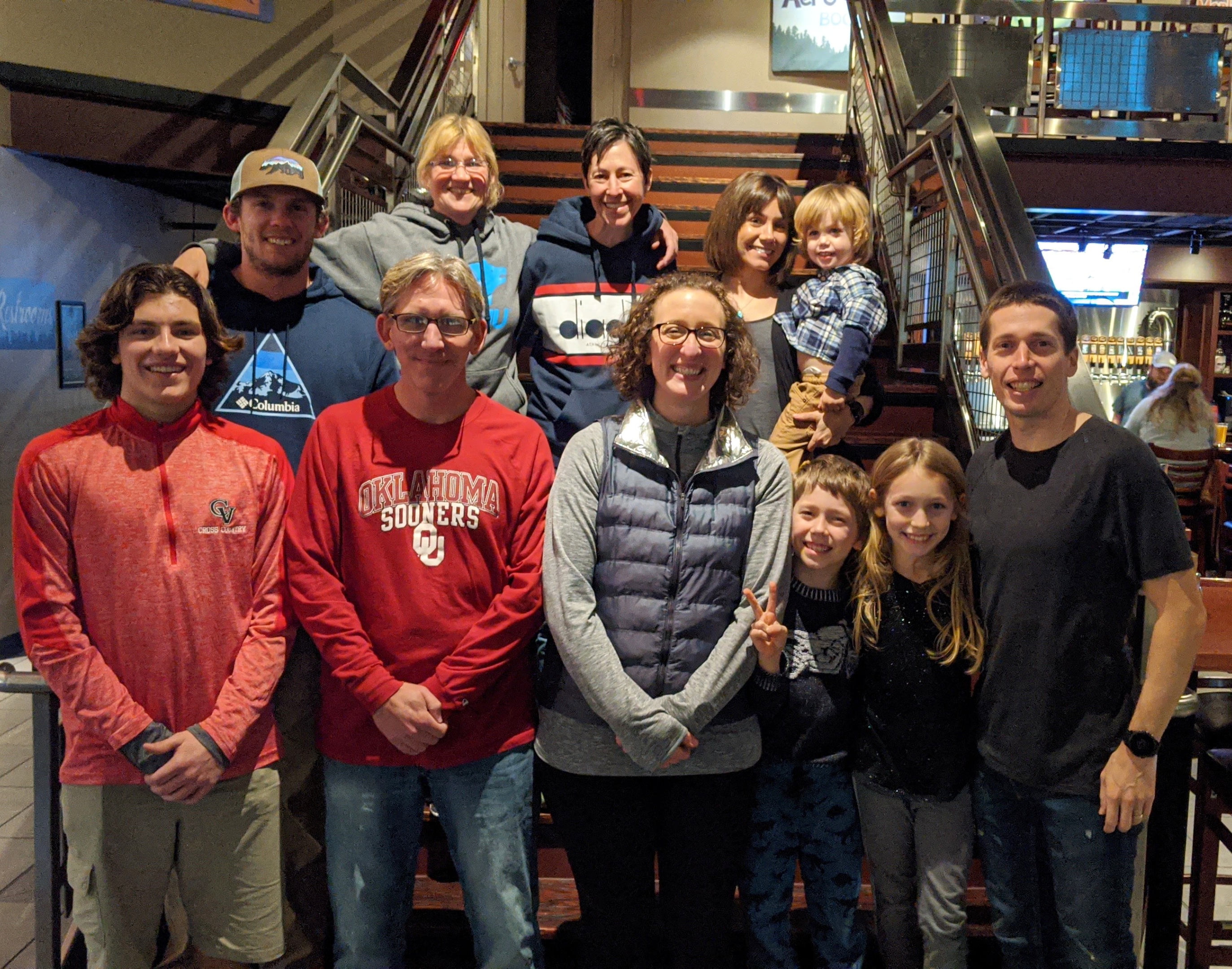 DYK? We invest weeks of initial training into our staff members before they begin helping you, our valued customers. Training doesn't end there—we believe in ongoing training, education and knowledge.
Why? Because our team is our best asset! This is what sets us apart from competitors, big box stores, and online retailers.
What does this mean? No matter who assists you, we are confident that you'll have a great experience and a great fit at Fleet Feet Mechanicsburg.
Let us introduce you to the team!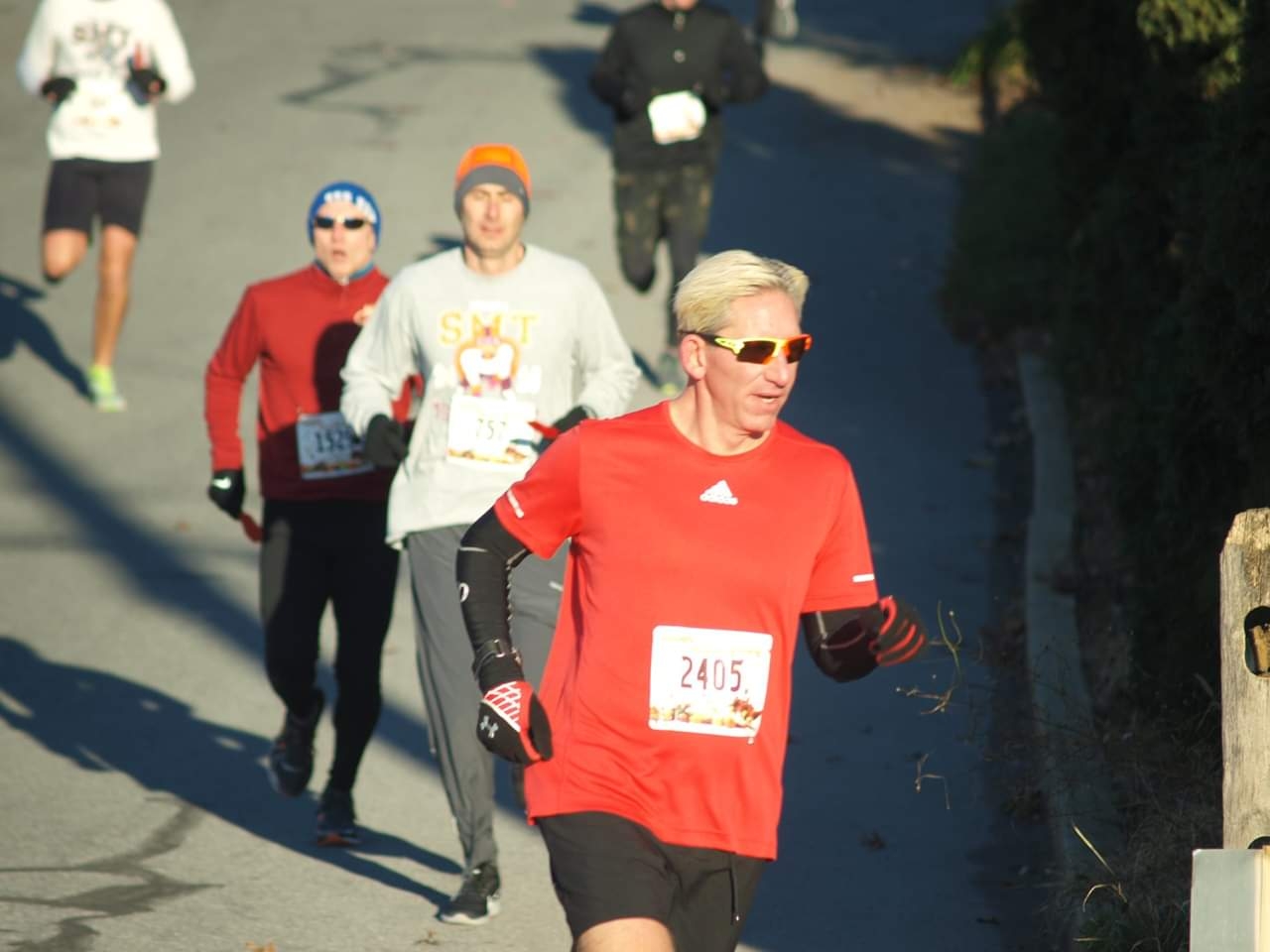 Meet Keith:
Hometown: A life-long Harrisburg area resident, Keith grew up in Marysville and currently lives in Camp Hill.
Life before Fleet Feet: Pennsylvania Capitol Police Officer, 29 years
Best thing about working at Fleet Feet: "I love working with people who are new to running because you can see they want to get into it, but they need affirmation—'you can do this.' The more people I can bring into running, the happier I am."
Runspiration: "I think everybody could enjoy running if they had the right equipment. I have several friends who started running because they found the right shoes."
I'm a Fleet Feet geek for: "All the technology that goes into the shoes."
Run experience: "I started running from the moment I was able to walk. I didn't get as serious about it in high school as I should have. Then I took a few years off and got back into it in my late 20s. The older I get, the more I get into it. My dad was a fast runner, and so is my son—I think it's in the genes."
2020 run goals: "I'm doing the Pittsburgh Half Marathon, then trying to qualify for the Boston Marathon at the Berlin Marathon. I've never been to Germany and we're going to make a vacation out of it. I have a very loving wife who supports me on all my runs. She's not a runner but she helps me, does all the logistics and comes to all my races. We've been married 18 years."
On my feet: New Balance
Favorite races: 5Ks like the SMT Turkey Trot in New Cumberland, and the Swatara Township Hero Run because it benefits law enforcement. Plus the Boardwalk to Bungalow Beach 5-Miler in Atlantic City.
One thing people don't know about me (until now): "I collect police patches—I probably have 500 or more."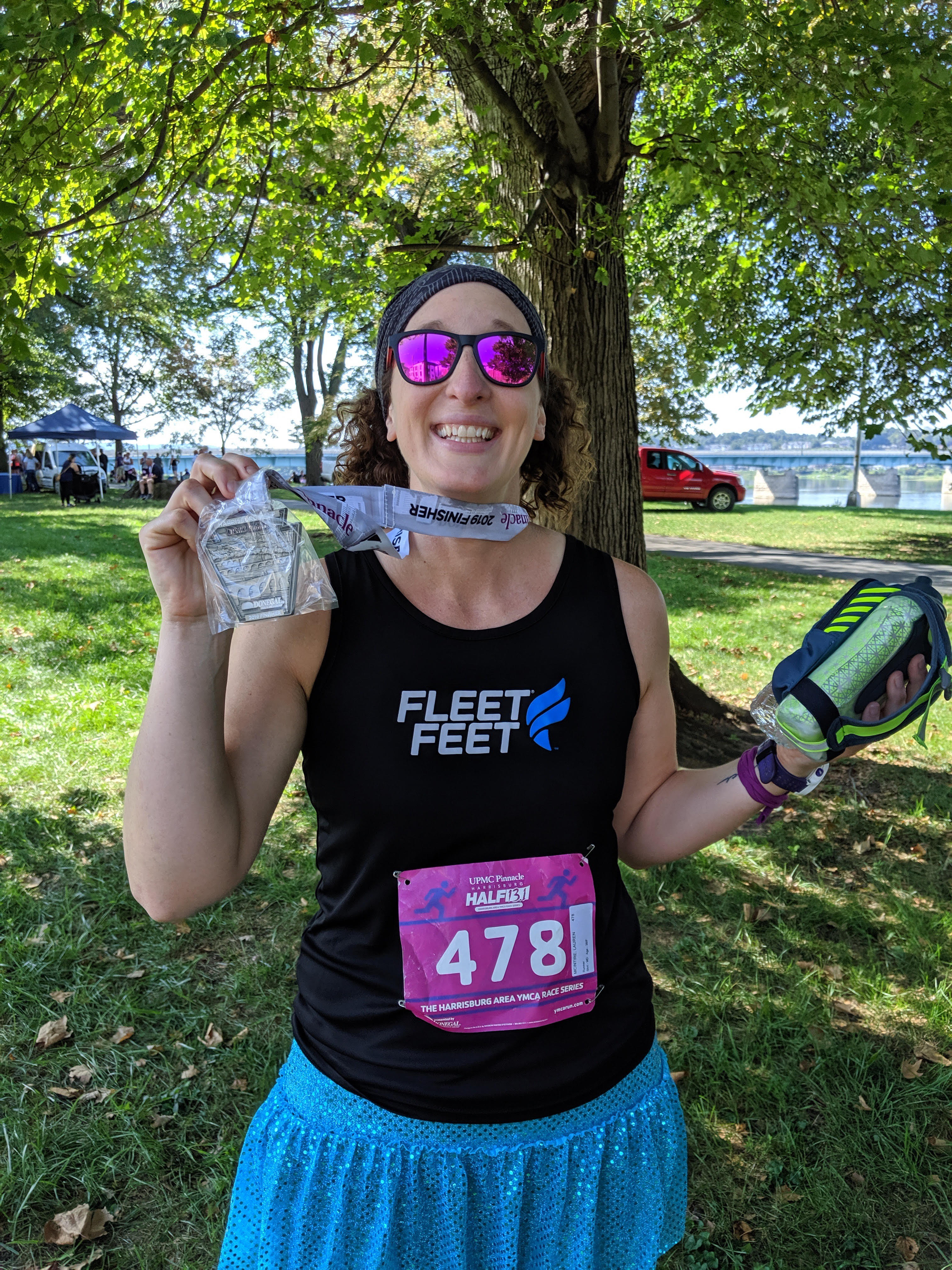 Meet Lauren:
Hometown: She grew up nearby in Berks County and has lived in the Harrisburg area since 2004.
Life Before Fleet Feet: Middle school teacher and stay-at-home mom.
Best thing about working at Fleet Feet: "I love this job, interacting with customers!"
Runspiration: "I like working with customers who are new to running—I love sharing bits of information they don't know, easing their fears."
I'm a Fleet Feet geek about: "Helping to coach the beginning run program, No Boundaries. The coaching aspect is so rewarding."
Run experience: "I ran a little bit in middle school and high school—I played field hockey and ran for conditioning. It gave me the opportunity to run with my dad. But in 2011, I started running seriously after our second daughter was born as a way to lose weight. I had postpartum depression and running helped me with that. I trained and ran the Philly Half Marathon in 2011."
2020 run goals: "My biggest goals this year are to hit a time goal for my half marathon and to stay healthy. Since I started following Fred's training here at Fleet Feet, I haven't had any major injuries."
On my feet: New Balance—"and I love their apparel too!"
One thing people don't know about me (until now): "I love the Fast & Furious franchise movies—I own every one! They are entertaining—the stunts are over-the-top, and they have really good one liners."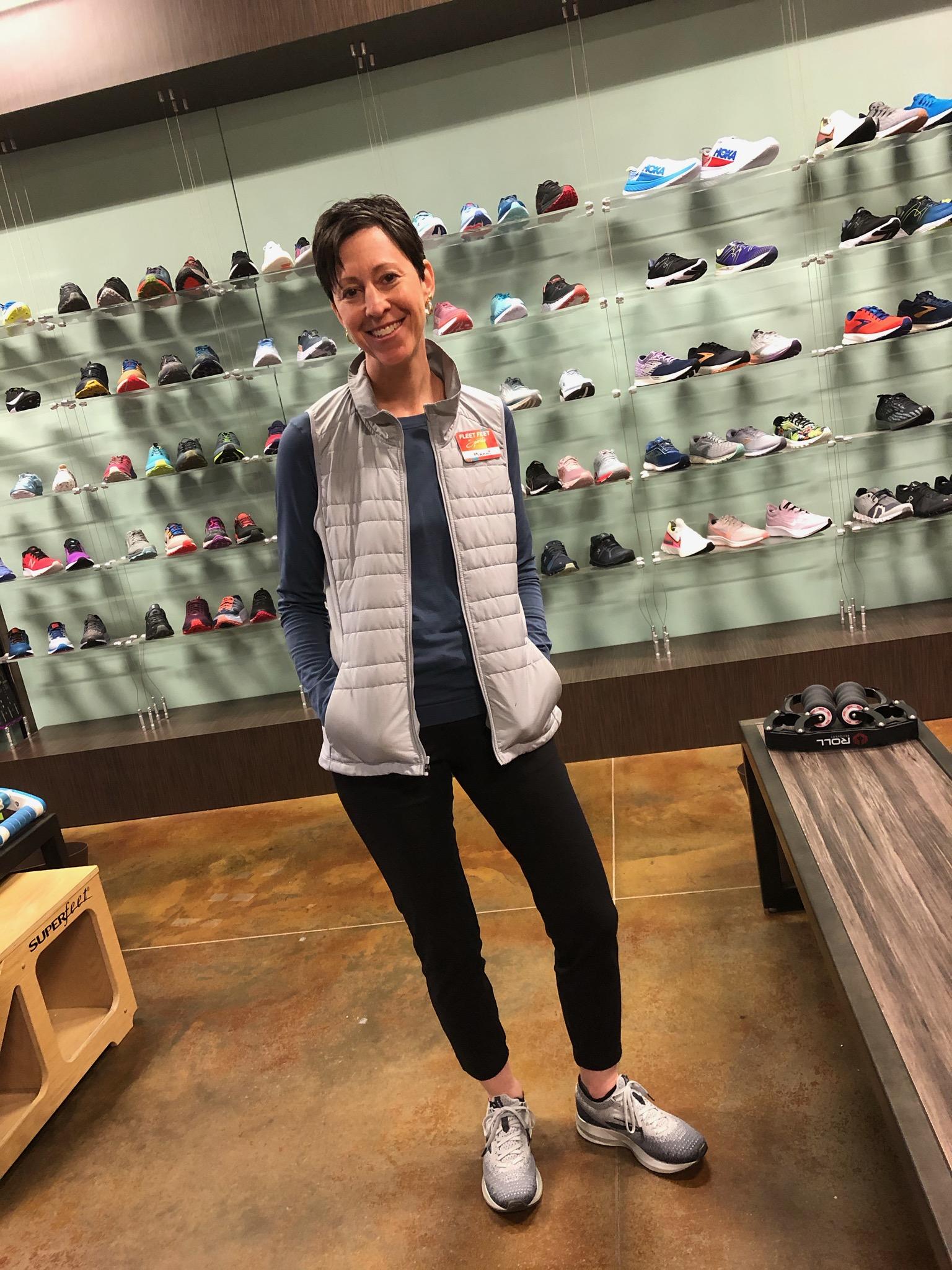 Meet Marni:
Hometown: Marni has lived throughout the Mid-Atlantic! She grew up in Matawan, New Jersey; attended the University of Delaware; lived in Connecticut; then White Plains, New York; and now Camp Hill.
Life before Fleet Feet: Lots of retail experience, computer programmer for 17 years.
On her toes at Fleet Feet: Marni is the Retail Experience Manager at Fleet Feet.
Best thing about working at Fleet Feet: "It's funny because all the time I was working in an industry that didn't suit me [computer programming], I was always so excited to talk about running—and now, that's my life. It's huge for me. Working here is a natural fit. I had a good basis of knowledge, and I've learned so much more along the way. Giving that excitement away every day and getting paid for it—it's like a dream job."

Runspiration: "There are so many different kinds of customers—customers who need to be fit properly and they are blown away. Customers who are in pain, sent here by their foot doctor—and now they are pain-free. Customers who wander over from Petco who are curious about the store, who realize they are wearing the wrong size shoes. New runners. Customers who work on their feet all day long, and need help. Something happens every day that tells us this is why we're doing this."
I'm a Fleet Feet geek for: "The team aspect of working here! Everyone is committed, excited, dedicated and wants to support our mission. You can't ask for better people and we're all friends."
Run experience: "I used to play soccer—midfield—and ran cross country for a short time in high school but it didn't stick at the time. In 2008, my husband wanted to lose weight and start running. I thought it would be awful. Almost as if the universe was pushing us, I heard about a 10-week couch-to-5K program at work the very next day. My husband and I did it together and we were both hooked."
2020 run goals: "I've been injured, with sciatica pain, so right now I'm just happy to be running again. I was finally diagnosed properly, and basically I have to start from scratch, doing a run-walk combination, but I'm so happy to be running again. I'd like to get my fitness back and target a 5K or 10K in the fall."
On my feet: "I like to rotate my shoes, so I have a couple high-cushion options for long miles like the Mizuno Wave Sky, and for everyday go-to shoes I love the Karhu Ikoni and Saucony Ride."

One thing people don't know about me (until now): "I love knitting—I've made scarves, sweaters, mittens, all sorts of things, even socks. It's very therapeutic, just like running."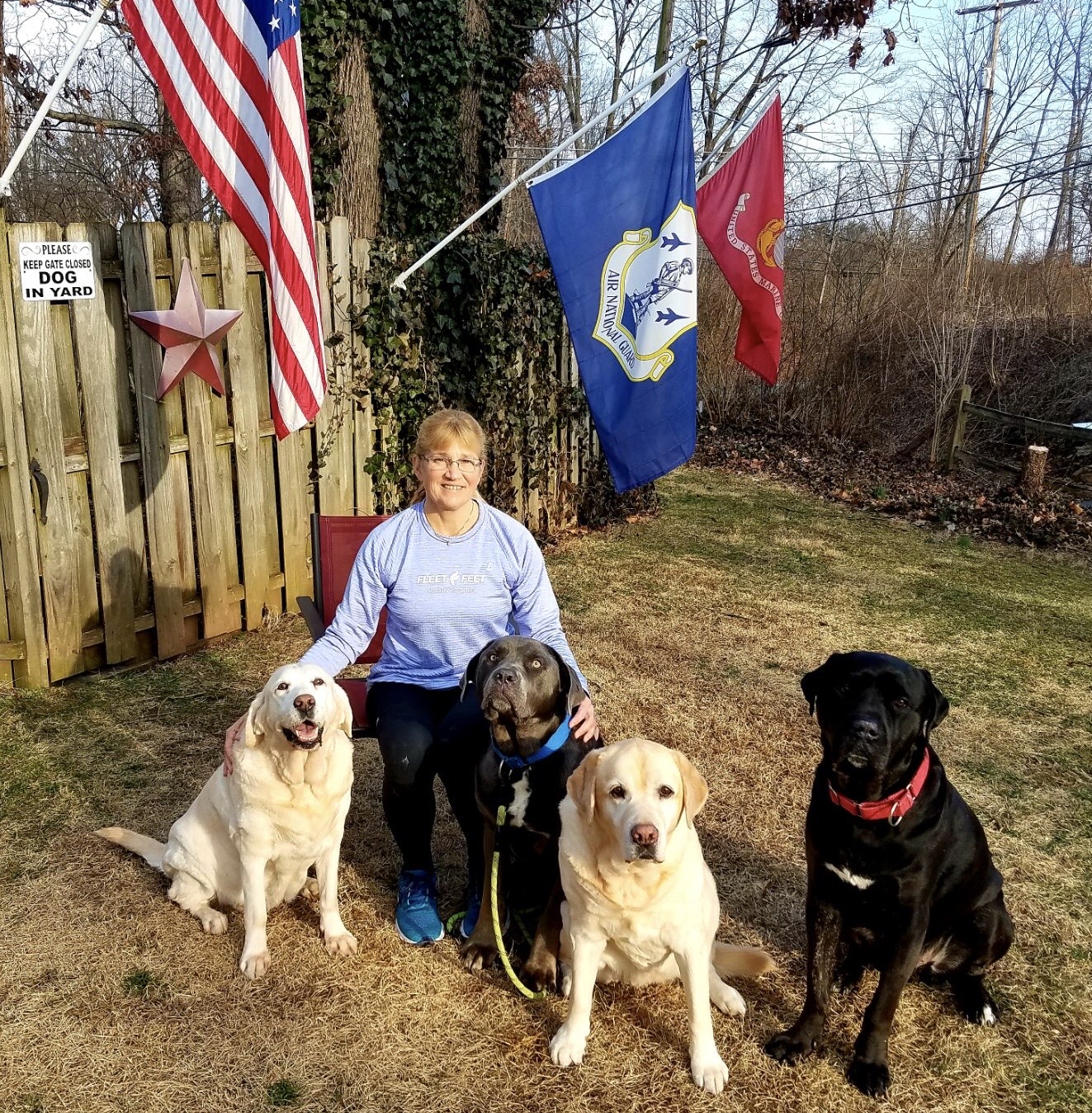 Meet Mari Lynn:
Hometown: Grew up and still lives in Etters; also lived in Delaware and Maryland for a while.
Life outside Fleet Feet: Dog groomer on-the-side since 1986
On her toes at Fleet Feet: Mari Lynn is race director and/or volunteer coordinator for Fleet Feet's races; she also helps coach the Half Marathon/Marathon Training Programs.
Best thing about working at Fleet Feet: "It supports my running hobby and helps me pay for my four dogs (laughs)."
Runspiration: "Seriously, everybody comes in with a story, from different walks of life and I love connecting with people—I've met a lot of interesting people."
I'm a Fleet Feet geek for: "Helping customers with issues—when you can see them move better just by putting them into a new shoe."
Run experience: "I started running in 1993 when I moved back home. Since then, I've run more than 70 marathons, probably closer to 80—I don't keep track any more. I started doing a marathon in every state, and I got up to 37 states, but life happens. I hope to finish it one day."
Why marathons? "It's challenging and an accomplishment. You don't have to run fast—you just run your pace."
2020 run goals: "I'm trying to decide on a fall marathon. And I'm trying to hit 20-30 miles per week, with the goal of going over 1,000 miles this year—I have never really tracked my miles before."
Favorite race: "The Disney Marathon—my first marathon."
On my feet: "Mizuno is good to us. And I run in New Balance a lot."
One thing people don't know about me (until now): "I used to train horses. I started riding when I was 8, and I worked at the race track, Penn National, during high school. I moved to Delaware, then Laurel, Maryland to work at race tracks, but I walked away from all of it to move back home when family members became ill."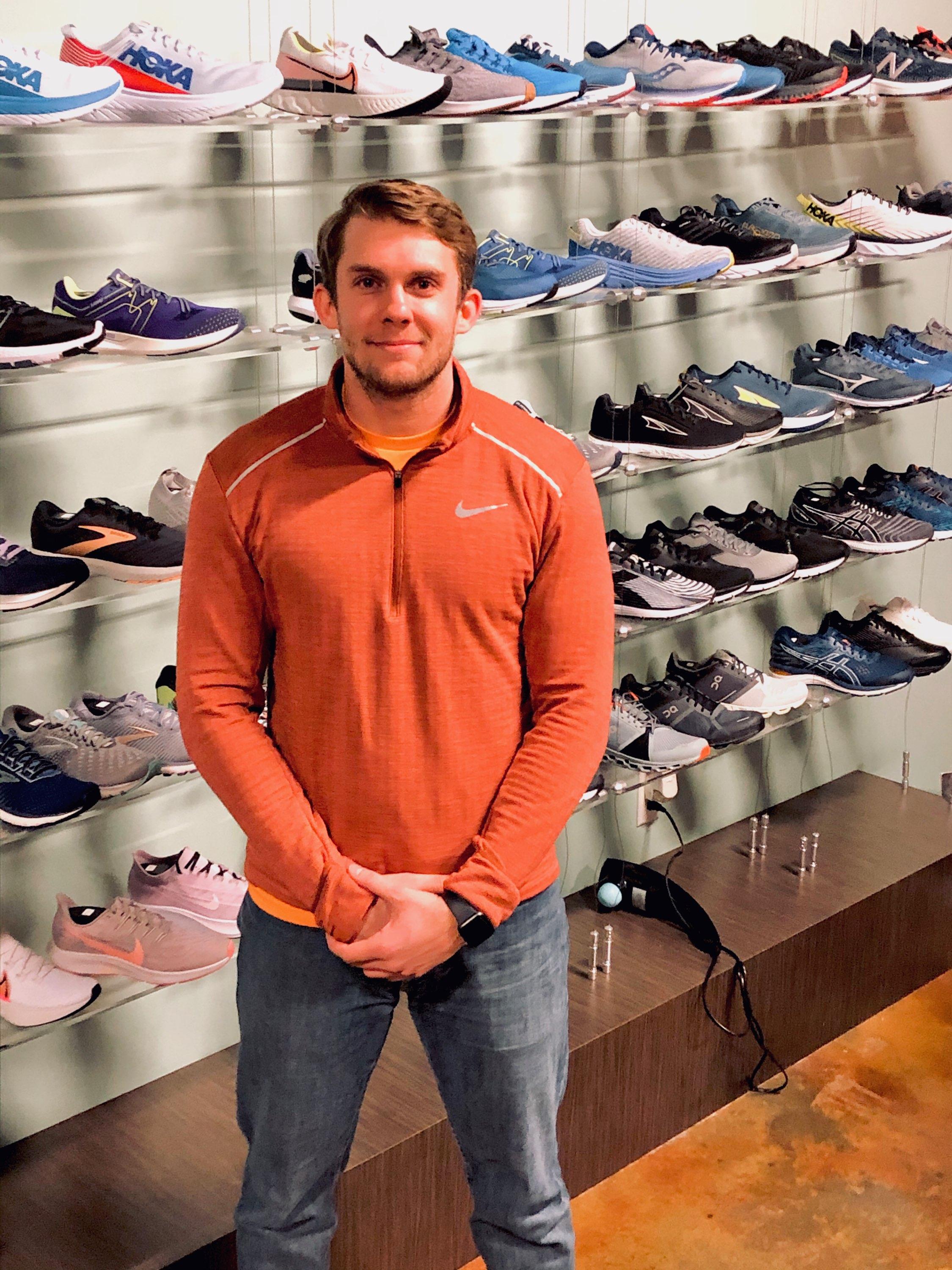 Meet Kyle:
Hometown: Punxsutawney (home of the famous groundhog Puxsutawney Phil). After graduating from the Penn State University with his kinesiology degree, Kyle moved to the Harrisburg area in the spring of 2019 to continue his studies. He's currently enrolled in Central Penn College's PTA program (Physical Therapist Assistant).
Life before Fleet Feet: Kyle previously worked as a personal trainer; he ran the gym attached to a PT office.
Best thing about working at Fleet Feet: "We help everybody from the couch-to-5K person to marathoners to people who need comfortable shoes for long work days."
I'm a Fleet Feet geek for: "Anatomical position. With my background, I have a little more knowledge about the structural setup of the body, so I can give people a different perspective."
Run experience: "I ran cross country in high school, but running has never really been my focus. I do a lot of strength and resistance training. But I decided to get back into running recently to round myself out and improve my health."
2020 run goals: "Since I recently got back into running, I'm kicking around the idea of running my first race, possibly joining one of the Fleet Feet training programs. I've never run an organized race, outside of my high school cross country experience."
Career Goal: "I'd like to work in outpatient facility making sure people get PT and continue with exercise plans to live a healthy lifestyle."

On my feet: "I really like Altra and the barefoot aspect of shoes with zero drop, plus the message they bring to the shoes. I also do a lot of hiking, and I like their trail options."
Hiking Highlights: "The White Mountains of New Hampshire are my favorite. I also hike on the Appalachian Trail a lot, and I'd like to do a thru-hike of the AT eventually."
Two things people don't know about me (until now):
Kyle has a flare for juggling—and coincidentally, so does Fleet Feet Mechanicsburg co-owner Fred Joslyn!

Additionally… "I have a major fascination with cryptozoology [the study of and search for legendary animals] like the Loch Ness Monster, or Bigfoot—my favorite. It started when I was little—I like the idea that there might be something out there that we don't know about. I even have a Bigfoot emblem on my car and a Bigfoot poster in my apartment."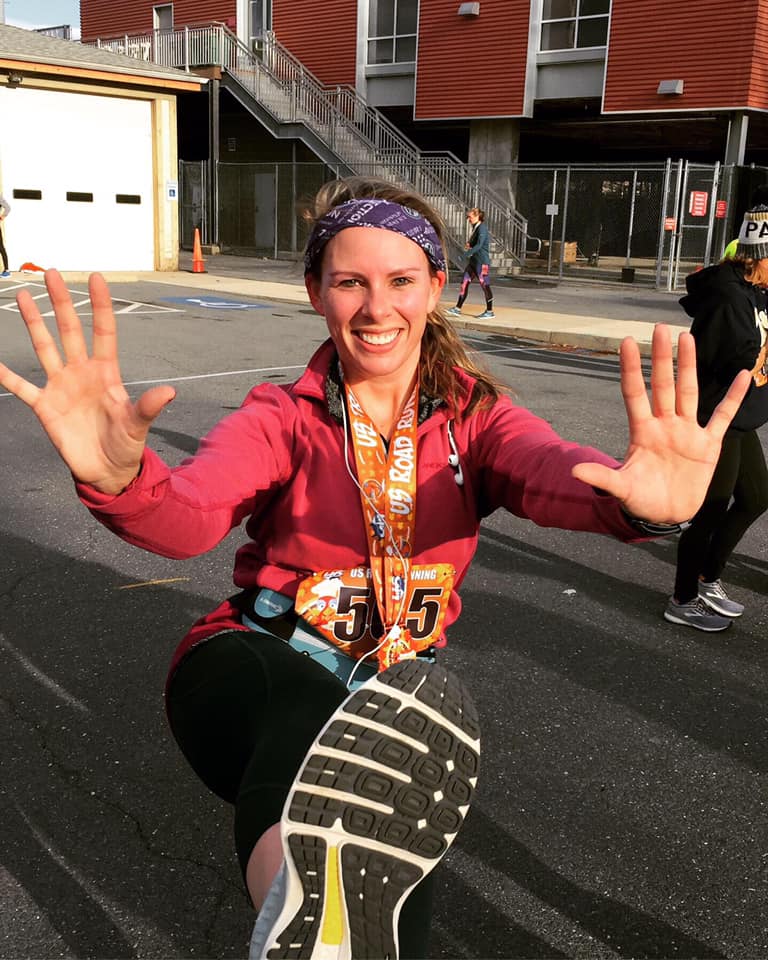 Meet Regan:
Hometown: West Chester; she moved to Harrisburg for her current full-time job.
Life outside of Fleet Feet: Regan is a special education teacher at an area elementary school. She's currently earning her master's degree from Penn State in applied behavior analysis.
Run experience: "I started running in 2019 as a new resident of Harrisburg. The endorphins are nice after a stressful day. I'm very goal-oriented, so I decided to run one race per month. I came here to Fleet Feet Mechanicsburg for new shoes, and I was so impressed with their knowledge."
Best thing about working at Fleet Feet: "How passionate everyone is—it's totally in line with how I am. You cannot find a better group of people."
Runspiration: "Helping our customers is so inspiring. Just a short while ago, I was a non-runner, and now I'm helping others reach their goals. Whether they're walking, running half-marathons or full marathons—they're all awesome."
I'm a Fleet Feet geek for: "The half marathon training program because I'm excited to meet other runners!"
2020 run goals: The Disney Princess Half Marathon in February.
On my feet: Mizuno
Favorite races: Cupid's Chase because it supports people with disabilities, the Revolutionary Run in Valley Forge, and our Santa Shuffle.
One thing people don't know about me (until now): She's been riding horses for 17 years!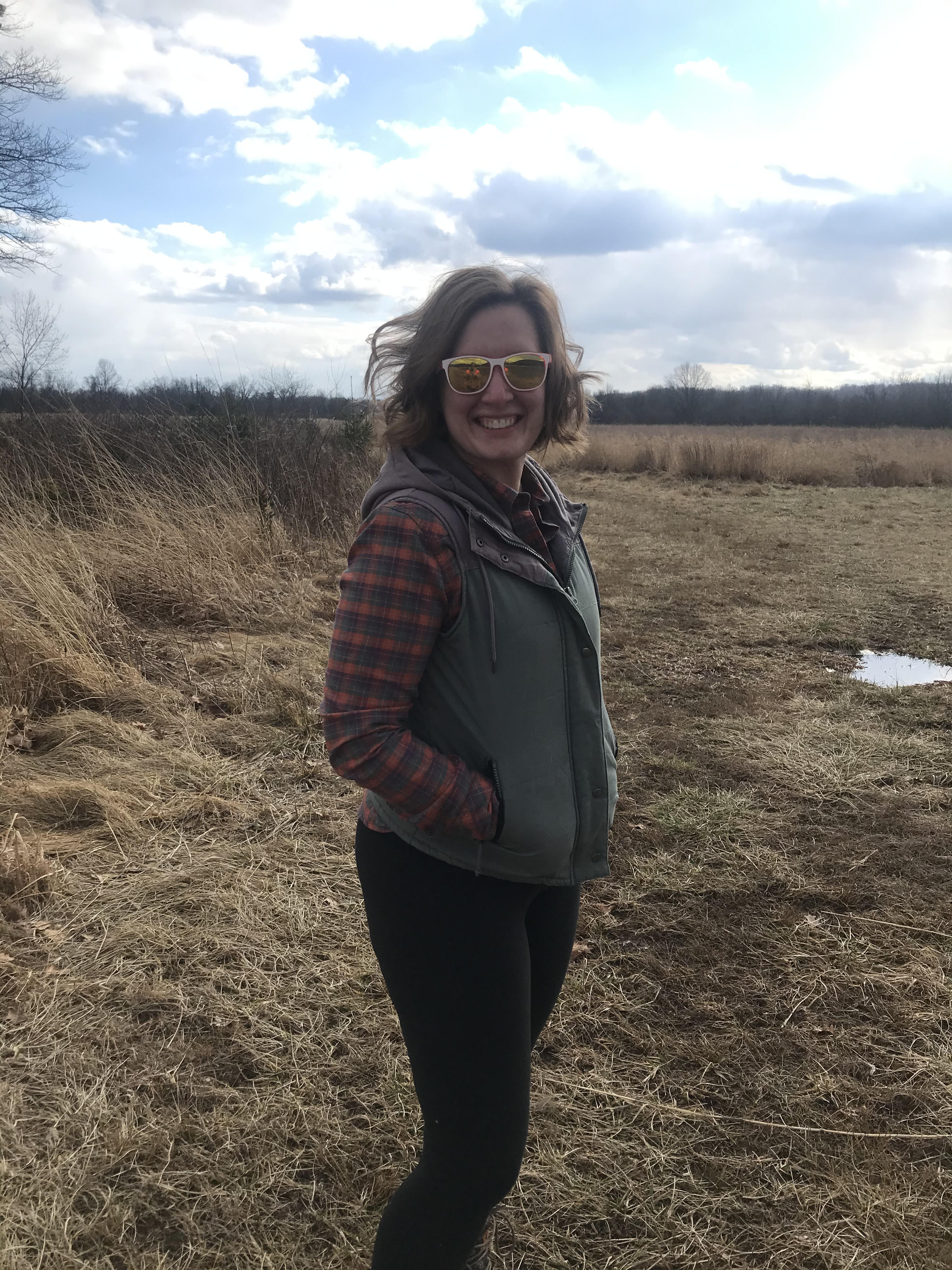 Meet Sarah:
Hometown: "I was an Army brat born in California. We lived there for a couple years, then my dad was stationed in Germany. My parents were from Central PA, so we moved back to York and I grew up in the Manchester/Mount Wolf area. In 2009, I moved to Harrisburg."
Life before Fleet Feet: "I have a political science degree from York College and I was a lobbyist for 11 years. I was also a coach for many years—I owned and worked at several gyms as a CrossFit level 1 coach and USATF certified level 1 coach. Now, I own a company I formed with a friend—we do compliance work for people who are running for candidates and people who lobby the state."
Best thing about working at Fleet Feet: "I've been a customer for a long time and I always loved coming into the store. I jumped at the chance to work here because I miss that one-on-one aspect of coaching and helping people."
Runspiration: "The running community in this area is the way people are supposed to be. They accept you, respect you, encourage you—it's about being a good human."
I'm a Fleet Feet geek for: "The customers. People sometimes feel like this is a running store [only]. We do have a lot of running gear, but really it's all the name—it's all about feet. I like breaking down those barriers and making people feel comfortable when they come in the door."
Run experience: "I only recently came to love running, since 2017. I fell in love with it. Weight was always a struggle for me, growing up. I went through a transformation and lost 80 pounds—running was a huge part of that. Running makes me feel so healthy."
2020 run goals: "I recently became a fan of cycling so I'm training for my first duathlon. Being able to go fast on the downhills burns you in a different way and I love it."
On my feet: "I am newly-obsessed with Diadoras—the technology is fascinating."
Three things people don't know about me (until now):
1 – "I live in a zoo. I have three cats and a German Shepherd named Odin who runs shorter distances with me."
2 – "I love being in the kitchen and cooking for large groups. There's satisfaction in the task management of it. I think we take food for granted especially as athletes—we lose sight of the fact that part of the experience is enjoying what you're doing. Food shouldn't be work."
3 – "I make my own wine and I've been experimenting with specialty liquors."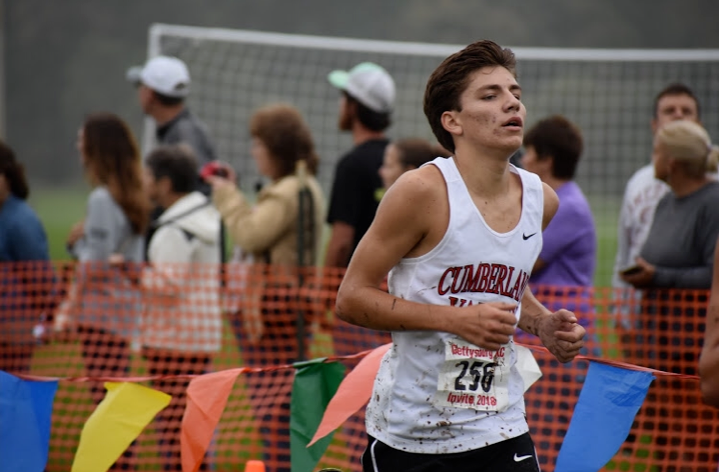 Meet Jackson:
Hometown: Mechanicsburg
Life outside Fleet Feet: A high school senior, Jackson runs track and cross country, plays ice hockey, rec and legion baseball, and finds time for his neighborhood lawn mowing business.
Best thing about working at Fleet Feet: "It's a hand-on job. You're actually fitting people with shoes, talking to them, matching their foot shape to the shoes, so it takes a lot of people skills."
Runspiration: "It's rewarding when you find a shoe that works for a customer—you can see it on their face."
I'm a Fleet Feet geek for: "Smiles—I try to make every customer smile."
Run experience: "I've always liked running, seeing how fast I could run. My parents encouraged me to do cross country in middle school, and I really fell in love with it in high school."
2020 run goals: "This spring I want to run a 4:40 mile. [His PR is currently 4:45.] Beyond that, I want to run my first half marathon this fall. And in the future, I want to get into trail running and eventually I want to run a marathon."
On my feet: Hoka for running, Mizuno for baseball.
His Future: Jackson is headed to either West Chester, Pitt or Penn State for communications. His dream job? Working at Barstool Sports or legendary Philly sports talk radio station WIP.
Three things people don't know about me (until now):
I have a website (

https://jaywbuch.wixsite.com/phillybuchpodcast

) and podcast (Philly Buch) about Philly sports.

I cried when the Eagles won the Super Bowl—it was the greatest day of my life. I actually got called into the principal's office the next day because I kept starting the Eagles chant in the hallways. I didn't get in trouble, but he told me I had to stop and chill out.

I love comedy and always wanted to be a standup comedian. For our family Christmas party, we play Family Feud and I'm Steve Harvey.
Fleet Feet Fame: Co-worker Mari Lynn explains that "Jackson is the first high school student we've ever hired."