Feeling the Love at Our 5-Year Anniversary
Thank you to all the friends (we don't call them customers) we've made at Fleet Feet Mechanicsburg's 5-year anniversary mark!
To capture the spirit of this milestone, we are turning the spotlight on friends who visited over our 5th anniversary weekend!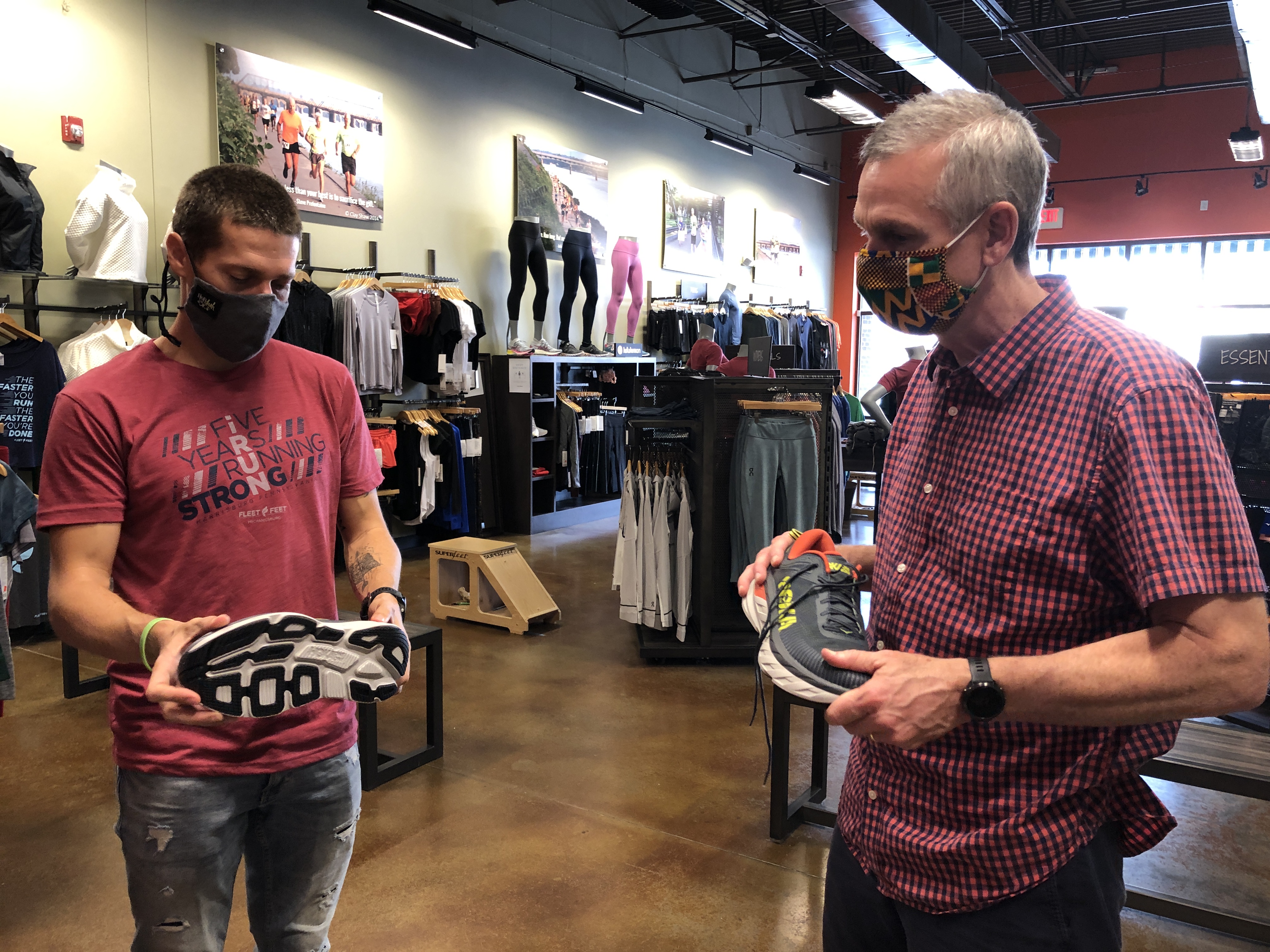 Spotlight on Allan Rossi, Lebanon
What brings you back to Fleet Feet as a returning customer?
I like the running community, I like the store, the products, and Fred's been very, very helpful. I like the accountability. Anybody can run by themselves and that's what I did for my first marathon eight years ago. But then these guys opened up, and I had some friends that were doing [the running/training program] so I tried it, and I think I've done every session for the last four years, every cycle.
What brought you in today?
I have a 20-mile run Sunday, and I want to get some gels and stuff for the run—I've been experimenting. And I'm following coach Fred's advice, "Don't try anything new on race day." I also go through shoes like crazy—I'm like a Clydesdale—I can only get about 200 miles out of them. So I wanted to get a new pair so I can break them in, then have the most cushioning possible for the Harrisburg Marathon.
What is it about Fleet Feet and their philosophy that makes a difference?
It's always so friendly. I can't remember where I got my shoes 10 years ago. These guys care and we're friends.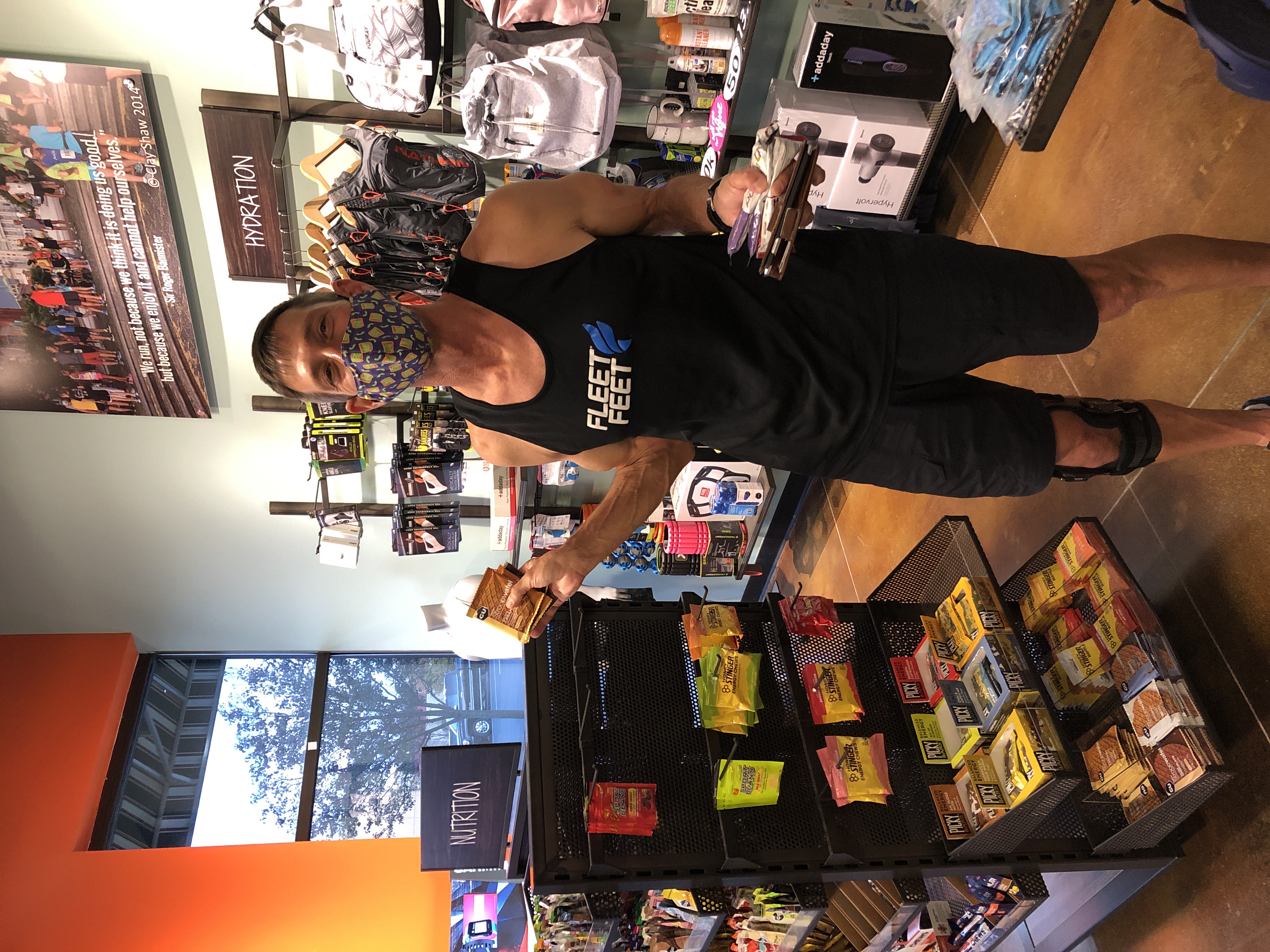 Spotlight on Steven Bennion, Harrisburg
I'm here to pick up some supplies, some nutrition to take on my training ride this weekend, and because I know it's their fifth anniversary.
It must be a special feeling to celebrate their fifth anniversary since you're a former employee?
Definitely, it's like the hub of the running community. It feels like you're walking into your local pub where everybody knows your name—I know it sounds corny, but it's the truth. Even beyond working here, it feels like family when you walk in this store. They've been a pillar to this running community and they continue to support everybody—it's just a great place.
To what do you attribute their success?
I think it's really their welcoming nature to be out there in the running community. Their employees and staff do a great job being friendly and welcoming—they accept any runner, any level, any distance. It doesn't matter what your pace is, they're here to support you. And more importantly, they welcome people who don't run too—which is huge—welcoming people from the medical community, people who work in warehouses and from all walks of life, that just need to feel comfortable when they're standing on their feet, beyond running.
Do you miss working here?
Yes, I absolutely do. I was here two years and I miss all the conversations, meeting all the people, working with the customers. There's nothing more satisfying that seeing somebody leave with a pair of comfortable shoes, but then coming back because they were really happy, and maybe they brought a friend or two, or a family member, because they were so pleased.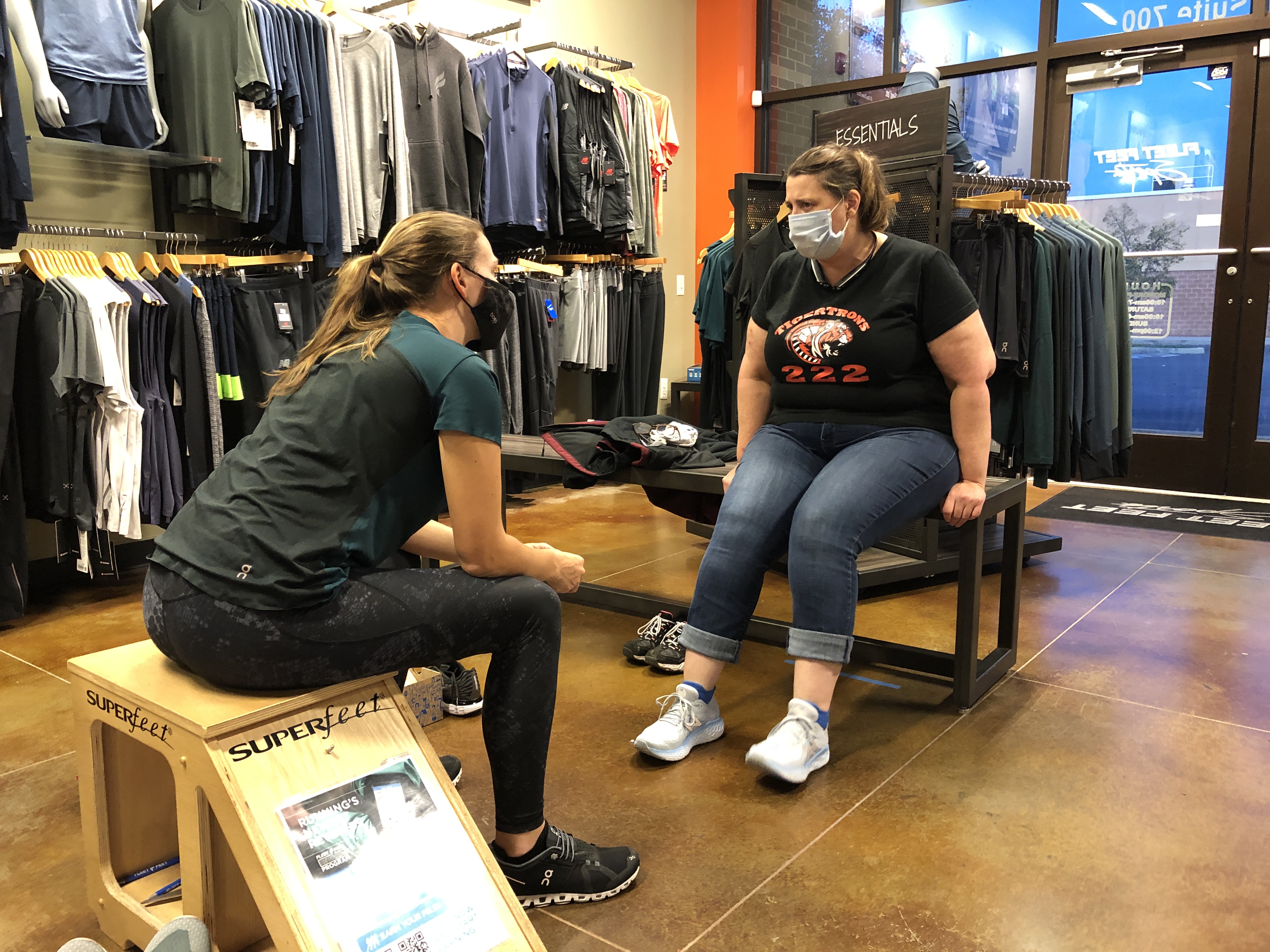 Spotlight on Adrienne Germer, New Bloomfield
I'm a first time customer—I was referred here by a co-worker over a year ago and I've been wanting to come ever since.
I need something to support my body. I have tiny feet and a lot of weight on them. I haven't been able to go walking lately because of the pain in my feet. I definitely need something to help alleviate that pain. My co-worker is a runner, and she explained that Fleet Feet has a foot scan where they get the proper size; they pay attention to your feet, your problems and issues.
How has the experience been so far?
So far I've had a wonderful experience. They're helping me find the correct shoes because they're familiar with their products—it's not just me picking out a pair of shoes because I think they look pretty.
I would recommend or suggest Fleet Feet to anybody because this is exactly what I've been needing—somebody to pay attention to my needs and that's exactly why I came.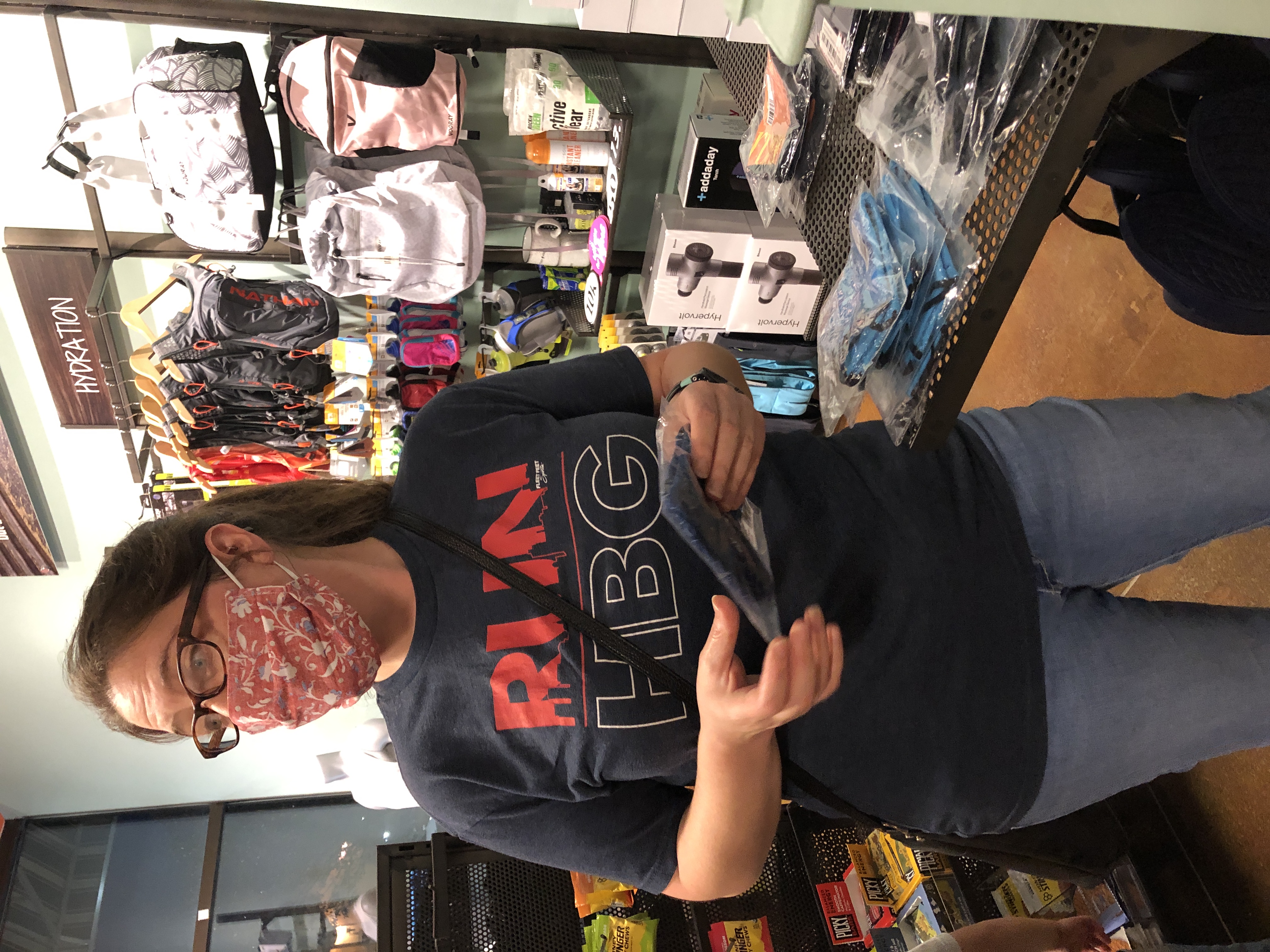 Spotlight on Jenn Schwamb, Mechanicsburg
Three or four years ago, I started running through Fleet Feet's No Boundaries begin-to-run program just to get out and about. I had never run a 5K before. I've been doing their training programs ever since. I just keep re-enrolling in their Personal Best program, and this season, I'm a coach for Personal Best. So Fleet Feet, for me, is far more than just a store. I've made lifelong friends through these programs, lifelong friends through the people who work here.
There's a different feel to this store than any other store—they genuinely care about getting you in the right shoe, to the point where they'll take shoes back if you run in them and they're not a good fit. I can't imagine shopping any other place because it doesn't make any sense. They care about the running community and doing the right thing—and I like to support local business.
What would you say to Shelby and Fred in honor of their 5th anniversary?
I would just say, "Thank you." I don't think they even realize the impact they have made in the Harrisburg region. They are just some of the kindest, most generous people that I've ever met—and you wouldn't know from talking to them, that they're also some of the fastest people I've ever met. They're just so humble about it. It's just amazing to me that people this talented and gifted in running are also equal parts kind and generous.
Had you asked me four years ago if I'd be in Fleet Feet, if I'd be running, if I'd be coaching, I'd say you're out of your ever-loving mind… it's largely because of Fleet Feet but also the Harrisburg running community—it's just amazing.
It sounds like Fleet Feet Mechanicsburg has changed your life?
Oh definitely, I wouldn't be running if it wasn't for this store, for their No Boundaries program, and I wouldn't have continued into their Personal Best and other running programs, hands down without a question.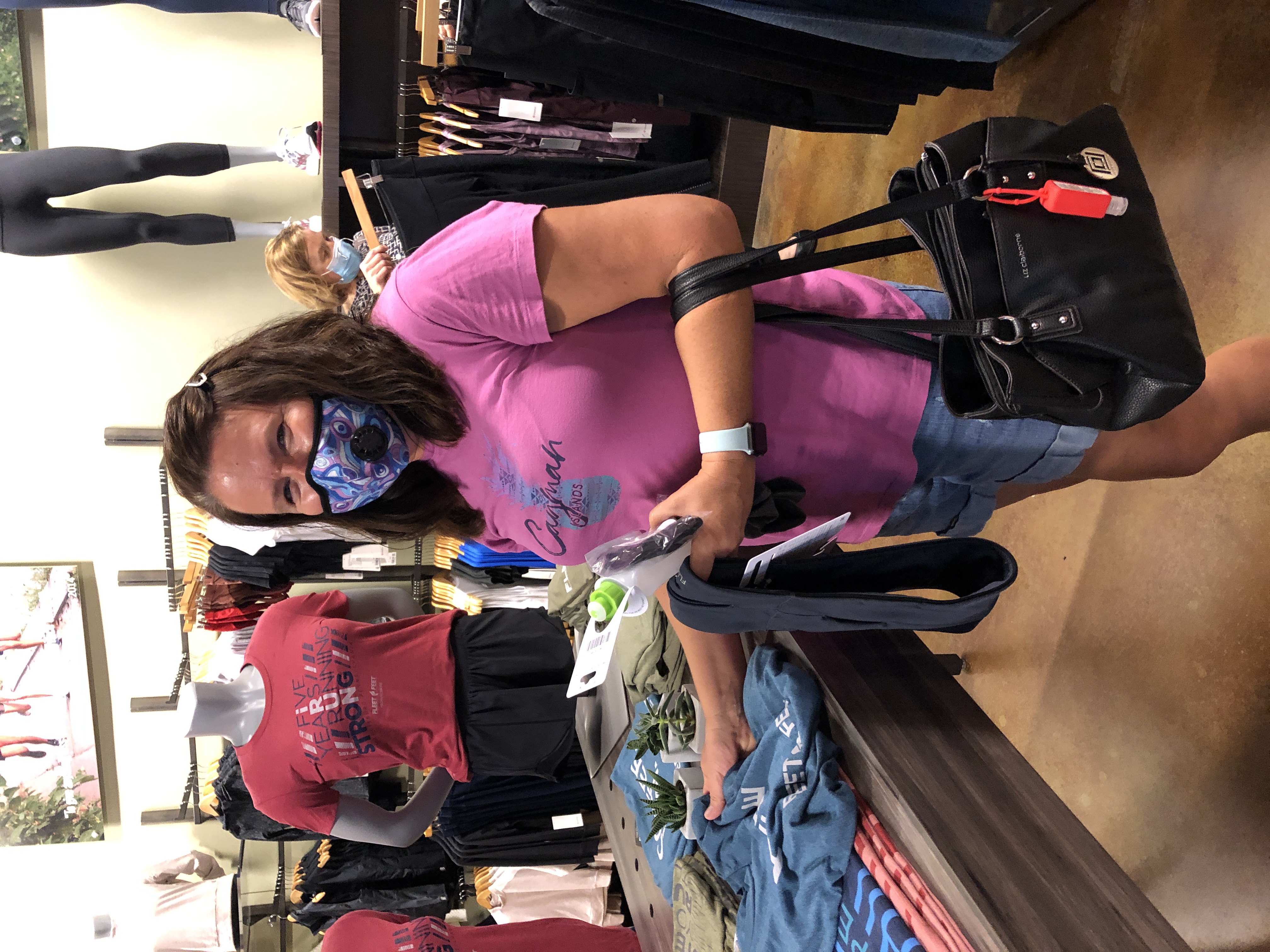 Spotlight on Sandra Halbruner, Mechanicsburg
My friend Tina heard there was a sale tonight, so we made plans to meet here. I've been doing the Personal Best training program since January.
How's it been going?
It's been pretty amazing. I got into running again about two years ago. Whenever I would go to 5Ks I would see people with Fleet Feet shirts so at last year's turkey trot as we were in the huge crowd, I asked a guy near me, "What is this Fleet Feet thing?" And so he told me a little about the running program. I went home and checked it out [online], and I signed up. They've gotten me back in pretty good shape. I would encourage anyone to participate. I'm so grateful and cannot say enough good things about it.
Spotlight on Tina Thomas, Camp Hill
I've been coming here over the years for running shoes, but this is my first time doing a training program, Personal Best.
How do you describe Fleet Feet Mechanicsburg?
They're very friendly and helpful. I always felt like I was getting the best sneakers for my feet—it's a much better experience than me trying shoes on in a department store. I always prefer to come here and make sure I have the right fit.
What's on your shopping list?
I'm switching to a flip belt with a new water bottle.
How is Personal Best going?
I always ran by myself, so it's been a great experience to run with other people. It's something I never would have thought I'd enjoy, but I've been really challenged by running with other people.
Written by Karen Hendricks for Fleet Feet Mechanicsburg