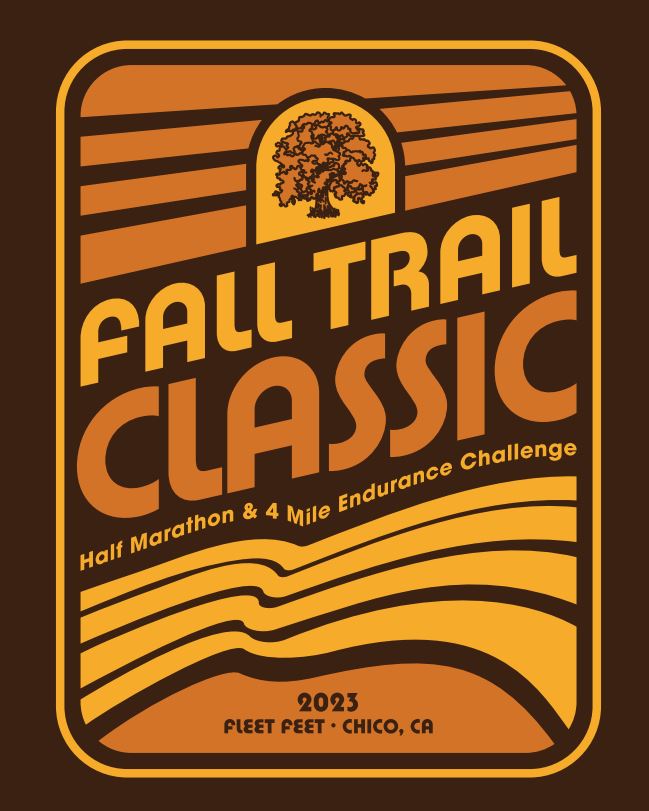 LOCATION
South Rim Trail Head/ Backside of Bidwell Golf Course
Chico, CA US 95928
DISCRIPTION
Fleet Feet Chico is pleased to offer two new trail races in our beautiful Upper Bidwell Park. The two races will start on the south side of the park down Annies Trail for a fun adventure on the single-track trails. Toss in a creek crossing and a nice finish through Yahi and the golf course, you're sure to enjoy your run!
The two races include a half marathon and a 4-mile an hour endurance challenge!
The half marathon will start at 8:10am along the rock wall off Centennial/South Rim trail head. This race will be a challenging climb with 1600 ft of gain in the first half. Enjoy a party at the top of 10-mile house at aid station #1 and enjoy and all down hill second half of the race!
4-mile endurance race will start at 8:00am. Runners will run a 4-mile loop. If you complete the loop in under 60 mins you will go back in the shoot for loop #2. At the top of each hour a new round will start. This will continue for 8 hours or until there is one person standing. If there is more than one person going into the final hour the run will become a foot race to the finish! If you complete all 8 loops you will have ran approximately 32 Miles! Do you have what it takes? Do one loop, 3 loops or all 8! It's sure to be a good time for the runners and the spectators!
After the race head up to Bidwell Golf Course Bar and grill for some delicious food and drinks!
By supporting this race, you will be supporting the Explorers, a Butte County Jr. Fire Fighter Program here in Chico, CA. The Butte County Fire Explorers is a paramilitary program for young adults interested in becoming a member of the fire service. The cadets train on fires, medical calls, and everything else related to the fire service. More importantly they are trained and mentored to become a leader of high character in their community. If you would like more information on the Explorers program and what our volunteer fire department does for our community, you can click here.
RACE START TIMES
4-Mile Endurance Run 8:00am
Half Marathon 8:10am
REGISTRATION
Registration for this race is available online. Online registration closes October 20th at 11:59 p.m. Registration will be available in person on October 20th and 21st at Fleet Feet Chico from 10am-2pm. You need to Register by Friday October 6th to guarantee yourself race shirt. If you register between October 7th – October 21st your shirt will NOT be guaranteed. All left over shirts will be available for pickup or for sale (non-registered runners) AFTER the Half Marathon race on October 22nd. The shirts will be first come first serve starting at 10:00am.

RACE FEE SCHEDULE

August 30th - Sept 30th - (online) Half Marathon $65.00
4-Mile Endurance Run $65.00

Oct. 1st – October 20th - (online) Half Marathon $70.00
4-Mile Endurance Run $70.00

In person Registration at Packet Pickup (Oct. 20th and 21st)

Half Marathon $70.00
4-Mile Endurance Run $70.00

In person registration will be available at Fleet Feet Chico during packet pickup ONLY. (October 20th and 21st, 2023)
PACKET PICKUP
Packet pickup will be held at Fleet Feet Chico on the following days and times:
Friday and Saturday October 20th and 21st, 2023
10:00am-2:00pm
Race Day Packet Pick up (At Race Location)
Sunday October 22nd
7:00-7:45am
Fleet Feet - Chico
241 Main Street
Chico, CA 95928
(530) 345-1000
OFFICAL COURSE CERTIFICATION AND MAPS
Both the Half Marathon and the 4-Mile Endurance run will start on the south side of Upper Bidwell Park. The half will continue through Annies Trail to Bloody Pin, and up to Guardians to Green Gate at the top of 10-Mile House Rd. The run will continue back down 10-mile house rd., with a short out and back towards the nature preserve before crossing the creek to the north side where you will continue down Upper Yahi to Lower Yahi and back through the golf course to the finish.
The 4-mile run will take Annies to J-Ford to cross over the creek to Yahi trail. On Yahi runners will continue up the trail to Day Bear Hole parking lot where there will be an Aid Station and restroom if needed before continuing down the Fire Road back to Lower Yahi to finish through the Golf Course. (Hopefully for your next loop)
Click here for both course maps.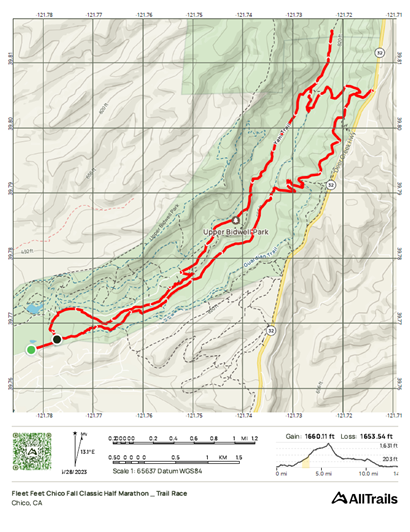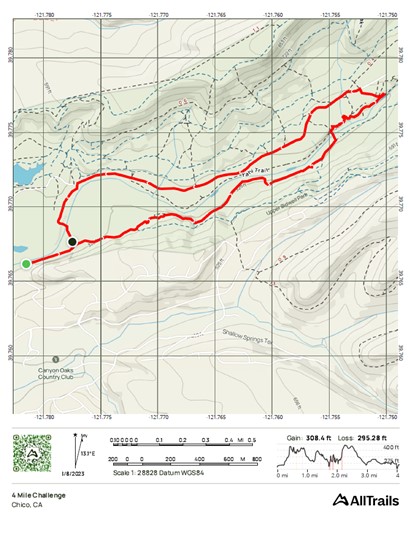 Half Marathon: https://www.alltrails.com/explore/map/fleet-feet-chico-fall-classic-half-marathon-trail-race-27d52bc?u=i&sh=cdgcth
4 MPR : https://www.alltrails.com/explore/map/4-mile-challenge-0a0a0c8?u=i&sh=cdgcth
DIRECTIONS AND PARKING FOR OPTIONAL RACE LOCATION
To the course:
The race start is located along the Centennial/South Rim rock wall, approximately a quarter mile past the gate at Centennial Ave and Chico Canyon Rd.
Directions from HWY 99:
Take exit at HWY 32 and head east on HWY 32/ Deer Creek HWY towards Bruce Rd.
At the stoplight at Bruce Rd, you will turn left and continue to Chico Canyon Rd.
Follow to the end where the road meets the gate.
This is a drop off ONLY location!
PARKING


Parking can be found at the following locations:
5 Mile Recreation - .5 mile from the start
Hooker Oak Park - .75 mile from the start
Observatory Parking Lot (limited) - .75 mile from the start
Horseshoe Lake Parking Lot – 1 mile from start
Bike Valet at Centennial Ave. and Chico Canyon Rd- TBD
NO PARKING ALLOWED AT BIDWELL GOLF COURSE!


Race Rules:
Be courteous when overtaking slower runners or walkers in your elected race location. We want you to race hard and fast, but with the safety of yourself and others in mind.
Use best trail educate. Calling out "runner back' or 'runner up" when on the trails
Follow all trail flagging and marking assigned to the race. Do not go off trails or cut the course.
Do NOT remove any course markings!
Where your race number on the front of your body so it is visible to the timers!
You must cross the timing mat for your chip to be read at the finish of the half marathon. If you are planning to race for top finisher, the race is based on gun time start and first to cross the finish line.
4-Mile runners must complete the loop under the 60 min threshold to be able to start the next loop.
Please pack out all trash that you may have from your nutrition or hydration. Trash cans will be available at all aid stations. Leave no trace!
No crews or pacers will be allowed for either race.
All drop bags for the 4-mile race must be checked in by 7:30am on race day.
No pets will be allowed on the course during the race.
All strollers will be allowed on course.
Run, hard, run fast and have fun!

Thank you for understanding.
AID STATIONS AND RESTROOMS
There will be 3 for the Half Marathon and 2 for the 4-Mile Challenge.
Green Gate (Top of 10-mile House Rd.) Mile 6– Water, Superieur (electrolytes), trail snacks, Jambars and GU. Restrooms Available! Half Marathon Only
2. End of Upper Park Rd./Upper Yahi Trail Head Mile 9 – Water, Superieur (electrolytes) Half Marathon Only
3. Bear Hole Parking Lot Mile 2/11.5 – Water, Superieur (electrolytes), GU 4-Mile and Half Marathon
Start/Finish Shoot for 4-Mile Run – Water, Superieur (electrolytes), trail snacks, Jambars and GU 4-Mile Run Only

Limited restroom on the course will be located at finish area of the race (South Rim Trail), Aid station one at the top of 10-Mile house road,

T-SHIRTS AND AWARDS
Guaranteed Tee-shirt cutoff is October 6th, 2023
Cotton Poly blend shirts from Upper Park Clothing Co. will be provided to all participants who register for this event before the tee shirt cutoff. (10/6/23) Any participant who registers on or before October 6th will be guaranteed a race tee. Any participant who registers after October 6th will be able to receive a race shirt based on a limited size availability (very few extras will be ordered). Any shirts not picked up at packet pick up prior to the race will be available on a first come first serve basis to all paid runners for pick up, and available for sale to any unregistered spectators starting at 9:00am at the Fleet Feet booth.
All shirts come in adult male (unisex) sizes, so you may wish to choose a smaller size than normal for female and child runners. No youth sizes will be available.

Awards will be presented to the top male and female finishers in the half marathon as well as the top 3 in each age group bracket.
Age group brackets will be as followed:
14 and under / 15-19 / 20-29 / 30-39 / 40-49 / 50-59 / 60-69 / 70 and over
The winner of the 4-Mile Endurance Challenge will be either the last person standing or the first to cross the finish line in the final hour foot race to the finish. 2nd and 3rd place will also receive an award for their efforts!
SPECTATING
We would love to see everyone come out to support our local athletes in this new trail race! Because the trail is single track there are limited locations that you can safely watch your favorite runners without interrupting the flow of the race. Here we have provided a few locations where you can safely watch your runners and help cheer them on to the finish.
Start/Finish area- in the meadow of the finish/ South Rim area. At this location you will not only see the runners start on the run, but this is also the location of the finish. For the 4-Mile runners this will also serve as the location where they will hold until the start of the next loop.
Green Gate Parking Lot – This location will serve at Aid Station one for the half marathoners and will also be a great spot to cheer on your runners as they will have just climbed the final hill of their run…. All downhill from here! Parking will be very limited. If you plan to cheer for your runners at this location, carpooling is highly recommended!
Bear Hole parking lot- This location is about one and a half miles past the Horseshoe Lake gate on Upper Park Rd. You will need to walk or bike to this location as the road will be closed to cars for the day. The Parking lot serves as aid station 3 for the half marathon as well as aid station 1 for the 4-mile runners. Runners will be coming in and out of this location from both directions, so this will be a fun and high energy place to spectate.
Register Now!

For more information, please email shawna@feetfeetchico.com
**No Refunds on race entries or merchandise purchased for this event**