Garmin 220 / Garmin 620
(click to read specs)
Garmin 220
Colorful Running Companion with Connected Features
GPS running watch with high-resolution color display
Tracks distance, pace and heart rate¹
Identifies personal records
Connected features²: automatic uploads to Garmin Connect, live tracking, social media sharing
Compatible with free training plans from Garmin Connect
Just like a coach, Forerunner 220 provides the motivating feedback you need to guide your training. You can even get post-run encouragement from friends and fans, thanks to the 220's connected features like real-time live tracking and social media sharing via the Garmin Connect Mobile app.
A Coach in Every Watch
Forerunner 220 measures essential running data including distance, pace and heart rate¹. It's like having a coach on hand, providing constant feedback and recording all your stats so you can focus on your run. In addition to using GPS to calculate distance and pace, the 220 has a built-in accelerometer. So you know distance and pace data when you're running on an indoor track or treadmill, with no need for a separate foot pod. The accelerometer can also track distance when GPS is unavailable, such as when you run through a tunnel. It's compatible with free training plans from Garmin Connect, which you can schedule and send to your watch, for real-time coaching.
Easy to Use
The 220 has a color display, which makes it easy to interpret your data at a glance. It also features simple button operations and a sturdy, hinged wristband that's comfortable for any size wrist.
Extra Training Features
You can set up alerts for heart rate, pace or run/walk intervals to help you stay in the desired range. The 220 features vibration alerts and audible alerts, and you can customize it to provide both or just one type of prompt. When your run's done and saved in your watch's history, a post-run summary appears so you can see how you did. The 220 also notices if you hit any personal records on that run, such as your fastest mile, 5k, 10k, half or full marathon, or your longest run to date.
Get Connected
Forerunner 220 automatically uploads your data to Garmin Connect even when you can't get to a computer. Get the free Garmin Connect Mobile app on your smartphone² and then pair it with your watch. When you save your completed run, it will automatically upload to Garmin Connect when you're in range of your phone.
It also features live tracking, which allows your friends and fans to follow along and see your stats in real time. You must have your phone paired with the 220 throughout your run to use LiveTrack. You can also share your victories through social media with the Garmin Connect Mobile app. And, for real-time coaching as you run, the 220 is compatible with free training plans at Garmin Connect. By regularly connecting your watch to Garmin Connect, you'll also benefit from a faster GPS fix due to satellite data that will be sent to your device automatically.
Garmin 620

Advanced Running Watch with Recovery Advisor
Touchscreen GPS running watch with high-resolution color display that tracks distance, pace and heart rate¹
Calculates your recovery time and VO2 max estimate when used with heart rate
HRM-Run™ monitor¹ adds data for cadence, ground contact time and vertical oscillation 
Connected features²: automatic uploads to Garmin Connect, live tracking, social media sharing
Compatible with free training plans from Garmin Connect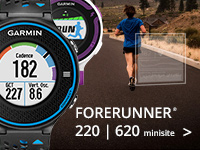 It's the next best thing to having your own personal running coach. Forerunner 620 features recovery advisor, race predictor and VO2 max estimate so you can train smarter. When used with the HRM-Run monitor¹, the 620 also gives you feedback on your running form by showing your cadence, ground contact time and vertical oscillation. For indoor training, the built-in accelerometer tracks distance, so you don't need a separate foot pod.
It Knows Your Potential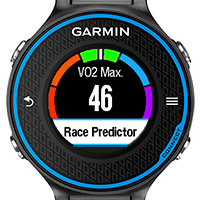 Forerunner 620 can estimate your VO2 max, your body's maximal oxygen consumption. Knowing your VO2 max is a great way to measure your physical fitness and improve your performance. When used with a heart rate monitor, the 620 crunches data, including your running speed, beats per minute and heart rate variability to estimate your VO2 max. The number itself indicates the maximum volume of oxygen you can consume per minute, per kilogram of body weight at your max performance.
A color gauge on the watch shows how your VO2 max data compares to other runners of your gender and age range. Based on your VO2 max estimate, the 620 can predict your race times for several distances. This can give you a time target for your next race, assuming you've completed proper training.
Train and Race The Way You Want
Forerunner 620 features separate activity profiles for Ride/Race/Run, and makes it easy to switch between them, for viewing only the information you want to see. The "Ride" profile defaults to speed instead of pace, sets the activity as cycling for Garmin Connect, and supports cycling speed and pedaling cadence measurements when paired with Garmin wireless speed and cadence sensors. The "Race" profile is an additional running profile that allows you to set up and quickly switch to different data fields for races than those you use for day-to-day training.
Rest Day or Run Day
With Forerunner 620, you don't have to guess how much recovery time you need between workouts. It knows your physiology based on your heart rate data, so it factors this against your last workout and then shows how much time before you are fully recovered and ready for your next hard running workout.
When wearing HRM-Run, the 620 provides a recovery check, which is a real-time indication of your state of recovery within the first several minutes of your run. When you've completed a run, the recovery time shows how long before you should attempt another hard workout. Color coding on the gauge makes it easy to interpret — green means you're good to go. When you see red and a recovery time of more than 3 days, you might consider taking a rest day or just doing a light recovery run.
Following Your Form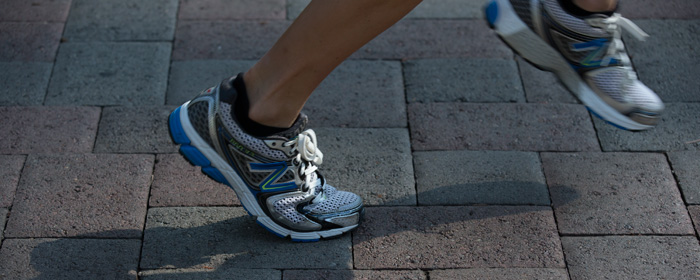 The 620 is the first GPS running watch that provides feedback on your running form by reporting multiple metrics. When used with the HRM-Run monitor¹, the 620 reports your cadence, vertical oscillation and ground contact time. These metrics are called running dynamics, and they effect your running economy.
The HRM-Run has an accelerometer, which measures your torso movement as you run to compute these metrics. Cadence is the total number of steps you take per minute, left and right foot combined. Vertical oscillation is the degree of "bounce" in your running motion, measured in centimeters. Ground contact time is just like it sounds — the amount of time your foot spends on the ground during each running step, measured in milliseconds. A color gauge makes it easy to see how your running dynamics compare to other runners.