The fit id® Outfitting Process
Find your perfect fit at Fleet Feet. At Fleet Feet, we use 3D scanning technology as part of the fit id experience to take precise measurements of your feet. The state-of-the-art scanner captures 12 data points—like length, width and arch height—to give you personalized shoe and insole recommendations.
Schedule an appointment today to ensure ample outfitting time. Walkins Welcome, But Appointments Encouraged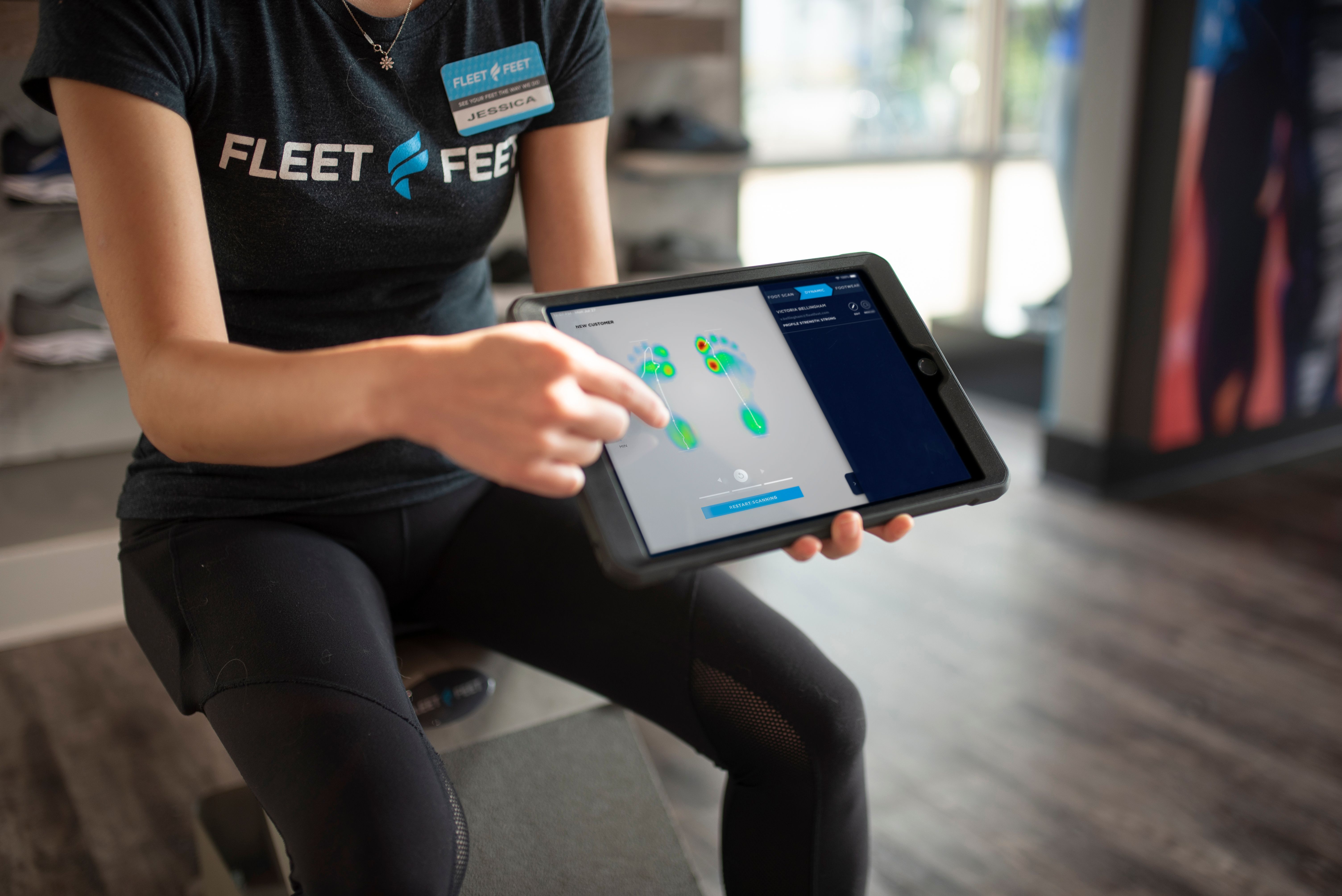 Let us make getting your running and walking gear easy. We have lots of ways to browse — in-store, online, or fast and convenient curbside pickup. However you decide to shop with us, we are your local experts and one-stop-shop to help you find great products for all your needs.
Shop In-store, Safely
Walk-ins are welcome, though appointments are encouraged and guarantee one on one outfitting to help you find the perfect fit with no wait time. For a 2 person fitting, please book two appointments below to gaurantee time for both parties.
Please note! You do not need an appointment. Walk-ins are also welcome, and appointments just allow you to schedule the time that works best for you, plus guaranteed one on one time with an outfitter

Your Safety is our Priority
Our doors are open and we are here to serve you. In addition to carefully monitoring the health of our employees, we're taking measures to keep you safe and healthy during your visit. These measures will help us create a safe, responsible, retail environment where everyone can shop and work safely. Thank you for helping us with this.
We are adhering to NYS/CDC guidelines for masking, social distance and social gatherings.
Before You Enter the Store
Check In: Our staff will set you up with the next available outfitter. Sanitizer to spray your hands is available should you choose.
Feel Well: If you have any symptoms, please shop curbside pickup, virtual fitting, or online at fleetfeet.com
Important Note: Please also double-check our hours before your visit. View Store Hours/Locations Here Better yet, book an appointment with us so we can ensure plenty of one-on-one time, in a structured and safe environment.
Buffalo Location - Map

Phone: (716) 332-3501
Hours: Monday-Friday: 10-6PM, Saturday: 10-5, Sunday: 11-3
Contactless Outfitting Still Available
We will also continue our contactless services such as virtual fittings plus curbside pickup. We ask that any customers who are not feeling well or showing any symptoms take advantage of our virtual fittings, and please do not come into the store.
Questions? We're here to help!
Please email barb@fleetfeetbuffalo.com.
Safety is Paramount
All employees are accountable for ensuring we hold to these standards
Employees and customers should feel as if they are in a safe place to speak up if they spot an issue or feel unsafe
We are giving our employees the tools, information, and training they need to effectively do their jobs while meeting the criteria given by local county, city, region and state guidelines