YOU can run!

If when you read that, you assume I'm only talking to people with some special genetic running talent or athletic people or skinny people or healthy people or people who grew up in an active lifestyle, you're wrong. I'm talking to you, whoever you are and even if you've never run more than one block in your life...

Believe it or not, I used to think I couldn't run. Sometimes as a kid, I would run a whole block ( four houses long ) and feel like I'd achieved an Olympic feat. I was your typical sedentary nerd. The majority of my time was spent devouring fantasy novels and snuggled in a bean bag with my brother, conquering evil bosses in the world of Zelda. I wore glasses, preferred pasta and ice cream to any other food groups, and wrote stories that I shared with the Librarian at school instead of playing sports or meeting boys. I did try running track in middle school, but I gave up quickly when I turned out to be the slowest and weakest on the team.
So how am I now running 30 - 40 miles per week no problem? Like you may have thought, it took a long time, and a lot of effort. However, the amount of joy and aliveness that I get from each mile of running that I do today far exceeds all the pain, the long grueling hours, and the physical strain that it took to get there. And I can pinpoint the very thing that got me started and made it all worth it.

What did it? It was a friend, a running buddy. Someone who told me I could do it, and who displayed running as something fun for the sake of itself. He was my older brother's best friend and he always smelled bad because he ran to work...and to school...and to our house...he ran everywhere and somehow enjoyed it. I was in awe of this guy and his endless energy. Perhaps it was all the time spent playing Zelda, but this man was a video game character to me, a magical elf from Lord of the Rings, a magician who could conquer all of the Dark Lords with the flick of his wand, and he liked books and Zelda, too. He showed me that nerd and athlete could be the same person. And he made me want to run.
When I asked this friend (we'll call him George for the sake of his privacy) how he ran so much, he offered to show me how. I had always wished I could be an athlete. I would be reading stories about adventures in the wilderness, and daydream I had the endurance to travel miles and miles like the dwarves and elves did. I didn't think I could do it; I was sure athleticism was something you had to be born with; but George believed in me.

So, of course I said yes.
So one day, George and I went out for a run. We would jog for just one block, then walk the next, then run again, until we'd covered about three quarters of a mile. I couldn't believe how far we'd gone. George told me to keep training this way: run as far as I could, then walk, then run again. Over time, I'd start to run two blocks at once, then four. Eventually, I could run a whole half mile before I walked. I started to like running then, not because running itself was fun, but because I liked the challenge, and I couldn't wait until the day it felt easy to run the way George could go for miles.

After training the way George taught me for a while, I was confident enough to run for the Cross Country and Track teams in High School. I ran Sophomore through Senior year, getting faster every season. I always found it unbelievable that someone who once couldn't jog two blocks, could now race three miles at once.
It wasn't until I started to run longer distances in my sophomore year of college, though, that I really fell in love with running. At that point, I had gotten strong enough that running 6 miles felt like a time of relaxation and invigoration. I looked forward to my daily run just as much as I used to look forward to a bowl of ice cream at the end of the day, or some alone time playing Mario Brothers on my Nintendo DS.
If I had to attribute all of my success with running to one person or thing, it would be to my friend George. And all it took from him was one afternoon running with his friend's little sister, letting her know that someone believed in her. And, if I had to give one thing that would make the most difference in helping a new runner get started, it would be a running buddy.

If you are just starting to run, I'd recommend getting yourself a running buddy...or two...or even a coach. Once you find one, latch on to them and soak up all the running knowledge, inspiration, and seemingly endless energy that they share with you. I promise you, if you stick around long enough, it will eventually rub off on you.

If you aren't sure where to start looking for your buddy, Fleet Feet Sports Tacoma has all kinds of events and programs to help you find one. Here they are:

1. Fleet Feet Training Programs: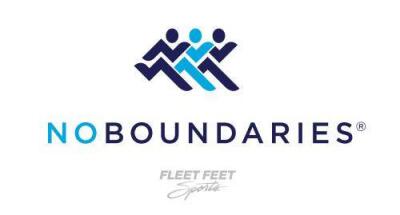 We are just starting our beginner training program, No Boundaries, at the end of this month. It is one of our funnest, and most inspiring programs. During the program, you'll have a coach, a team of fellow beginner runners, and all kinds of support from our partnering Elite Physical Therapy, our sponsor Adidas, and, of course, your Fleet Feet staff. In just 12 weeks, you'll be ready to run your first 5k! You can register online today!
Kickoff Night: January 26th, 6p.m.
First Session: February 2nd, 6p.m.
Goal Race: Tacoma City 5K
Program Schedule: We will meet every Thursday at 6 p.m. and Saturday at 9 a.m. This program will run for 12 weeks. For more information, click here.

We offer many more training programs at Fleet Feet, but No Boundaries is our most upcoming programs. To see all programs offered, click here.

2. Tuesday Night Group Run:

Our free run group is a great place to meet fellow runners and aspiring runners. The group meets at Fleet Feet Tacoma every Tuesday night, rain or shine, at 6:30PM. For more information, please visit the Group Run Facebook Page.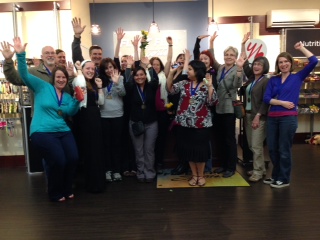 (runners from one of our previous No Boundaries programs)