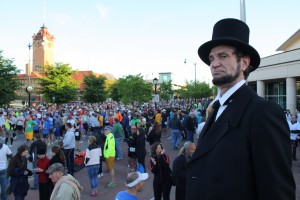 We invite you to participate in one of the Midwest's premier half marathons.  This is the only race where you can immerse yourself in Lincoln history and enjoy a scenic run past the only home he ever owned, his law office, the Old State Capitol where he delivered his "House Divided" speech, and his final resting place in Oak Ridge Cemetery.  
The USATF certified course starts and ends at the historic Old State Capitol.  The Lincoln sites and Springfield's hospitality make this a destination race for the whole family.
Click on the picture to sign up!