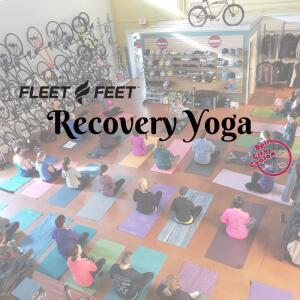 RECOVERY YOGA
This class will touch on basic stretching and yoga principals in a relaxed environment.

Yoga is a wonderful compliment to your physical activity routine. It is a great workout for flexibility, balance and strength.This 60 minute workout will help strengthen and shape the body while simultaneously connecting breath with movement in an effort to restore balance.
SUNDAYS
April 11, 18, 25
May 2, 9
10 AM AT FLEET FEET
More dates coming soon!
$5 and pay at the door. Arrive a few minutes early.
We will be practicing social distancing guidelines. All participants will need to space 6ft apart and correctly wear at mask at all times.
Please bring a yoga mat and blocks if you prefer to use them. No registration needed.
For more information and events visit our facebook page: www.facebook.com/FleetFeetDecaturIL
Program Start: ex: Sunday, January 18th, 6:00pm
Program Fee: ex: $100 excluding race fee