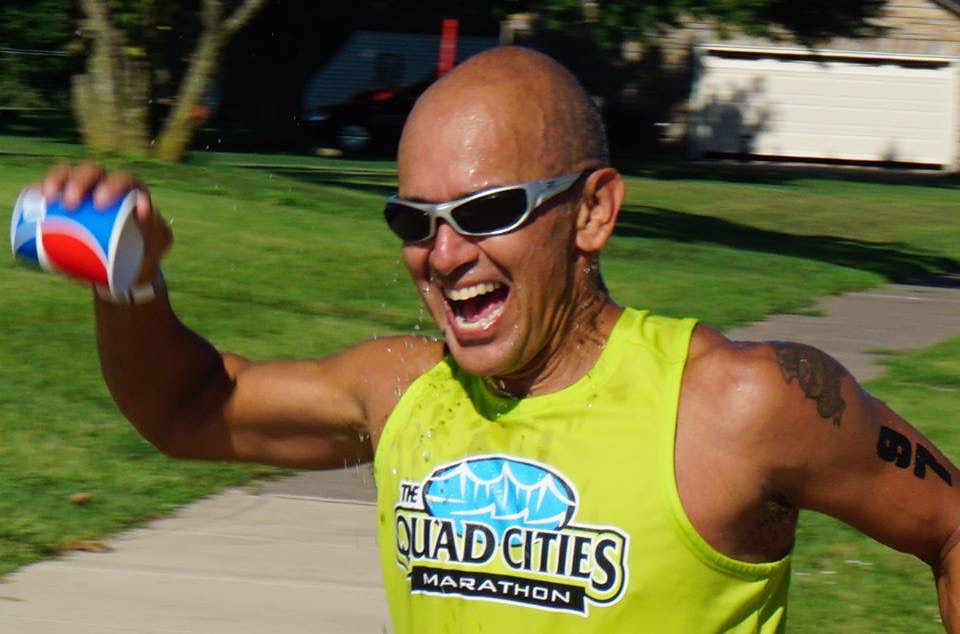 Joe Moreno, race director for the TBK Bank Quad-Cities Marathon, the Genesis Firecracker Run and the Trinity Freedom Run, Ganzo's Cinco de Mayo 5K, among others, has been part of, and on the starting line for, the QC running community since the early '90s. An avid runner himself, if he's not pounding the pavement, you'll most likely find him high-fiving racers at the finish line, in a race meeting, or on a virtual call, hashing out logistics for yet another event. We asked him a few questions about how this year has been in the running world that is the QC. Looking for inspiration? Look no further.
How has the last year been for you, and what does it tell us about the running community?
"Despite the pandemic, I think it's been a positive response, because this is totally new to everybody, every industry, every race, and individual. For the local races, and for me as a race director, I learned this - the community, especially the running community, came together.
"Early on this year, in 2020, we decided to put together the Quad Cities Virtual Covid-19K - it was a new race, entirely from scratch, we didn't know how many people were going to participate, you don't know how many shirts to order. To our surprise, over 1,000 people signed up for that virtual run. The fact that we were raising money for people affected by this pandemic, that made a huge difference. The Quad-Cities running community really stepped up. Kudos to my trusty assistant race director, Witty (Laura Wittnebel) for helping out, couldn't have done it without her.
"Then the spring and summer came, and either races got cancelled or they went virtual, but with every one of those races, they, too, all had a great response. They all had great participation and great support. To my surprise, we had sponsors still support us, even though it was virtual. It's been very positive.
"With the pandemic, things are not normal, it's something different and new all the time. We're seeing a different perspective for each event, they all have their own purpose, because that relates to something you're passionate about, and that just keeps us going."
Why are races and running events important for communities?
"You know what, they're very important. When a community has a multitude of health-oriented activities, of options like (triathlons, trail runs, walks, road races, organized bike rides, etc.), it just adds to the quality of life. That community is very likely a healthy, stable, and thriving community, because it has all of that.
"We go to Florida to visit our daughter each year, and it's amazing how I cannot find a local road race to participate in. I might have to drive 90 minutes to find a race on that weekend, and that's a shame as races are good for the community, sponsors, and they're good for the beneficiaries. Ninety-nine percent of the time, races raise money for a very worthy cause. That makes the community stronger.
"Second, races give non competitors who want to be active and contribute the opportunity to volunteer, to give back with their time and talents.
"Third, it gives people an opportunity to compete, to challenge themselves, and to do something new. I just think it's important that communities, businesses and sponsors encourage and support events like races, because it makes a better well-rounded community, and there's a great return on that investment, for both the beneficiaries, and for those participating."
What do you look for in the businesses you work with on races?
"When I'm working with businesses, I don't want to work with them just for financial support - I want their enthusiasm. When we partner with Phil from Fleet Feet (I call him Felipe), he brings it: the enthusiasm, the ideas, the interaction with the race and participants. He's very involved with my races. He sponsors the Genesis Firecracker Run, the Trinity Freedom Run, and the TBK QCMarathon. It's about running, the community, and having fun - he knows it. He loves it. He breathes it.
"I really love it when businesses bring their enthusiasm. Collectively, with enthusiasm, an open mind, and willingness, the race can take a new direction and a new shape, and that's how things happen, and things don't get stale. You've got to listen to what the runners want. We've been evaluating our races, and we've got to do some new things in 2021. Enthusiasm from everyone involved makes that possible."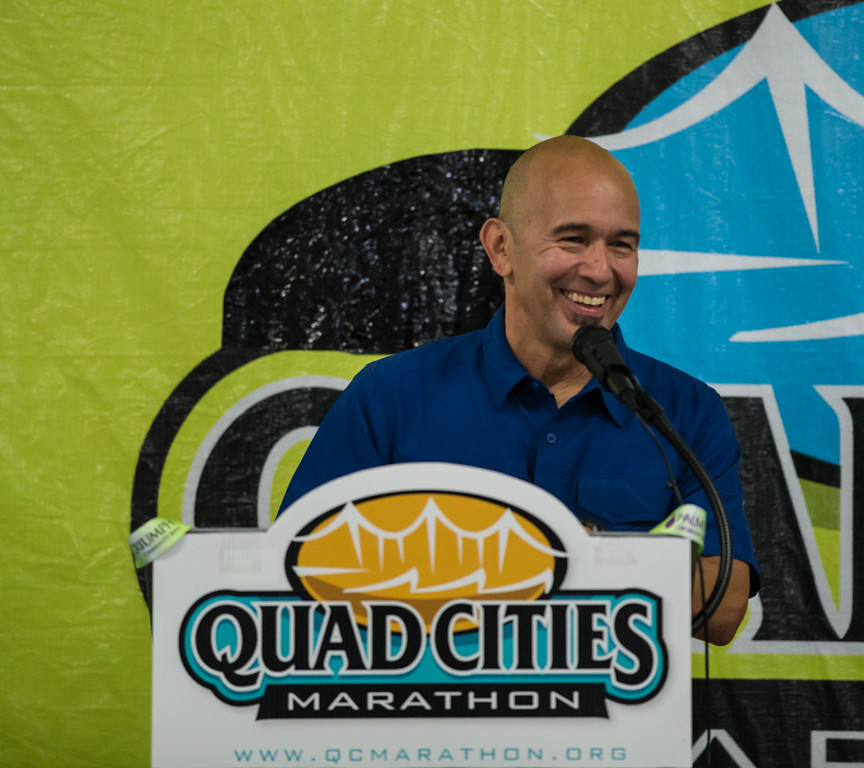 When you're in the middle of planning and organizing for races, what is the most rewarding moment? When do you sit back and say, this is great?
"The highlight for me is every race day, when it's on, it's happening in progress. I've organized over 100 races in my life. Each and every one of them has this feeling of satisfaction, whether it's a one-time race or a traditional, annual race.
"I kind of get emotional at every race, because it means a lot to me personally to see people having a good time, or if they had a PR (personal record), or if it was their first race ever, or if this is their last marathon ever because of this or that. When, of the thousands of marathons, they chose the QC Marathon to be their first, that means a lot.
"There's so many reasons it's meaningful to me, and a big one is all the volunteers, and my race committees. The only credit I should get for any race is that I built a good team for the race. I don't have nor need a cape or crown, I'm just a regular guy that has a passion in this arena. I'm so honored to be in a position to help people reach their goals.
"I've been so blessed to have a career as a race director. I've been doing this for decades. I've been so blessed to have wonderful friends, a supportive community, amazing sponsors, a great running community, and a wonderful family. You put all that together, and I'm destined to be successful in what I do.
"At the end of the race, I just feel so good that they had a good time. You give people the opportunity to bust out, do their thing, have a good time. You've been planning this race for a whole year, it happens so quickly and it's all over. When the gun goes off, it's out of your control. You just hope it's all working, and that everyone's in place, and everyone has a good race.
"I really feel good about that, and the other thing I feel really good about is when you have a beneficiary, and you're able to donate, over the years, several hundreds of thousands of dollars to organizations that really need it."
Joe says some organizations hit closer to home for him, such as Ganzo's Cinco De Mayo 5K. "The proceeds from Ganzos' goes to the Quad Cities Autism Center (QCAC). We have a grandchild who is 3, he's been diagnosed with autism. I feel obligated to help the race, and that organization.
"There's many reasons that make me feel good about putting on these races. People are just having a good time, and the beneficiaries - that's icing on the cake when you raise a lot of money for a good cause."
What part of running, and races, do you wish those who aren't (yet) a part of the running community knew?
"My wish is that more people who have never indulged in this type of activity would try it, and challenge themselves.
"You don't have to be fast. That's important for everyone to know, including the organizers. When I hear, "I don't run, I just walk, I can only do a 5K" - I tell people not to diminish themselves. I say, "don't use the word 'just'", because there's too many people in the world who would love to do a 5k. For some people, the 5k is the marathon of their life. Don't knock yourself. Anybody can participate, whether you do it on crutches or wheelchair or on foot."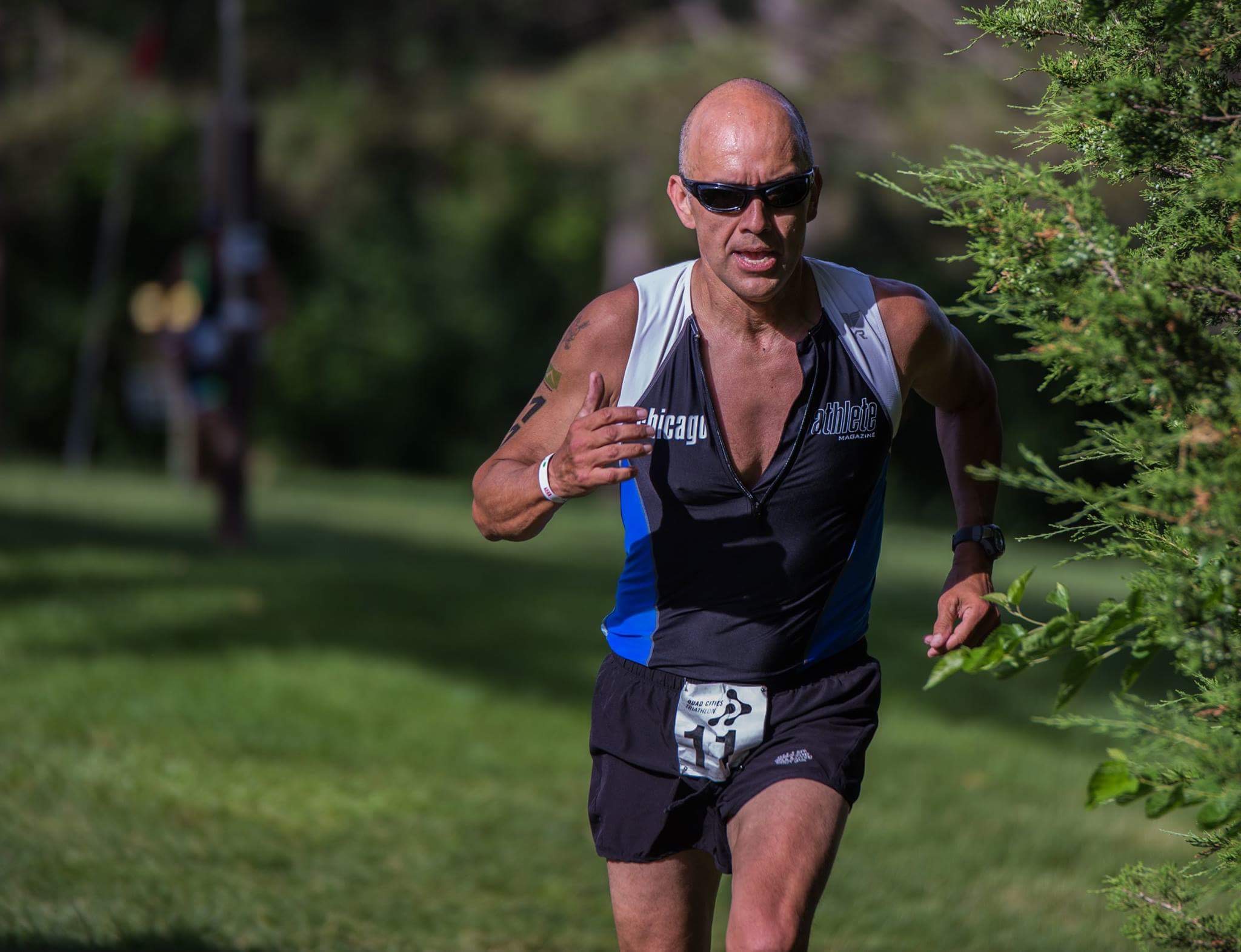 Final Mile:
Shoes: "Lately I've been running in Saucony and Hokas."
Best time of day to run: "Morning, 7, 7:30 a.m."
What's a good reason to run today? "Well, you know what, don't run just because it's on the schedule. You should run because you want to. You should run because you can. You should run for those who cannot run. Because there's going to come a day when we can't run anymore.
"There's a lot of people who are very capable, but they won't do it. So for those of us who can run, get out there because you want to, not to because you have to. I just think you have more fun when you do it that way.
"You've got to have those solo runs - where it's just you and the road. You've got to run with friends, where you're yukking it up, and having a good time. You've got to run in the tough elements, extreme heat, cold, and on beautiful days. You've got to run (safely) with music sometimes.
"Bottom line, you just gotta run."