GINA (far right)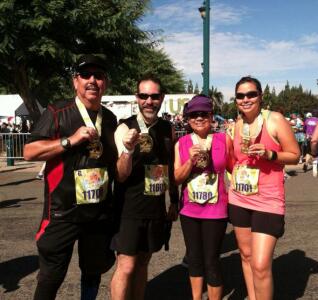 1) How long have you been a runner? What got you into running?
I started running when I first moved to LA, almost 9 years ago.  I didn't know anyone, so it was a good way to pass the time and get to know my new neighborhood.
2) What do you like best about running?
Being able to wear neon clothing and gear.
3) Where is your favorite place to run?
I love trail running near my house.
4) What is your favorite race experience?
My favorite rave experience was the Disney Half Marathon that I ran with my parents and husband.  It was all three of their first half marathons, and it was so fun to see them accomplish something they had worked so hard for.
5) How has running changed your life?
Running has given me a go-to exercise routine I can maintain. I have tried many different kinds of workouts, and running is always the one I come back to. It has also been a great way to meet amazing people!
6) What is your favorite thing about mentoring?
I love helping people accomplish their own goals. It is so inspiring to be around motivated people who are pushing to be the best versions of themselves.
7) What is your favorite piece of running-related equipment?
Favorite old piece is my Nike Dri-Fit Wool Running Hoodie because it is warm but also incredibly light. My favorite new piece that I got for Christmas is the Runbell Handheld Bell because it's funny and it really works!
8) Any tips for new runners?
Remember that running has highs and lows for everyone, and at some point we all have bad days or are starting over.  The key is pushing yourself to get out there.