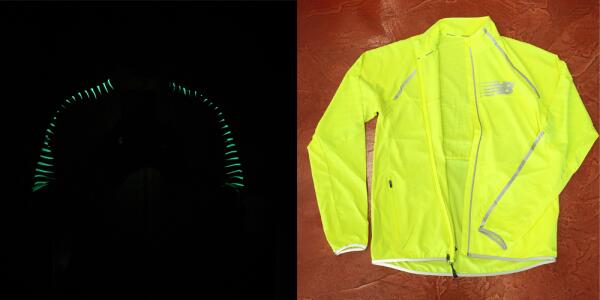 The New Balance Glow Beacon Jacket is one very tech piece of apparel designed to keep you safe from dusk to dawn.  Jim Cielencki has been running in this jacket since late fall and here is what he has to say about it:
"I'm definitely a skeptical person and wasn't sure the glow would be that noticeable.  Once I charged it up, I turned out the lights and just started laughing at how amazingly well it worked.  Combine that with it's brightness and the fact that it has 360 degrees of reflectivity, so you get this amazing jacket that helps you be very visible at night.  I'm fairly safe at night, but with this jacket I feel so much safer.  Highly recommend to a person who runs busy or dark roads.  You will be seen."
Available now in our store.  Stop by to watch it glow.