New spring gear has landed here at Fleet Feet Sports Buffalo! 
If you've been in the store lately I'm sure you've noticed the new blue and orange Saucony table towards the front. If not you are in luck! We had some of our lovely staff members try it on for you!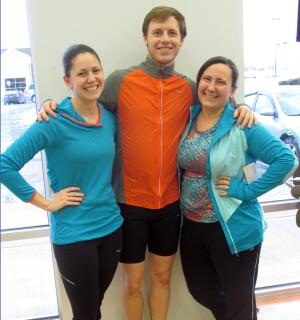 Both Men and Women will fall in love with the Transcendence Full Zip with a Wind Resistant front panel and a longer fit. The women's line comes in a soft Oceania powder blue while the men's is a Atomic Orange, both great colors to bring us into the better weather we all deserve. A fun new piece for the ladies is the Transition Hoody made for the cooler spring weather. It is made of a light weight fabric with thumb holes and a media pocket. In a similar style for the men we have the Transition 1/4 zip with similar specs minus the hood. Rounding out the women's tops is the super soft DayBreak Long Sleeve, you'll have to feel it to believe it. Shorts for both men and women are also in the spring lineup with 8" and 6" inseams respectively and an additional Bullet capri for women all with great reflective aspects.