Sunday, January 29th, 11am
Calling All Divas! Are you ready for a morning of fun, shopping and pampering - all for a great cause?
On Sunday, January 29th, we're opening the doors early just for you - and to raise money and awareness for the Ronald McDonald House of Buffalo!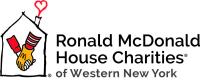 Yoga! We're starting off the morning with a special 45 minute yoga class, led by Joelle at 9:45am (bring your own yoga mat). Space is limited to 30 people, so reserve your space here. Although there is no charge for the class itself, we are suggesting a $10 donation at the door.
Raffle Prizes! We have some pretty cool swag to give away, including injury prevention tools, training opportunities and more - but you have to be in it to win it! Everyone will receive a raffle ticket for simply attending. If you want to increase your chances of winning, bring an item off the Ronald McDonald House wish list (see below) to donate, experience a sports bra fitting or by trying on at least one piece of apparel. Additional tickets will also be available in exchange for a monetary donation to Ronald McDonald House.
Tasty Treats! We're offering a tasty - an extended - Bloody Mary bar. Plus, what would a Sunday morning event be without tasty refreshments?
Sports Bra Fittings! Our FIT Specialists will be offering sports bra fittings. They will work with you to provide the best solutions for you based on your size, activity and needs.
Specials! Take advantage of special, one-day only savings on sports bras, apparel and accessories.
Ronald McDonald House Wish List:
Paper goods: cups, plates, napkins
Swifter's and dry replacement pads
Clorox or Lysol wipes
Batteries (AAA, AA, C, D)