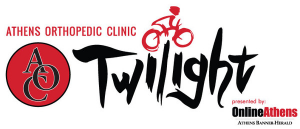 ____________________________________________________________________________
For immediate release.
For more information, visit AthensTwilight.com or contact
megan@gobike1.com
.
February 6, 2015
The Athens Orthopedic Clinic Twilight Changes Course as it Returns to Athens,

April 24-25, 2015
Bringing together a rambunctious crowd of thousands of spectators and hundreds of amped up professional cyclists, the
Athens Orthopedic Clinic Twilight Criterium
presented by
OnlineAthens/Athens Banner Herald
 returns to the Classic City the weekend of April 24-25, 2015. This year the event is celebrating its 35th anniversary, and it's already shaping up to be the greatest one yet.
Returning as the title sponsor is 
Athens Orthopedic Clinic
, a health care facility providing high quality orthopedics to Athens and its surrounding area for almost 50 years.
"Athens Orthopedic Clinic appreciates the impact and longevity of the Athens Twilight Criterium," said Jennifer Sapp, Director of Marketing. "AOC and Twilight have stood the test of time for many reasons: both entities encourage healthy athletic activity, they value family involvement, and they show unending support for this community. The partnership between AOC and Twilight comes naturally, as many of the Twilight participants and spectators look to AOC's providers for their orthopedic needs. AOC is also proud to give on-site medical support throughout the Twilight weekend. AOC is excited about the opportunity that Twilight provides us to interact with our community in innovative, personal ways."
Once again, proceeds from the AOC Twilight will benefit
Athens Area Habitat for Humanity
.
"One of AOC's missions is to promote childhood health and well-being and through our partnership, they are taking that commitment to the Athens community to another level," said Spencer Frye, Executive Director of Athens Area Habitat for Humanity. "Our mutual goal is to help a family to achieve the American dream of home ownership so they can provide a clean, well-lighted place for their children to call home."
After more than 5,000 clockwise laps around the historic center of Athens, the course of the AOC Twilight Criterium is reversing directions and relocating to another area of downtown because of an ongoing streetscape project on Clayton Street.
"It is going to be hard to unwind 35 years of racing on what is considered the best criterium course in America, but the new course offers its own unique challenges," said Gene Dixon, Founder of the AOC Twilight Criterium. "The new course is a little longer and will have one super high-speed corner as it descends to turn three from Hancock Avenue left on to Hull Street. Being first through this and turn four may not be as important as the power needed to make the climb up Washington Street to the finish at College Avenue. The course continues on Washington and turns left on Jackson Street and again left back onto Hancock."
Pending city permit approval, the course will be closed off all day
on Saturday
, so all amateur races will be held downtown instead of on the Greenway as in previous years. Along with the weekend's featured
Saturday
night races that regularly draw over 30,000 fans to the streets of Athens, Twilight sponsors will also host other events including a music stage, a gambler bike ride, a kids zone & criterium, and a BMX stunt competition. Mountain bike time trials, a fat tire criterium, a parade, a 5K and a 1-mile race will also be open to participants, with all events taking place in the new course layout.
"I
 think Athens Twilight is one of the most intense and tough races I do all year, and I do not think 2015 will be any different even though the course is changing," said Morgan Patton Brown, local cyclist who will be riding for Team Colavita/Bianchi this season. "Turns one and two should be straight forward considering they're after a nice hill. Turns 3 and 4 will be technical and fast. I imagine to easily be going into those turns at 30+ mph every lap considering the decent into them. This is definitely a course you'll want to have good positioning (and legs!) for."
"This course has a bit more of a wide open feel similar to the first Twilight," concluded Dixon. "That was before parking decks, before downtown housing, before streetscapes. Only a couple of bars and restaurants. Before a Classic Center and a hotel. Before paved roads...[laugh]...just kidding. Certainly the Twilight has felt the pulse of Athens in one place for a long time."
Throughout its long and storied history, the Twilight has been host to many talented men and women athletes on two wheels. Be part of the ever-growing, ever-changing legacy and join Twilight in Downtown Athens for all the action and excitement.
Feel the pulse.
#AOCtwilight   #feelthepulse   #my_twilight   #my_athens   #usacrits
Proceeds from the Athens Orthopedic Clinic Twilight Criterium proudly benefit: