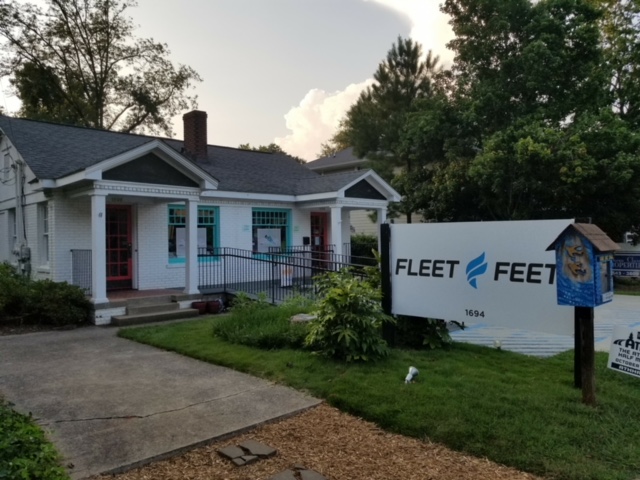 (706) 207-5054
Monday thru Saturday - 10:00am to 6:00pm
Sunday - 12:00pm to 5:00pm
Contact Information
1694 S Lumpkin St
Athens, GA 30606

map
Hours
M-S: 10am - 6pm
Su: 12pm - 5pm

In Store Reviews by Listen360
D.J. on October 24, 2021
Fleet feet was ver thorough
---
K.A. on October 23, 2021
Friendly, knowledgeable, and personable.
---
Jordan Derosa on October 22, 2021
Dustin is so great!! Pointed me right in the direction of what would be best for my feet and he was spot on! Love Fleet Feet!!
---
allen seigler on October 21, 2021
Quality products , really good service and Knowledgeable employees .
---
Nicole Kemp on October 21, 2021
Everything was perfect. Great experience.
---
George Cone on October 21, 2021
Great products and superb service. I use Mizuno Wave Inspires and if they aren't available Fleet Feet orders them quickly and promptly. Plus, they install speed laces in them at the store. The Athens Fleet Feet is the only store I will shop for running shoes because of the service.
---
K.L. on October 20, 2021
The Hoka shoes I bought for work have eliminated my foot pain. Lindsay was super helpful and helped me pick out a new pair. The employees are always great at this store.
---
P.M. on October 20, 2021
Product quality
---
B.D. on October 18, 2021
Top quality products and expert personal assistance provided by the staff.
---
M.S. on October 17, 2021
Images taken of my foot and ankle structure allowed my sales person to pick the most appropriate shoe for my foot.
---
S.S. on October 16, 2021
Good selection, knowledgeable staff, friendly staff
---
A.S. on October 16, 2021
The associate was very welcoming and kind, I really appreciated the 3D modeling, and the products were great.
---
Larry Phillips on October 14, 2021
Great staff and service. They go the extra mile to make sure you get the correct shoes.
---
L.R. on October 14, 2021
Had the shoes I wanted in stock and always have friendly and helpful sales associates!
---
Ronnie Holland on October 14, 2021
We had a very professional, personable sales associate who was willing to spend time understanding my issues, before he recommended several options. He explained why he thought each particular shoe would be beneficial and seemed sincerely interested in helping find my best options. We will definitely return. Oh, and I love the shoes. They are not a cure all, but certainly help alleviate at least some of my pain and discomfit! Thanks!
---
M.M. on October 12, 2021
I expected a bit more scientific help, like a gait analysis and all the high-tech stuff you mention on your website. Instead, I got basically the kind of service I used to give when I worked in a shoe store in 1985. The young man who waited on me did find a pair that seemed to work for me but I didn't feel that we looked as closely at the injuries that brought me seeking a new pair of shoes or the recommendations of my physical therapist as closely as I would have liked. In short, nothing special happened here. If you didn't have a guarantee I would not have purchased shoes.
---
lacy camp on October 12, 2021
Love the personalized fitting experience and the modern technology for assessing my footwear needs! And the personnel were friendly and knowledgeable! Will definitely be back!
---
S.T. on October 11, 2021
Get what I want at a neighborhood store.
---
lori cook on October 10, 2021
Very friendly helpful staff
---
K.G. on October 10, 2021
Extremely knowledgeable and super friendly. Best customer service around!!
---