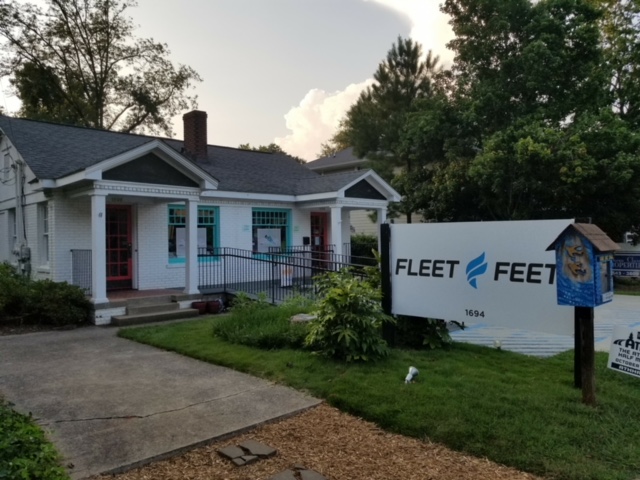 (706) 207-5054
Monday thru Saturday - 10:00am to 6:00pm
Sunday - 12:00pm to 5:00pm
Contact Information
1694 S Lumpkin St
Athens, GA 30606

map
Hours
M-S: 10am - 6pm
Su: 12pm - 5pm

In Store Reviews by Listen360
T.E. on March 2, 2021
Dustin is the best!
---
J.A. on March 2, 2021
Knowledgeable, courteous and friendly service!
---
A.B. on March 1, 2021
Personalized shoe recommendations and individual sales associate help.
---
G.U. on March 1, 2021
Personal service and great products.
---
J.H. on March 1, 2021
Very friendly and helpful staff. Larger selection of quality products than big-name brick and mortar stores.
---
Cindy Roach on March 1, 2021
Great customer service
---
C.M. on February 28, 2021
great customer service- knowledge and friendliness
---
Wes Sherrell on February 28, 2021
Great service and knowledgeable staff
---
C.M. on February 27, 2021
Very knowledgeable staff- gave me plenty of time to decide, used the foot scanner to help with decision
---
T.S. on February 27, 2021
Customer service is awesome !
---
I.E. on February 26, 2021
Great customer service. Very accommodating and patient.
---
Sherry Waye on February 25, 2021
Very helpful and friendly customer service.
---
C.F. on February 24, 2021
Personal service - expert advice and friendly
---
I.B. on February 23, 2021
Great products and knowledgeable staff!
---
K.F. on February 23, 2021
I was dreading getting running shoe, but after a decade of inactivity I wanted to get moving again. I don't remember ever having had a pair of tennis shoes that did not hurt and fit perfectly. Well, these guys made it happen. Technology has come a long way. I love how easy and advanced the fitting process was. After scanning my feet I got my exact shoe size. More than just the right length, the shoe also fit to my individual feet. This was a great experience.
---
E.V. on February 22, 2021
My nine year old daughter has issues finding shoes that are comfortable and that she likes. The selection and service were excellent.
---
F.B. on February 22, 2021
I have always come to Fleet Feet to do my shopping for our family of 5. I was greeting by one of the two staff in the shop. I told them we were there to buy two pairs of shoes today. They asked if we had masks. I didn't notice the sign when we walked in but I should have. It's definitely large enough to be seen, but I was distracted by conversation. We were not wearing masks. When we were informed that we would not be served without masks, I asked if they had any to offer (like other businesses that require them to be served). They said they did not have any masks but that they could sell me one. I went to my vehicle to look for a mask and found one. So I let my son go in to buy track shoes because he needed them in two days. Then I was not allowed to come in. So I walked down the street to the Running Shoe Company and bought myself a pair of shoes. I was prepared to spend about $350 or so, but just bought the track shoes that my son picked out. If you are going to require masks in order to be served, then you should offer them when someone forgets their masks or chooses not to wear them either from already having covid or being vaccinated. This was a very bad experience in my opinion...
---
W.K. on February 21, 2021
Personalized service
---
T.M. on February 21, 2021
Easy process from start to finish. Jake was very professional and nice to work with!
---
D.M. on February 18, 2021
I forget to ask the lady for her name but she has been so helpful to me each time I come in. The gentleman is nice to as I have dealt with him also. She listens to what I looking for and what problems I may be having with my current (precious) shoes to help guide me to the correct shoe I need.
---