RESTORE THE CORE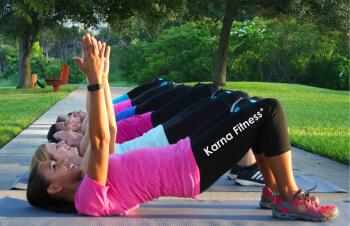 Come join us for this mat-based class designed to help you restore your core by incorporating our Karna Ball into movements that strengthen and lengthen your abdominals, back, adductors, glutes, and more!
The Karna Ball is a functional exercise product designed to support the pelvic core neuromuscular system. 
No impact. No cardio. All core.
New participants will need a Karna Ball, which can be purchased at a discounted price from your instructor at your first class.
Please bring a yoga or pilates mat and a large bottle of water.
Shoes are not required for this class format.
New participants will receive $20 off their equipment purchase if they mention Fleet Feet Sarasota when they register! 
When:Saturdays 8:30-9:30 a.m. 
Session Dates: Monthly 4-week sessions
Session Price: $54
Class size is limited to 10 women
Questions? Call Kristen Horler 941-400-3616 or email her at kristen@karnafitness.com
About the founder and instructor.......Kristen Horler
Kristen has been a fitness professional for over 18 years as a certified personal trainer with the American Council on Exercise (ACE) and a certified group exercise instructor with the Aerobics and Fitness Association of America (AFAA). Kristen is a continuing education provider for both ACE and AFAA, and has authored over a dozen fitness program manuals and training guides. She most recently developed Core9 Birth Recovery to assist a new mom during the first nine weeks of motherhood through essential movements, whole food nutrition, and community support.
Kristen is the founder and CEO of Baby Boot Camp franchise programs and the author of Baby Boot Camp: The New Moms 9-Minute Fitness Solution (Sterling 2010). Prior to becoming a fitness professional, Kristen earned her B.A. degree in Physical Anthropology from the University of California Santa Barbara and her A.O.S. degree from Le Cordon Bleu (California Culinary Academy) in San Francisco. She recently graduated with her M.S. degree in Applied Nutrition with an emphasis in Sports & Fitness Nutrition from Northeastern University.
Learn more at www.kristenhorler.com