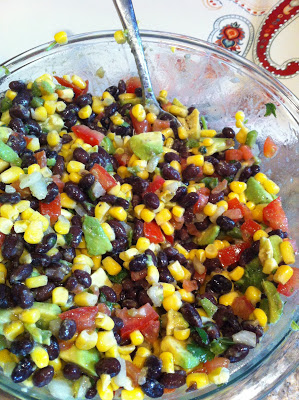 Dressing:
- fresh key lime juice
- olive oil
- minced garlic
- salt
- cayenne pepper
Mix ingredients well.

 Salad:
- black beans
- corn
- avocado, diced
- red bell pepper, diced
- tomato, diced
-  onion, finely chopped
- cilantro
- fresh jalapeno, finely chopped
-(you can sub ready made pico for the last four ingredients if you need a time saver!) 

Combine all ingredients. Add the dressing, little by little, and toss. Taste as you go and add dressing as needed.
Recipe props to sweetorangefox.com