Drink Up Summer Run/Walk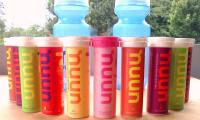 Saturday June 21st at 8:30am
Join us on the first official day of summer for a fun run/walk. This one is all about hydration, which is a key factor in staying healthy while you are running/walking in the summer months. We will have a lot of different flavors of Nuun to try out, as well as some other nutrition samples to keep you energized and hydrated.  The more Nuun you sample, the more raffle tickets you get for a chance to win a prize.
Some facts about Nuun: electrolyte enhanced drink tablets that keep you hydrated but do not contain sugar or carbs. The electrolytes help alleviate muscle cramps, improve muscle function and burn energy efficiently.
After the run/walk we will have breakfast and prizes! Prizes include Nathan hydration belts and handhelds!