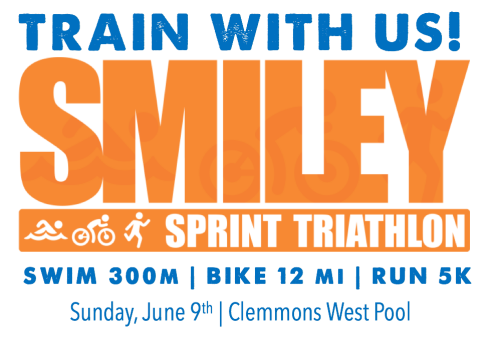 Kick-off Meeting: Tuesday, April 9th 6PM at Fleet Feet
First Coached Practice: Tuesday April 16th, 6PM
8 Week Training Program
Price:  $225 includes race ($70) and USAT fee (USA Triathlon required fee $15)
Team of Coaches: Fleet Feet owner Keith Davis, Fleet Feet coaches, Ken's Bike Shop, YMCA Tyde Swim coaches
Coached Workouts:  Tuesdays 6PM & Saturdays 7AM
Coached Workouts Include: 4 swim clinics, 4 coached bike rides, 2 YMCA spin classes (featuring our beloved Stacie Battjes as the instructor!), 4 run clinics
Additional Special Clinics: race course preview, transition clinic, bike safety

The Smiley Sprint Triathlon brings the sport of triathlon back to Forsyth County/Winston-Salem Area.  This race is a non-profit event.  The Smiley Sprint Triathlon is particularly welcoming to first-time triathletes including first-timers' recognition at the Awards Ceremony.