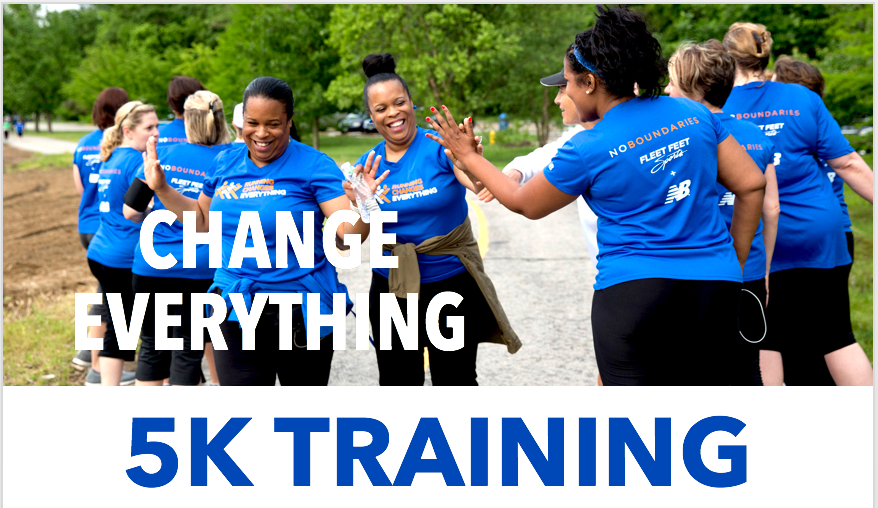 Fleet Feet Winston-Salem has been offering beginner 5K training programs since we opened in 2006. Over the years, we've trained thousands of people to reach new goals and distances. If you have ever thought about starting running...you are in the right place.

For Spring 2020, we will offer our 'couch to 5K' training program called, No Boundaries. This program will train for ROCC 5K, held on May 9th. The race is held at River Oaks Community Church on Lewisville Clemmons Rd. The 5K registration fee does not include the race fee.

No Boundaries is designed for the first timer. This is a true couch to 5K program and is structured to help you slowly build up your time and distance. Our goal is to help you get across the 5K finish line...whether that is walking, run/walking, or running. We start at the very beginning and help you reach small goals along the way. This group practices on Tuesdays (at EITHER 9:30AM or 6PM, you pick) and Saturdays at 8:30AM. Training starts February 25th!

We offer both AM and PM group workouts so we can accomodate various schedules. After you register you will receive a link to select if you'd like to be in the AM or PM group. You are asked to pick one group and not switch back and forth between AM and PM groups.

This program offers 2 group practices a week. We provide a full training plan for you, and it's important that in addition to the group practices you complete the at home workouts. You will not be as successful if you only do the group workouts.
Practices are held at Fleet Feet Winston-Salem (278 Harvey Street).

Learning to run takes commitment. It's 90% mental. Put away all those excuses - YOU CAN DO THIS! And, it will CHANGE EVERYTHING.
REGISTER: No Boundaries
Kick-off Meeting: Saturday, 2/22/20
First practice: Tuesday, 2/25/20
Registration fee for 10 week program: $100 through 11/30, $125 through 1/31, $150 after

Questions? Contact our head coach Austen Coats