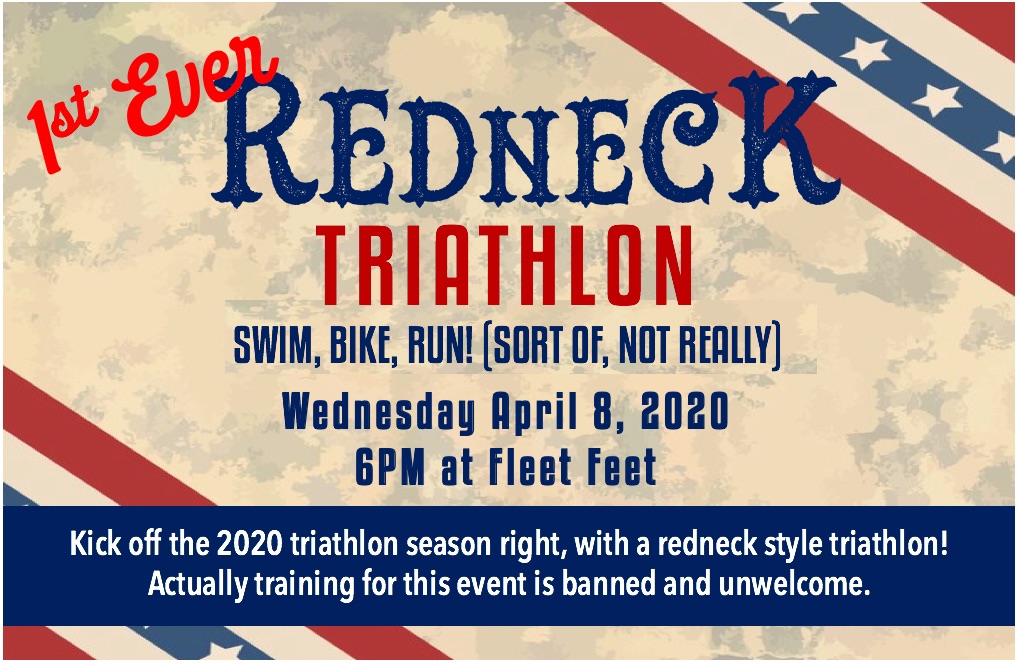 Are you a triathlete? Have you ever dreamed of being one? Well....this is a redneck-style triathlon so your answer that question really doesn't matter. It is the start of triathlon season and what better way to celebrate than REDNECK style? Are you offended by the term 'redneck'? Ok, well don't over think it- this event is going to be all about having fun, being silly, and kicking off the triathlon season. Here's how it works:
1) Most important: Come dressed as a redneck triathlete. We will have awards for the top 3 rednecks.
2) The Swim: This portion of the event is 0.0 yards and will consist of a garden hose and water.
3) The Bike: You don't need any equipment for this portion of the event. Yes, you read this correctly. There is more than one way to bicycle. Consider this portion some core work.
4) The Run: Ok....the run is actually a run.

As always, all paces and all ages are welcome at our events. Just please leave your redneck dog at home.

At the start of every triathlon, the triathletes are 'body marked' with their race numbers. You will have Sharpie written all over you, but race numbers are not important in this race.

So how it all comes together:
You get wet.
You do 100 bicycles.
You run 1 lap around the course.
You do 100 bicycles.
You run another lap around the course.
You do 100 bicycles.
You run your final lap around the course.
You celebrate like a real redneck triathlete.

At the finish line you grab a brewsky (Budweiser, Bud Light, Bud Light Seltzer) and you hang with all your other redneck buddies!
Thank you to RH Barringer for their generous support of our post-race hydration!
Be sure to RSVP so we can prepare for a real redneck showdown!