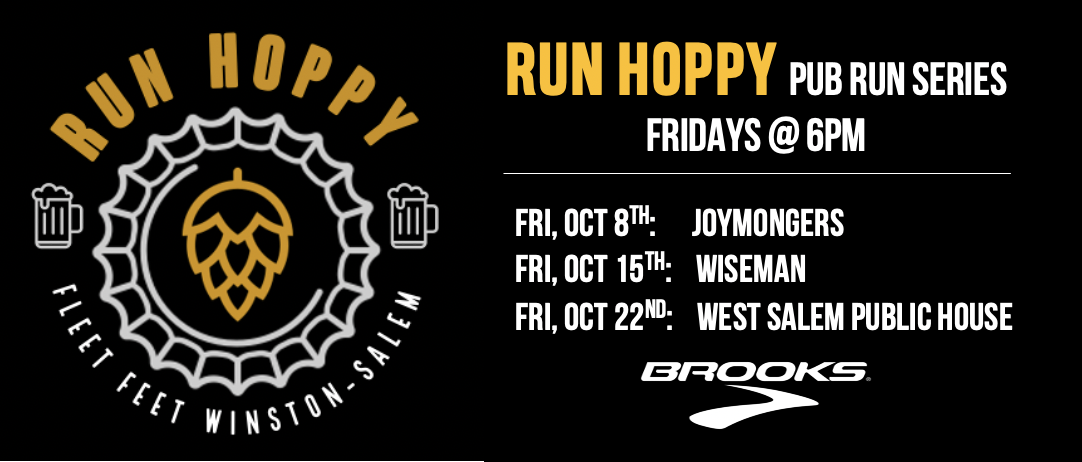 Join us for our October Pub Run Series!
Each fun run will leave at 6PM from the pub....we will head out for 3-4 miles...and then will return to the pub for some beers!
Brooks Sports is partnering with us to sponsor our pub run series.

Friday, October 8th: RUN HOPPY! Meet us at Joymongers at Hanes Park

Friday, October: RUN BRIGHT: Meet us at Wiseman and wear all the high visibility gear that you have!! Let's be the brightest group of runners Winston-Salem has ever seen! If you are dressed HEAD TO TOE with reflectivity and blinking lights you will be entered into a special drawing!

Friday, October 22nd: RUN FREAKY: Meet us at West Salem Public House for our annual FEAR FACTOR FUN RUN! You don't want to miss this run! We will have 3 stations all featuring Fear Factor inspired cuisine (yummmmm). If you eat it, you get an extra door prize ticket. Don't worry- everything is actually edible, you just might not like it too much. Brooks Sports will be there with awesome prizes!

The above exclusive RUN HOPPY shirt design is available for order for $20! All proceeds will be donated to Cancer Services of Winston-Salem...because October is breast cancer awareness month!! Pre-order your shirt here. Shirts will be available for pickup the morning of October 8th!

RSVP for the Fun Runs here!