Please consider a tax deductible donation to Mission: Feet First!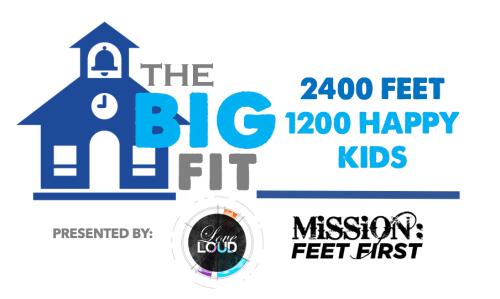 2019 BIG FIT is scheduled for late August!  We will fit 1200 under-served elementary school children for new shoes! Please consider a donation to this event. 
2018 was the busiest and most productive year we've had since Mission: Feet First started in 2010.  The charity started out 8 years ago as a way to provide shoes to individuals in need, and has exploded into a ministry that now annually provides over 2,000 pair of shoes to people in need in our local community.  God has blessed this ministry over and over.  Someone once said- if you want to be where God is, then start with where he ALREADY IS.  He's in Mission: Feet First, without a doubt.  With your financial contributions, the help of countless volunteers, and God's blessing we were able to provide shoes to:
1,000 children in local elementary, middle, and high schools.  Includes 800 kids during the 2nd week of September, low income running programs, teacher requests for children in need.
90 men at the WS Rescue Mission:  We fit them annually in preparation for the Mission 5K
Forsyth County Jail & Prison Ministry: children of men incarcerated
Solus Christus
WS Street School
Missionaries traveling abroad bringing shoes to those in need
Flood victims in Eastern NC
Bethesda Center for the Homeless
Centenary Methodist Love Thy Neighbor Homeless Fitting
Mission: Feet First (a 501(c)3) was founded in 2010 by Fleet Feet Sports owners, Emily & Keith Davis.  Emily & Keith have a passion for their Christian faith and for helping others.
Mission: Feet First was created to blend their passion for good fitting shoes with their desire to help those in need in the local community. Through this charity they are able to fit the homeless community with new and like new running shoes. In 2010, Mission: Feet First was recognized by Fleet Feet, Incorporated and received a grant, which allowed them to purchase additional shoe inventory to help more people in the homeless community. 
Contributions to Mission: Feet First allow for purchases of additional new shoe inventory.  Shoes are purchased from vendor first-quality closeout inventory to ensure that the right size and fit is provided to the recipient.  As much as possible, Mission: Feet First strives to provide a similar fit experience for the homeless community as what is offered to customers being fit at Fleet Feet Sports.
If you would like to contribute to Mission: Feet First, please select the donate button listed above or email missionfeetfirst@gmail.com..