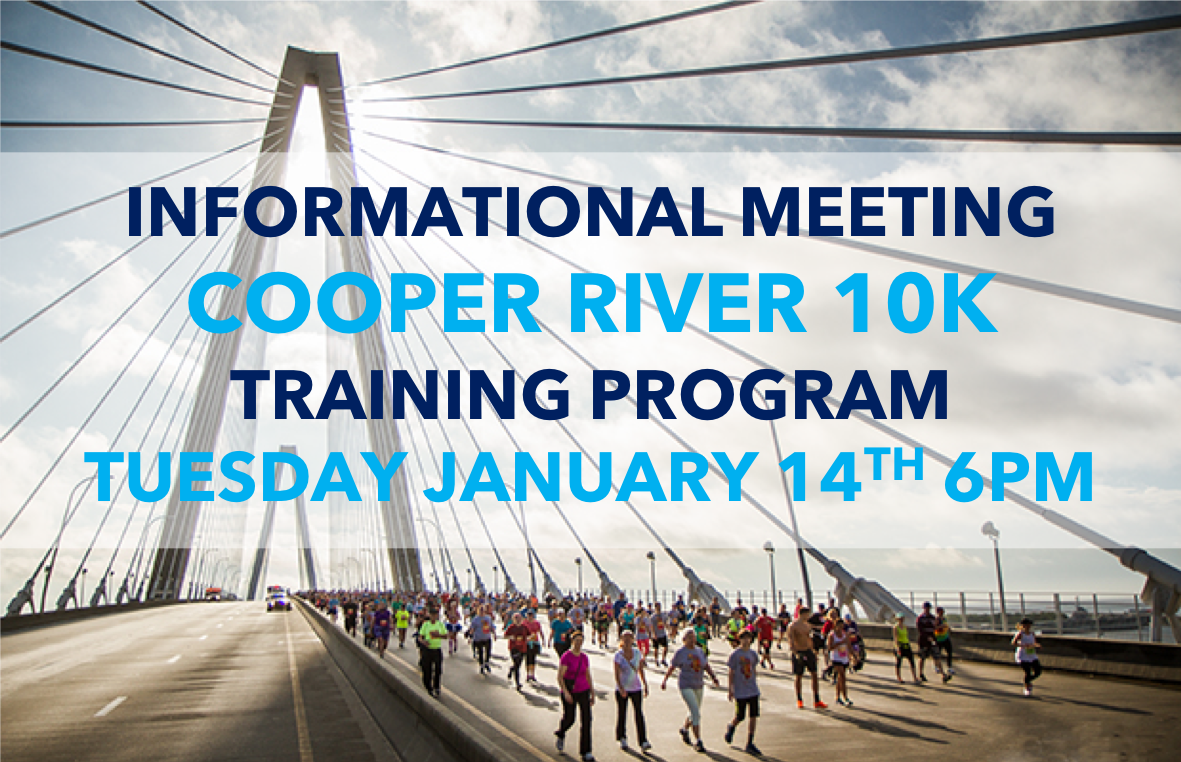 Join us on Tuesday, January 14th for an informational meeting to learn more about one of our favorite training programs! Our winter 10K program is desgined for FOUNDATION level participants. One of the first training program runs is 6 miles. Yes, that is correct- it's not a typo. This program is designed for people that can run the distance, but want to improve their time and endurance. Whether you can run the full 6 miles, or use run/walk intervals to accomplish the distance- you should have a base of 6 miles at the start of the program.
Be sure to RSVP below to let us know you'll be coming to the meeting!
Below are the full details of the program. Or just come to the informational meeting and learn more, learn if it's for you, and meet other people interested in the program.
Registration Fees: 3 Parts
1) Training Program Fee (register in-store or online): $125 through 1/31; $150 after 2/1
2) Cooper River Bridge Run Race Registration (MUST register in-store): $35 (includes Cooper River Bridge Run race entry and Fleet Feet VIP experience).
3) 10K Foundation Add-On (register in-store or online): For an additional $100 on top of the training program registration AND the race fee, you have the opportunity to register for CrossFit strength workouts with CrossFit Amplitude (Country Club Rd). Group CrossFit workouts will be on Thursdays at 6:30PM. Strength training will better prepare you for race day by building overall strength and endurance.
Program details:
Coached Workouts: Mondays 6PM & Saturdays 7:00AM
Additional Training Opportunities: Tuesday Night Track w/the Millers & Wednesday 6PM We Run Winston Run
Kickoff Meeting: Saturday, 2/8/20 9:00AM in the TEC Room at Fleet Feet
First Workout: 2/10/20 6:00PM
Goal Race: Cooper River Bridge Run, April 4, 2020
We recommend that you secure your hotel reservations as soon as possible. Due to the different travel needs of participants, Fleet Feet WS does not coordinate hotels for participants.
VIP experience at Cooper River Bridge Run, exclusive for Fleet Feet Running Club participants:
- Exclusive Fleet Feet/Mizuno training program shirt
- Fleet Feet-only bag drop & corral at start
- Fleet Feet-only post-race party
- The opportunity to share in this race experience with the Fleet Feet community from all over the southeast!