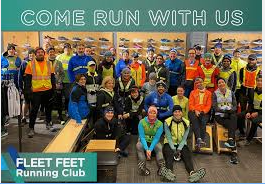 2021 is on it's way and the weather is cooling down! TIME TO TURN ON THE FITNESS!! This program is designed for those new to running/ walking, returning to running or currently in-active, with a goal of RUNNING or Walking a 5K or 10K! We structure the program to help you cross the finish line of a goal race in just 10 weeks. Along the way we'll provide you with motivation to keep you moving, guidance and advice, weekly group training runs or walks, and educational clinics on topics such as proper nutrition, choosing the right gear, and avoiding injury.
The Program meets twice a week during the training period, once on Tuesday evenings and once on Saturday mornings. The workouts will last about an hour to an hour and a half as we increase mileage throughout the season. The cost of the program is $100 (does not include the race registration fee).
This program starts Tuesday Decmember 8th 2020, and times up perfectly for Wrightsville Beach Valentine's Double Trouble 5/10K on February 13th.
Want to know more- Join us for our information meeting on Tuesday December 1st- Held just outside Fleet Feet @ 6:45
So many reasons to come!
Meet Coach Meghan! Learn about the group! Learn WHY CHOOSE FLEET FEET! Get your questions answered! Share with a friend! Questions about Covid Procedures & Safety?
Info Night ONLY **15% Pre-Run Savings on training essential accessories like water bottles, lights, reflective wear etc. **
Program for runners and walkers who want to work up to the distance and build endurance for the race.

Group 1 – Participants who are hoping to walk the distance
Group 2 – Participants who are hoping to introduce running into their routine
Group 3 – Participants who are hoping to run/walk the distance
Group 4 – Participants who are hoping to run the distance
What You Get
Progressive 10-week Training Schedule from your head coach
Two weekly group workouts per week (Tuesday evenings and Saturday mornings)
- From Fleet Feet Wilmington Store, the Cross City Trail or Downtown Wilmington
Participant technical t-shirts
Educational emails on topics such as nutrition, hydration, stretching and injury prevention
Camaraderie of other runners & run/walkers just like you!
The weekly runs consist of hill, track and long run workouts: Tuesday nights workouts will last about an hour to an hour and a half and Saturday sessions will last 1+ hours as we increase mileage throughout the season. In addition to the workouts there are educational clinics, newsletters keeping you up to date, nutrition tips, and expert coaching/mentoring to help inspire and motivate you on this training journey. Also insider availability to FFRC apparel exclusive to the club!
For 2021 we have formed partnerships with some great, local businesses!
Wilmington's only Sports Dietician Lizzy Briascoe will be joining us along the way and for specific nutrition talks to help us get clear on how we can best fuel for our sport!
Aqua Float & Cryo Rejuvinate.. Recover... Revitalize! Hard training can take it's toll, but Aqua Float & Cryo can help you reclaim the restoration needed to further your training! For your optimal recovery and wellness needs Aqua Float and Cryo Spa provides Float Therapy, Cryotherapy, Compression, LED Red Light therapy, Infrared, Massage and more.

If you have additional questions,
email Tricia Dell-Weber at Tricia.Dell@fleetfeet.com.
2020/21 Winter 5k/10k Distance Training More Info »
Program Start: ex: Sunday, January 18th, 6:00pm
Program Fee: ex: $100 excluding race fee