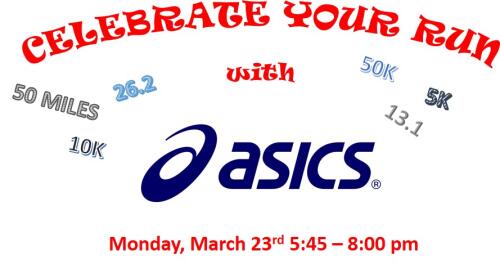 Whether you run Quintiles Wrightsville Beach Marahon, Half Marathon or 5K or another race, or just run for fun, we want to celebrate your accomplishments!
ASICS and Fleet Feet will be hosting Celebrate Your Run on Monday, March 23rd from 5:45 - 8:00 PM.  Kicking off the event is a fun recovery run with the new ASICS Nimbus 17 at 6:00 PM.  ASICS will also be awarding those who run, so make sure to bring in your most recent race medal or race bib for a free gift from ASICS.  Our celebration will also include:
6:00 PM - a fun run or recovery run (depending on what you need) where you can test run the new ASICS Nimbus, their high cushioned GEL shoe.
Massage Therapist
Biomechanical evaluations from Elite Chiropractic
Samples of healthy fair from Tropical Smoothie Cafe
Samples of Sea Love Sea Salt's new salt soak
Raffle drawings for prizes from our partners and vendors
Since we always want to support and celebrate our community as well, 10% of all sales during the event are going to support and celebrate Wilmington's own Felicia Wilkerson's 12 for 12 for 1200 Foundation, benefiting the MARSOC and SemperFi Fund. Learn ways you can support her efforts during the event.
So we can plan food and beverages accordingly, please RSVP here