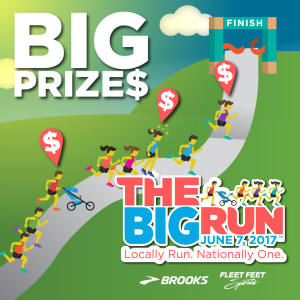 PRIZES $10,000 in National Prizes!
Based on Speed:
FASTEST MALE AND FEMALE:
 The fastest female and male in the land will each receive $500.
FASTEST AGE GROUPER, MALE AND FEMALE: 
The fastest male and female in the below age groups will each receive $100:

14 and under
15-19
20-29
30-39
40-49
50-59
60-69
70+
Based on Participation:
IN THE MIDDLE OF IT ALL:
The male and female who finish in the exact middle of all finishers in the country in their gender receive $500!
COMMON GROUND: 
We'll enter each person who finishes at the most common time across the country into a drawing for $500!
Based on Being Awesome:
SOCIAL BUTTERFLY
Post a picture or video of the event to Instagram.
Tag @BrooksRunning, @FleetFeetSports, and your local Fleet Feet Sport's Instagram
Use the hashtags #TheBigRun and #GlobalRunningDay.
The people with top two most-liked posts by 

June 8 at 10 a.m. E.S.T.

 will receive a $50 Fleet Feet Sports store card!
THE BROOKS BIG DEAL AT THE BIG RUN AWARD (This is the only prize taking place locally at each event):
Come to The Big Run decked out in head-to-toe Brooks Running gear.
Be one of 10 participants spotted by a Brooks Guru.
Receive a $10 Fleet Feet Sports store card to redeem on any Brooks gear!