Fleet Feet West Reading is comprised of some of the most passionate individuals in run specialty. Their focus is centered around giving you the best possible experience time after time as well as ensuring you achieve your needs in lifestyle, fit, customer service, training and product. The team is committed to the Berks County running community and won't stop until each visitor is fully satisfied.
---
Sorita Averill Fitzgerald
Owner & Chief Running Officer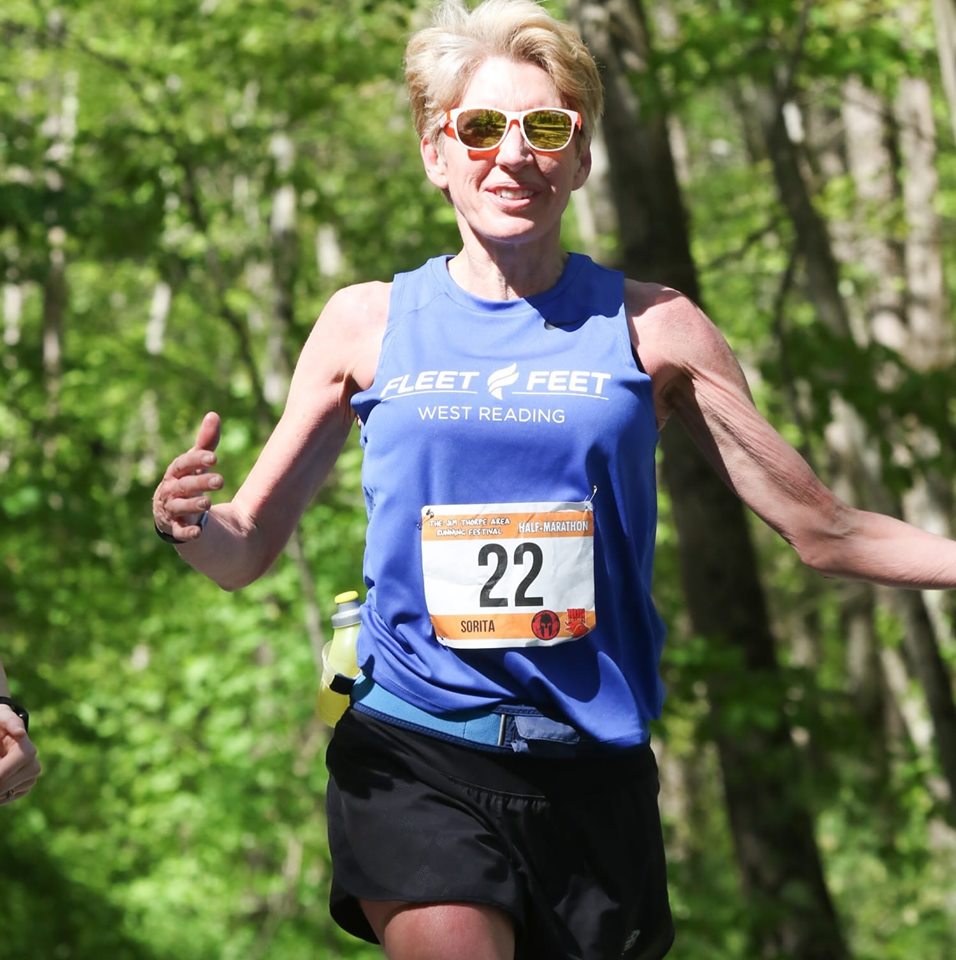 Sorita is the founder and owner of Fleet Feet West Reading. She opened the store as A Running Start in 2004 to realize her dream of providing a service-oriented shop where runners of all ages and abilities could find shoes, technical apparel and accessories to meet their needs. As an RRCA (Road Runners Club of America) Certified Coach, Sorita initiated "Learn to Run" and half marathon training programs that provide proper instruction, training advice and supervision for participants new to the sport.
Despite a history of asthma, Sorita started running at age 28, finding that running improved her lung conditioning. She started competing in short runs, then joined a running club and started training for longer distances, including marathons. Today, Sorita enjoys competing in a wide variety of events, ranging from 5K road races to full Ironman distances (2.4 mile swim, 112 bike and 26.2 run).
She actively supports the running community and is the director of several local races, including Fitzy's Halloween 5K Run, The Big Run, and The Run Santa Run 5K. She also served on the board of directors for Girls on the Run in Berks County.
Prior to founding ARS, Sorita had a career in pharmaceuticals and sales. She is a graduate of Cabrini College with a degree in Bachelor of Arts, and her Masters of Science from the University of Pennsylvania.
In January of 2018, Sorita decided to partner with the Fleet Feet brand. ARS joined the Fleet Feet family and became Fleet Feet West Reading.
---
Jason Corby
Store Manager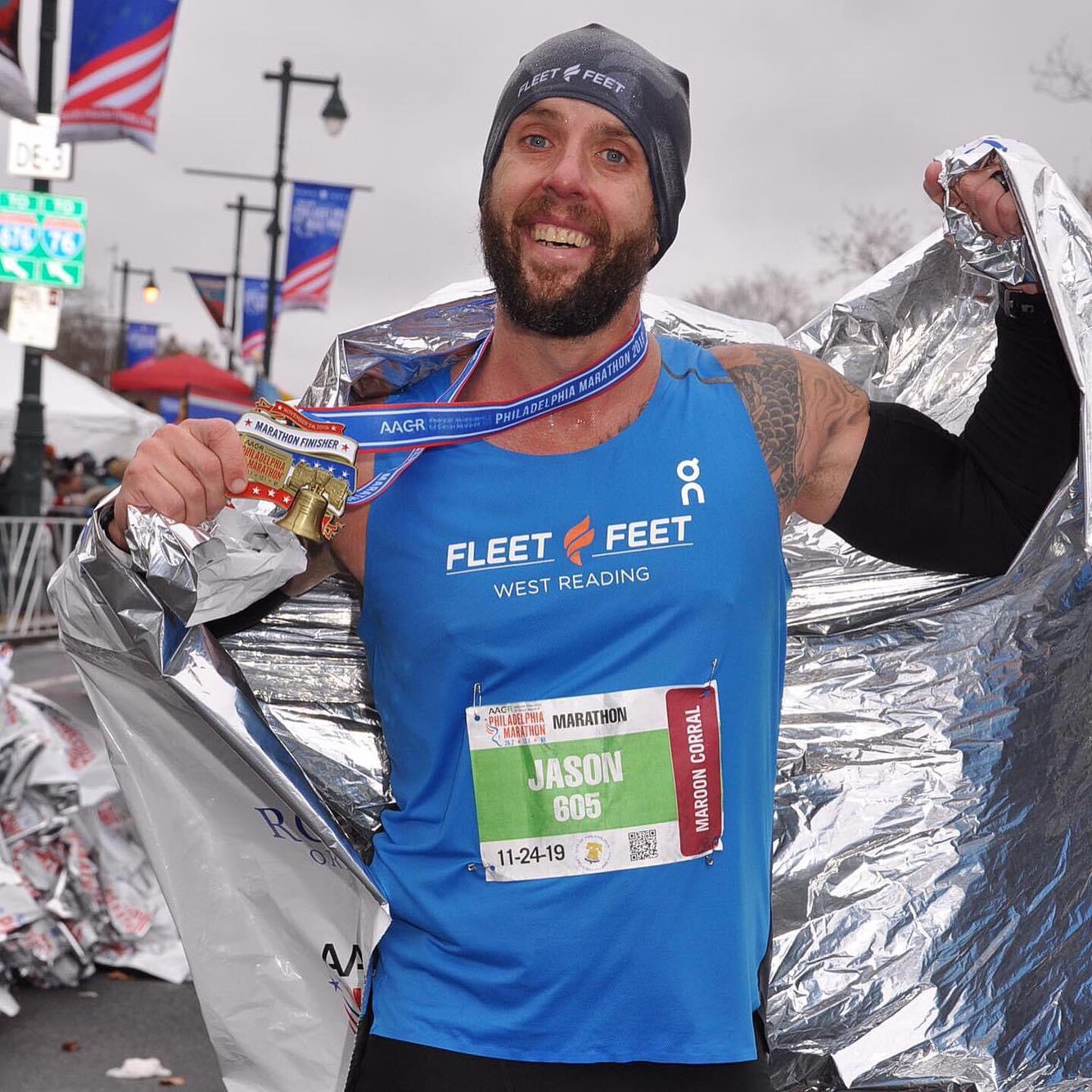 Jason grew up in Schuylkill County and went to Pottsville Area High School. He lettered in 4 sports at Pottsville, but excelled most on the Cross Country and Track teams. He attended East Stroudsburg University and pursued a degree in movement and exercise science.
After taking years off from running, Jason started back up to be a role model to his 2 daughters, Ryane and Claire. Since then, he has run multiple half marathons but is most proud of his 3 marathon finishes. His goal is to complete a half or full Ironman. His daughters are following in his footsteps by competing in the Heathy Kids Running Series which he organizes as the Community Coordinator.
Jason currently lives in West Lawn with his wife, Hallie, who is his biggest supporter when he's training for a race. He can often be seen running through the streets and parks of Berks County. He enjoys the solitude of a solo run but also loves running with his daughters or friends. He also coaches his daughter's Wilson Youth Soccer Club team. He is always looking to mentor and motivate those around him and he believes in the mantra that "There Is No Finish Line!" When he achieves a goal he is always looking towards his next challenge.
When he has time to relax, Corby enjoys hanging out with family and neighbors, supporting local restaurants and is an avid movie watcher.
---


---
Adriane Hoke
Merchandising Manager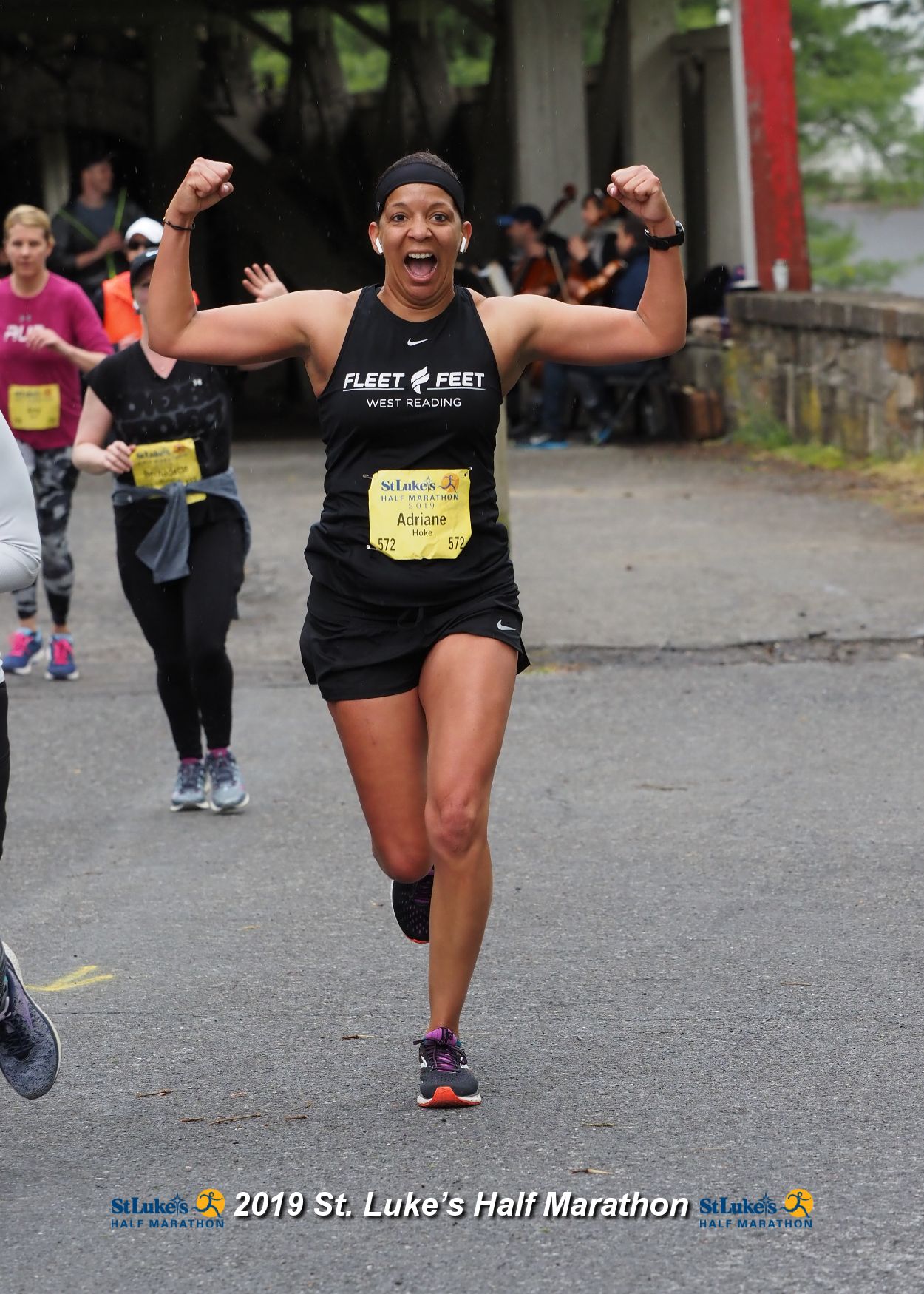 Adriane was born and raised in Reading, PA. She has been running since 7th grade, following in the footsteps of her father who was an athlete of the year at Reading High School and was also inducted into the RHS Hall of Fame in 2017. She is a proud mother of 4 teenage children while she also coaches cross country at Wyomissing High School. She had the opportunity to coach her oldest daughter, Cameron, for 2 years.
She is very active in the community and sits on several boards. She has made it a point to give back to her community in any way she can.
She is currently training for her 9th half marathon while living by her mantra, "All or Nothing".
---
Thomas Joyce
Marketing Coordinator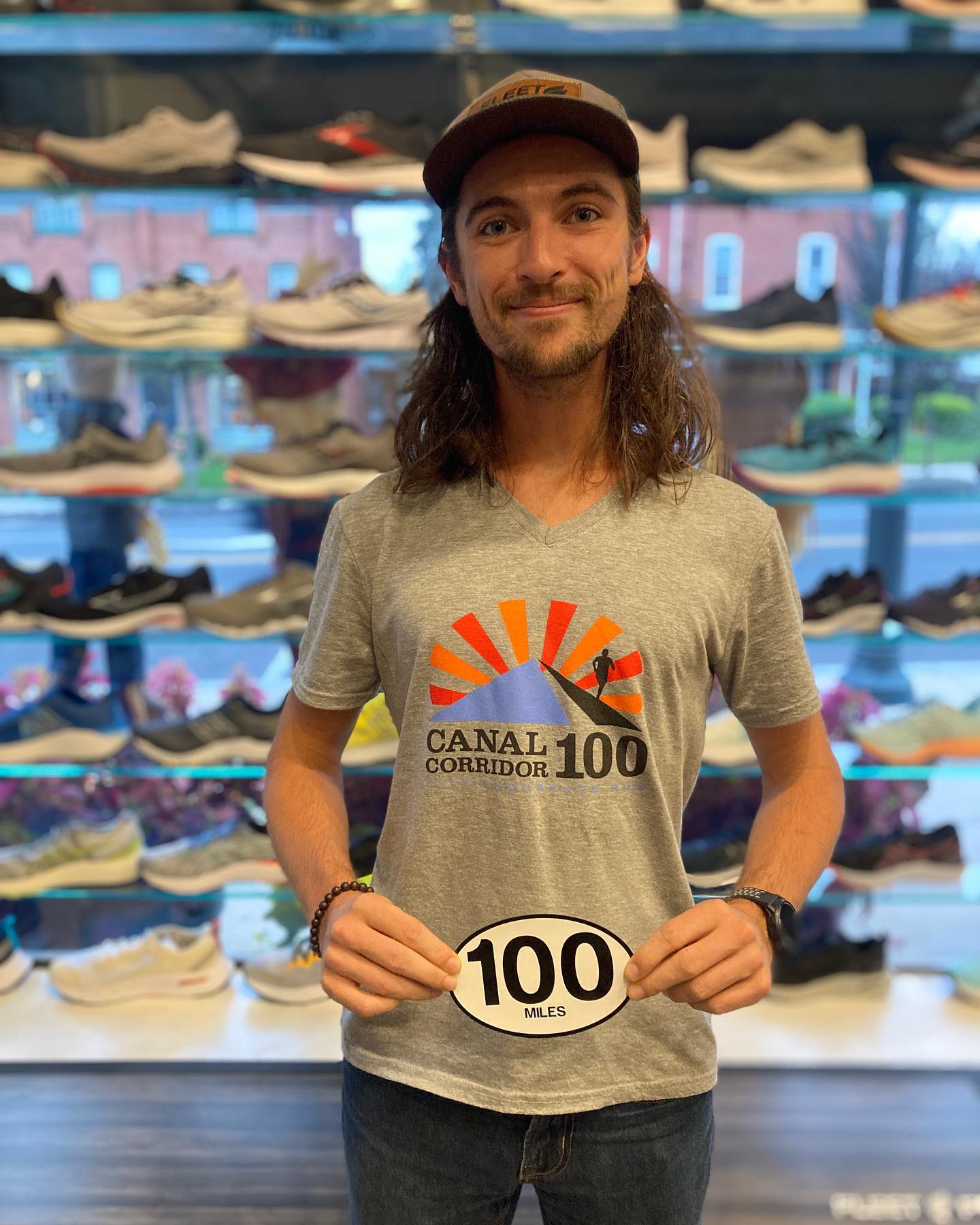 Thomas started his running career at La Salle Acadamy where his dad created and volunteered coached the school's (and county's) first CYO (Catholic Youth Organization) cross country team. He then ran competitvely for Berks Catholic High School and recreationally while persuing his BA in English at Millersville University.
Just before graduation, Thomas had the good fortune of discovering the sport of ultra running. It fascinated him that people could run for days on end and still be smiling and having a good time by the end of it. He was instantly hooked. He just recently completed one of his lifetime goals which was to complete a 100 mile race!
When he is not running or helping people find a comfortable pair of shoes, Thomas enjoys reading a book with his morning coffee, making music, and going to concerts with his friends and family.
---
Melissa Lin
Fit Specialist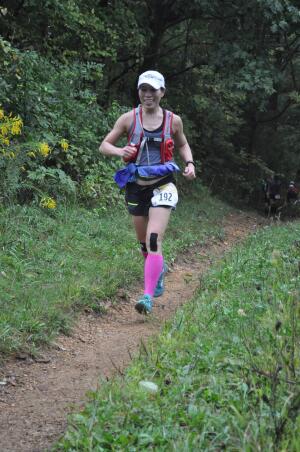 Melissa grew up extremely unathletic in Schenectady, NY. She went Penn State and gained 30 lbs. This inspired her to start running, which was the best thing that ever happened to her. She moved to Brooklyn for medical school and has been working at Reading Hospital since 1996. She retired from practicing medicine full time in 2017 and is delighted to have found a job at Fleet Feet. There is so much to learn to help people have the best running experience possible.
Melissa enjoys longer distances - marathon to 50k. She doesn't like to run fast. She prefers to meander, chat, and have snacks. She also enjoys traveling with her husband, John, and spending time with her family and cats, Robert and Melissa Jr.
---
Elizabeth Sweeney
Fit Specialist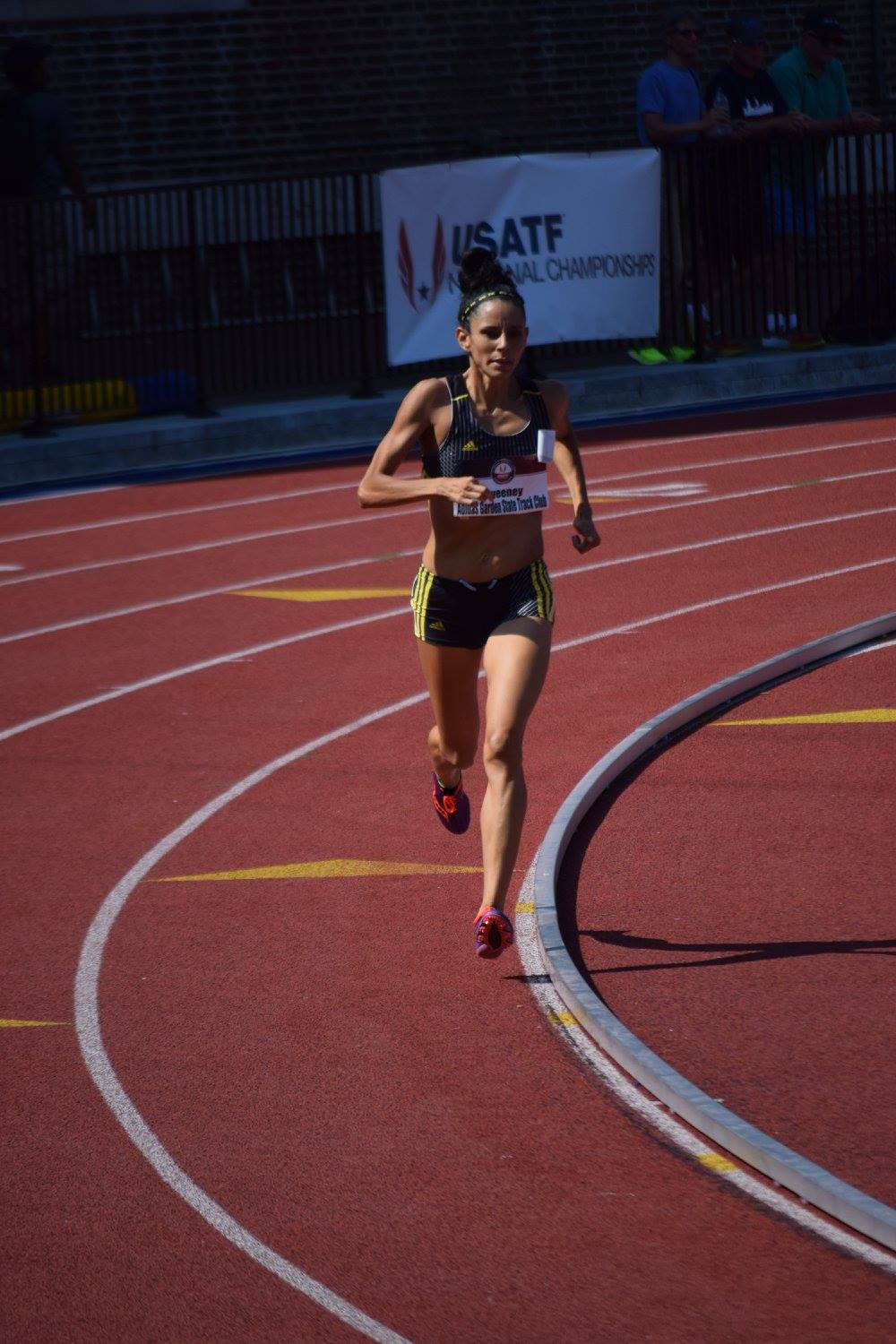 Liz fell in love with running at an early age. She started racing and competing at 8 years old for the Westbury Track Club in NY. Her family moved to Fort Washington, PA for her high school years where she attended Upper Dublin HS and gained even more passion for the sport. She focused on mid to long distance, became State Runner-Up in PA and received a Division 1 Scholarship to St. Joseph's University in Philadelphia. Upon graduation, Liz needed a break from running and competing and took 15 years off.
After having 2 kids and suffering the loss of their father, she was propelled back into the sport and joined the Garden State Track Club after winning several local races with minimal training. She went on to compete in the USATF Cross Country Nationals and Outdoor Nationals placing in each event and hitting times she never thought was possible at her age. She continued to race at a high level until she tore her meniscus and was forced to take time off from running. Now Liz is focused on cultivating the talent of her children in the sport she loves. Watching them achieve goals is much more fulfilling and she realizes that her new passion is helping others. Liz recently moved to the Reading area and found the Fleet Feet family. She now enjoys helping others with their outfitting needs and staying involved with the running community.