Meet Our Team
The Fleet Feet team is comprised of the most passionate individuals in running specialty. Their focus is centered around giving our guests the best possible experience time after time as well as ensuring you achieve your needs in lifestyle, fit, customer service, training and product.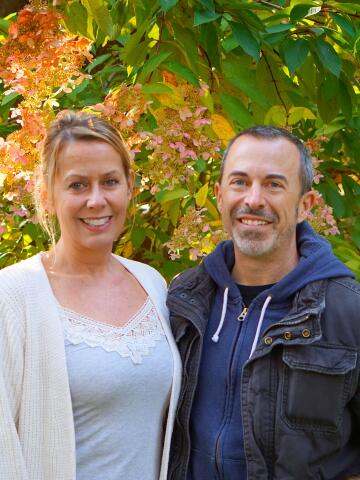 Dave & Lynn Wright, Owners
We are passionate about running, fitness and helping outfit the running community with the very best in footwear, accessories and apparel.  We've both been runners for decades.  Lynn is more of a recreational runner, and Dave is more competitive - having run every distance up to the marathon, including Boston, NYC and Chicago.  We are excited to be working with Westport and the surrounding communities to get people moving..... Running changes everything!
Ahad
Outfitter / Marketing Coordinator
Ahad's fitness journey started back in high school where he ran the 800m in track.  After high school he changed paths and started weightlifting which eventually moved to power lifting, which he still does competitively.  His belief is that with the proper guidance, the hard work, and a good pair of shoes anyone can obtain their fitness goals.
Amy
Outfitter / Coach
As a fitness professional and enthusiast for over 20 years, Amy has a knack for bringing a tremendous amount of passion and knowledge to our customers. Her energy packs a punch and don't let her petite size fool you.  Since 2010, Amy has led the fitness department for an all-girls sleep away camp, Romaca, where she oversees all fitness related activities including running, spinning, strength training and yoga for over 200 campers and manages a staff of 20.  Amy previously had a successful TV production career notably focusing on the fitness industry leading on-location productions for the hugely popular ESPN programs Body Shaping, Fitness Beach and Coed Training. Her TV career extended to LA where she helped produced reality-based programs appearing on MTV and also included Dick Wolf-produced Arrest & Trial and Unsolved Mysteries.  Westport has been Amy's home for nearly 12 years where she is the fitness and nutrition expert for her two teenage daughters, husband of 20 years and dog, Charlie. During the year, you can often find Amy at her home away from home, YogaSol in Norwalk.    Running became one of Amy's workouts of choice shortly after moving to Westport as a quick way to get a workout in when her girls were younger. Amy loves leading group runs at Camp Romaca and is excited to bring that same energy to Fleet Feet Westport!
Casimir Loxsom
Outfitter / Coach
Casimir started his running journey as a freshman at Wilbur Cross in New Haven, finding a talent and building a passion for the sport and community over the last fifteen years. He competed in the NCAA as a Nittany Lion and later as a professional for the Brooks Beasts in Seattle. His experience training competitively and studies at Penn State drove his interest in helping others reach their running goals. He is a USA Track & Field certified coach, and when he's not in Westport you can find him timing workouts at Greenwich High School.  Whatever reason you are running, there are things everyone can do to stay healthy and improve, and he is excited to share his knowledge with the local community at Fleet Feet!  
Elysse
Outfitter
Elysse is finishing up her senior year at Staples High School.  She's competed for the Staples varsity XC/track team for four years and has only fallen more in love with the sport.  While she's passionate and focused with her running, she don't hesitate to pause a run to pet a dog or challenge someone to a chocolate milk mile.  Try to beat her, you won't!  As a runner and former dancer of 12 years, she's had tons of experience with finding the right shoes and she's committed to doing the same for you. If you need new gear, running advice, or are curious on how to perfect your oatmeal - she's got your back!
Jared
Outfitter / Coach
Jared has been a runner ever since freshman year of high school, when he realized that he lacked the talent, coordination, and physical prowess necessary to effectively compete at virtually any other sport. Fortunately, this realization resulted in a lifelong love of putting one foot in front of the other at various speeds and over different terrains. In addition to running track and cross-country throughout college and completing several half-marathons, marathons, and multi-day relays, he has over 10 years of coaching experience, including a season as a mentor for a Girls on the Run team. A tutor and former teacher, Jared's role at Fleet Feet allows him to combine his dual passions for education and running. 
Lauren
Retail Experience Manager / Coach
Lauren is busy mom, dietitian grad student and passionate runner. After getting a degree in fine arts and teaching for a few years, she transitioned to the fitness world with health coaching. She soon realized how fun the running world was and is now on the way to becoming a certified run coach and sports dietitian. She likes checking adventures off the list: 5ks, half marathons, marathons, ultras, SwimRuns, and now a 70.3 IronMan! When coming to our runs, you'll likely see her with her Bob jogger and two little girls in tow.