Winter Warriors is cancelled for the 2020-2021 season due to the COVID-19 pandemic.
Fleet Feet West Lafayette will NOT have any in-person group workouts or events at this time. We feel it is our responsibility as a small business to continue to do the right thing so we can keep our team, friends, family, customers and community at large safe, and stop the spread of the Coronavirus. We sincerely appreciate your understanding and patience with us as we continue to navigate this difficult time.
We encourage you to stay active for your mental and physical health and look forward to the day when we can all run together again!!!
---
Keep FIT. Keep MOVING. Keep WARM!!!
We all know we're in for it... The chill of the weather, the warmth of the holidays, and the food of the upcoming festivities. All of this can take a toll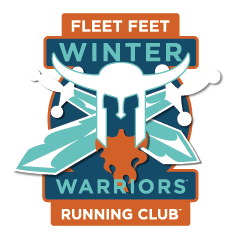 on our running abilities, and our waistlines! It's hard to get out the door on those cold, dark winter days, but maintaining your fitness is important if you hope to get that new PR at the Indy Mini, the Purdue Challenge, or any other spring race. We want to make your winter running more fun and exciting with friends and fitness-minded people like you! Join our Winter Warriors program - our super fun, FREE, social run program that will keep you motivated and active this winter. Maintain that hard earned fitness from the summer-fall, so you can get that new PR in the spring!
Worried about the cold? Winter Warriors starts and ends at Fleet Feet - A warm, dry place to start, a safe place to store your personal items, and a fun place to hang out with other runners!
PROGRAM DETAILS:
Dates: Winter Warriors starts Tuesday, TBD 2021 and ends Saturday, TBD 2022
Time: Tuesdays 6:00PM and Saturdays 9:00AM 
Location: Fleet Feet West Lafayette
Distances: Tuesdays - 2 and 4 mile routes / Saturdays - 3 and 6 mile routes
Cost: FREE
THE PROGRAM WORKS LIKE THIS: Simply come to one of our runs and you will automatically be entered in the program. Each time you participate in a group run, themed run, or event, you will earn 5 points. We'll track your points and based on the number of points you've earned at the end of the program, you could receive a prize. The one with the most points will be crowned the Fleet Feet West Lafayette Winter Warrior and get the coolest prize.
Occasionally the weather gets really really bad, like 2 feet of snow or below zero wind chill. In those cases, it is not safe to be outside (even for Winter Warriors) and we will cancel the group workout via the store Facebook page. Be sure to check out our weather policy to have the best understanding of when we cancel and when we tough it out! But remember, safety is ALWAYS our number one priority.
Let's all be Winter Warriors...so layer up, lace up your shoes, and let's have some fun this winter!!
Program Start: TBD, November 2021
Program Fee: FREE