JOIN US!
Meet up with friends, and make some new friends, at the Summer Social Run Series. The series will include Saturday morning runs and once-a-month Pub Runs with plenty of opportunities to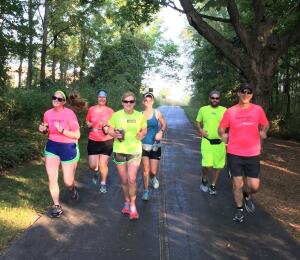 socialize during and after the runs. The run series is FREE and the format is simple. No need to pre-register, just show up! All paces and ability levels are welcome.
Join us every Saturday morning at 8:00 a.m. starting May 11 through July 27 for a 3 or 5-6 mile run. All Saturday runs, except for July 20th, will start and stop at Fleet Feet. After the run, make plans to meet up for coffee and/or breakfast with your running friends. What a perfect way to start the day! Note that on July 20th, we encourage everyone to participate in the Zoo Run Run 5K, therefore, we will not be running from the store on that day. The routes for each Saturday are posted below.
In addition to the Saturday morning runs, we are partnering with local pubs to host a run each month from May through September. Do group runs and beer really go together? Why, yes, they do! We think the best beer is the one shared with friends after a run. The 3 mile pub runs will be at 6:30 on Tuesday evenings in May, June and July, and Thursday evenings in August and September.
Pub Runs
Tuesday, May 21 and July 16 at 6:30 PM / Thursday, September 12 at 6:30 PM
Get ready for the first Pub Run of the series! The 3 mile run will start and end at Fleet Feet. After the run, we'll head over to Brokerage Brewing Co., just a block from the store. Hang out with your running buddies, enjoy some cold brew, and grab a bite to eat from The Guac Box. Friends don't let friends go thirsty at Brokerage!
Tuesday, June 25 at 6:30 PM
Join us at Sgt. Preston's for the June Pub Run! We'll meet at Preston's, 6 N. 2nd Street, Lafayette. The run will begin and end at the northwest corner of Columbia and 2nd Street, just north of Preston's. The out and back route will run along the Wabash Heritage Trail, so the distance can range between 2 and 4 miles, depending on where you choose to turn around. The 4 mile distance will run to the Happy Hollow Park playground and back. After the run, enjoy some cold drinks, great food and time spent with your running friends out on the patio. 4 Mile Out and Back Route
Earn Run Miles
You'll be rewarded every time you show up through our Miles Reward Program on the Fleet Feet app. Every Summer Social Run will be worth 5 Miles. Earn the Miles points by checking into the event on the Fleet Feet app. To earn extra Miles, link your Garmin or Strava account to the app and you will earn as many additional Miles as you run. You can use the Miles points you earn to get Fleet Feet swag and other sweepstakes offered on the app.
Saturday Morning Routes
May 11: 3 Mile / 6 Mile May 18: 3 Mile / 6 Mile May 25: 3 Mile / 6 Mile
June 1: 3 Mile / 5 Mile June 8: 3 Mile / 6 Mile June 15: 3 Mile / 6 Mile
June 22: 3 Mile / 6 Mile June 29: 3 Mile / 6 Mile July 6: 3 Mile / 5 Mile
July 13: 3 Mile / 6 Mile July 20: Zoo Run Run July 27: 3 Mile / 6 Mile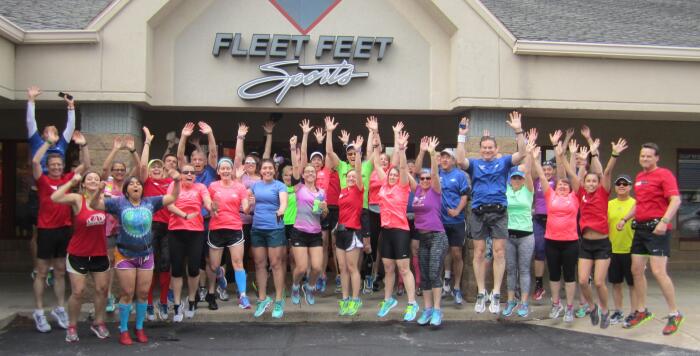 Check out our weather policy for when the run could be canceled.
Summer Social Run Series More Info »
Program Start: Saturday, May 11, 2019
Program Schedule: Every Saturday at 8:00 am through July 27 (except July 20)
Program Fee: FREE