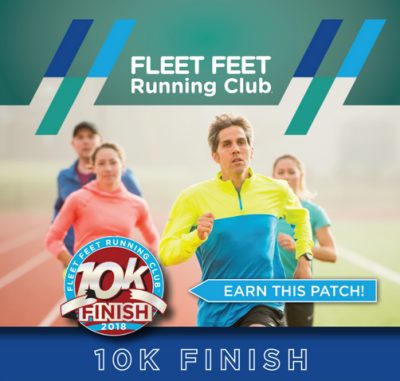 The 10K Finish Training Program is designed to encourage runners to meet their fitness and running goals beyond the 5K distance.   The 10-week program is structured for those who can already run three miles.  For those who want to run their first half marathon, this program is a great bridge between the 5K and half marathon distances.  Weekly group runs, coaches, mentors, and a new community of runners will keep you motivated to reach your personal goals!
Program includes:
10 week program
twice-weekly coached group runs
technical shirt
on site coaches and mentors 
team support and encouragement
educational clinics by our coaches and partners
free injury screening
post run refreshments
weekly training newsletter
special in-store discounts during program
post race party/celebration at the Fleet Feet Sports tent at the goal race site
2018 Summer Training Program
Goal Race:  Zoo Run Run 5K, July 21, 2018
Our 10-week 10K Finish summer training program is scheduled to begin Tuesday, May 15, 2018 at 6:30 PM.  Twice-weekly coached group sessions are held every Tuesday and Thursday at 6:30 PM from the store.   The final group run will be Thursday, July 19th.
Due to the lack of local 10K races in July-August, we recommend the BTN 10K, as an alternative goal race.  Held in Chicago at Soldiers Field on Sunday, August 12, this race is lots of fun for all Big Ten fans. 
To learn more about the training program, please join us at the store on May 8 at 7:15 PM for an informational meeting.
 
10K Finish Training Program - Summer 2018 More Info »
Program Start: May 15, 2018
Program Schedule: Twice Weekly, Tuesday and Thursday at 6:30pm
Program Fee: $75 (excludes race fee)