"Fleet are the feet, serene in the spirit of the runner." – Fleet Feet co-founder Sally Edwards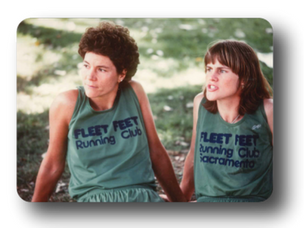 First created in 1976 by Fleet Feet co-founders Elizabeth Jansen (left) and Sally Edwards (right), Fleet Feet Running Club defined a group of people associated not by how fast or far they ran, but by the spirit and passion they displayed.
Flash forward to today...
Fleet Feet Running Club is back for everyone! Programs are:
led by passionate and knowledgeable coaches,
championed by dedicated and magnetic mentors,

guided

by the most relevant safety standards, and
fueled by the determination of its participants.
No matter where you are on your running journey, we have a group for you to run with.
---
Filter by Program Type: All | Beginners
Winter Warriors 2022-2023 More Info »
Program Start: Tuesday, November 15th
Program Schedule: Tuesdays at 6:00pm, Saturdays at 9:00am
Program Fee: $30 with shirt OR FREE without a shirt
2023 Fleet Feet Run Club More Info »
Program Start: Tuesday, February 14th, 2023
Program Fee: $150 for the entire 2023 calendar year