David Lindahl
My story started the morning of April 7th which was my daughter Jennifer's due date. When I awoke my wife informed me that Jennifer & Jason were at the hospital & had been since late the night before. On my way to work I decided I would stop by the hospital to check & see how they were doing. I ended up staying there the entire day in anticipation of Daddy's Little Girl having her first child. Just after midnight on April 8th & 28 hours of labor Gavin Ray was finally here.  As my wife & I sat out in the hall we heard the Dr. say you have a son to my daughter & Jason but what we didn't hear was
Gavin making any sounds. Immediately my heart sunk because I knew something was wrong. We continued to sit there for a couple of minutes thinking we would hear him start crying or positive words coming from the delivery room. That didn't happen & after two hours of trying to revive Gavin they said our Grandson had passed. In just a couple hours my emotions went from the highest of highs to the lowest of lows. The next few days were spent making arrangements & just spending time together comforting each other in this time of need. The one thing that bothers me most is I have always been able to fix or help my little girl with her problems but this time I couldn't. There was nothing I could do to bring Gavin back.   
Then on April 12th when I went to put on my suit that I had purchased six months earlier to wear for occasions such as funerals I found out it wouldn't fit. Here I was getting ready to bury my Grandson & I couldn't even wear the special suit that I wanted to wear. I didn't think my emotions could get any lower than they were on April 8th but I had reached rock bottom that morning. I was so disappointed in myself & I felt like I let Gavin down. That was when I knew I had to make some immediate life changes. I went & weighed myself & I weighed 225 pounds. At 5' 7" that would be considered obese or fat. I knew from that moment I didn't want to feel like that any longer so after we laid our Grandson to rest I started planning what I could do to change my life for the better.   
I started with my diet & decided I would start doing some crunches & push-ups. I sat a weight loss goal of 53 pounds. I wanted to get down to 172 pounds because that was a weight I always felt comfortable at in the past. My wife & I started eating healthier. Cutting back on our portions & eating a little later in the evening. I was always a stress eater & the last few years we had a lot of stress in our lives. By eating later I wouldn't be craving my evening snack while sitting watching TV. It would be nothing for me to eat a half a bag of Doritos or Hostess Donettes while doing this. My snacks did change to bananas, grapes & apples though. By cutting out the late night snacks & watching what we ate sure made a difference. I didn't count calories & read labels etc. As the pounds started to drop I felt like I needed to do more exercising. After dieting for a little over a month I decided it was time to start walking.. I also knew that walking would be good for my health since I have six stents that were placed in my heart in 2009. After walking a few times with my wife I needed more. So on June 1st I decided to go for a jog of 3 miles. This was an old course of mine that I use to do back in the early 2000's. I was an avid runner back then but got away from running after surgery from running back in 2004. My wife told me then that she knew I was going to start running again. She could see the passion was back. I continued to walk with her the month of June but as my running miles increased my walking miles started decreasing.   
As July approached I was logging quite a few miles. So on July 16 I signed up to do the Indianapolis Monumental Half Marathon in Gavin's memory.  As my training increased my weight continued to drop. By the end of July I decided to run a 5K. My goal was 25:00 & I ran 24:59. I started discussing my
 running miles with a friend of mine & she found an 18 week marathon training program & she pointed out I was pretty well on the same schedule. That is when I told myself I would continue to follow that program although I was signed up to do the half. I would use my rest day or cross training days to continue to walk with my wife. I finally realized that it had been 10 years since I ran my last & only other marathon so on Sept 16 I changed my registration to do the full marathon. I thought there was no better way to honor my Grandson's passing. I ended up running a half marathon at the end of September & set a goal of 1:55. I ran it in 1:54.19 which was less than 2 minutes off my PR for that distance. Everything was falling into place up until the beginning of October. That is when all of my miles caught up with me. I started encountering some serious leg pain which prompted an Orthopedic Dr.'s. visit that didn't go well. X-rays showed the possibility of two small stress fractures in my left leg. The Dr. wanted to do further tests to confirm his findings but I told him I was going to complete this race whether it showed I had stress fractures or not. I explained my reasoning for it & even though he didn't recommend running it he understood. He ended up giving me a cortisone injection to hopefully help with the pain. I took a week off from training but continued to run the rest of the month with some pain at times.   
The good news was by October 12th I had lost 58 pounds which was 5 more than I originally planned.  I was now down to 167. By race day I weighed in at 165. Sixty pounds less than what I weighed on April 12th. The same weight I was in 2004 when I ran my other marathon. I had logged 773 walking / running miles since June 1st. I felt like I was more prepared for this race than I was back then & had greater motivation for running this one.   
On November 1st while standing there in the cold at the starting line I was having a hard time holding back the tears because of all the different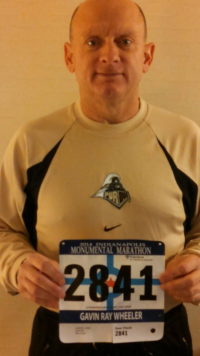 emotions I was having & thinking about how far I had come since April 12th when I started my journey. I was lined up with the 4:15 pace group led by Lisa Knestrict who was an excellent pacer & just a great person in general. I never got the chance to thank her due to the fact that I ended up encountering some severe leg pain that started at mile 18. She had me on pace up to that point but the pain became to much & I could no longer keep up. Thank you Lisa! When I first started falling behind I was disappointed in myself but then as I walked & slowly jogged the next 8.2 miles I started looking at the sky & the surroundings & that is when I realized this is what the race was suppose to be about. Enjoying it & not worrying about my finish time. I ended up running 4:44.40 which I'm very happy with because back on June 1st I couldn't even jog a full 3 miles. I couldn't have done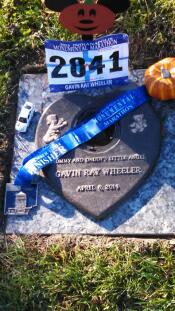 all of this in such a short time without using Gavin's passing as my motivation. What I'm trying to say here is even though I would do anything to bring him back. I can't so I turned a negative into a positive by changing my living habits. My family will never have the opportunity to see so many firsts with Gavin & to find out so many things like if he would have enjoyed running. I can tell you one thing after this race " My Grandson is a Marathoner". He may not have been there with me physically but he sure was spiritually. He was there with his Grandpa each & every step of the 26.2 miles. Without him with me today I would have dropped out after mile 18 but he kept me going all the way to the Finish. I hope I made you proud. I love & miss you Little Buddy!!   
First of all, I'm self-nominating myself on the recommendation of Greg the owner of the West Lafayette Fleet Feet.   Last year at the Monumental Marathon I donated all my past medals from the early 2000's to a group called Medals4Mettles. This is an organization that gives medals to children in hospital's & other facilities that are sick or even dying. Another way I donate is to give my old running shoes to races that are donating them to charities for the needy. The thing I'm most proud of though, is I am running the Chicago Marathon on October 11th for Ronald McDonald House Charities & have currently raised over $2,450 for this great charity. So many people have helped our family over the last 17 months, that it only felt right to raise funds for other families so they can stay close to their children when they need it most.