It's a daily goal and life-long aspiration.
It's a physical act and an emotional journey.
It's a foundation of health and a pinnacle achievement.
It takes time.  It gives you years.
It moves you away and brings you closer.
It is empowering. It is humbling.
It creates interaction.  It enables solitude.
It tears down insecurities. It builds communities.
It takes a lot, but gives so much.
It is The Power of Running!
You're invited to join us as we celebrate all that The Power of Running For Good, For Fun, Together and To Inspire does in our community!
The Power of Running - For Good:
The concept is easy.  We want to do good for our community through the items you purchase in our store.  Here is how we'll do that:  Every weekend


in August and September (9 weekends), in partnership with the brands below, a portion of the sale of designated products will be collected into a fund.  At the end of the nine weeks, we will donate that entire amount  to the Tippecanoe County Girls on the Run.  Results:  Thank you for helping us raise $230 for Girls on the Run  
The Power of Running - For Fun:
We're going to take running back to its youth, when it wasn't about the miles, the pace, or the training - it was just about RECESS and having

FUN! Join us at the Cumberland Park north shelter on Thursday, September 3 at 7:00 pm for the "Recess Run".  We'll be running a variety of fun relay races at this team oriented event.  Cool off with some ice cream treats after the run.  Results:  Relay teams competed and we had a blast!  Lots of laughter, cheering and fun was had by all!

The Power of Running - Together:
If you do one event, make it the Brooks Power Hour on Saturday, September 12 from 8:00-9:00am.  We're challenging Fleet Feet stores across the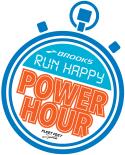 nation to see which store can rack up the most miles on foot in one hour.  Brooks will be on-hand to make sure we Run Happy with treats and great prizes (like free shoes for a few lucky participants).  Serious bragging rights are up for grabs among the FF Nation so help us come out on top!  Let's show 'em what West Lafayette and Lafayette's got!  Results:  75 runners logged 406 miles! 
The Power of Running - To Inspire
We are teaming up with Mizuno to honor those who inspire us.  Mizuno will recognize five local runners at every Fleet Feet Sports location with a pair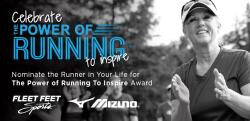 of Mizuno Wave Inspire 12 shoes, an in-store awards celebration, online story and photo gallery, and one runner entry into a national contest.
Visit FleetFeetSports.com/ThePowerofRunning to submit your nomination. The nomination period ends September 18 at 11:59 p.m. EST.  We will announce the five local runners on our website and Facebook page each day starting October 5. The final runner will be announced on October 9 and this nominee will be submitted to the national contest.  Results:  Power of Running Award Winners
Fleet Feet Sports and Mizuno will select five national award recipients from all Fleet Feet Sports stores. Each of those five recipients will receive $500 cash from Mizuno to continue inspirational efforts.
The Power of Running - For Good:  Give Back Schedule