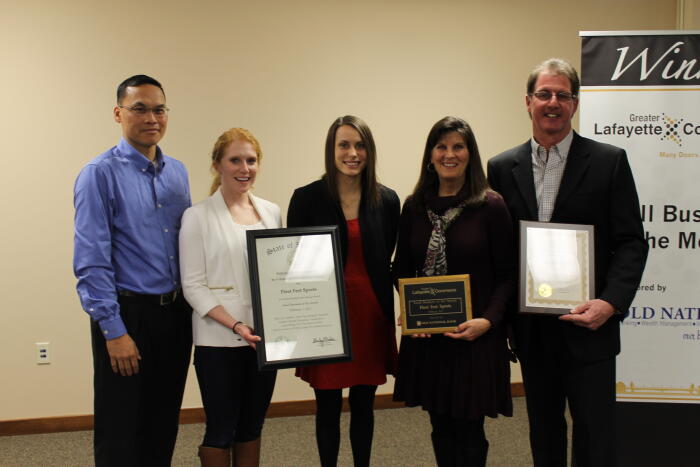 Cory Sengsanith, Tiffany Krause, Alisha Tanner, Dawn Lehman, Greg Lehman
We are honored to be named the Greater Lafayette Commerce Small Business of the Month for February 2017!   We are fortunate to be blessed with a passionate Fleet Feet team who takes pride in serving the Greater Lafayette community of runners, walkers, and fitness enthusiasts!  We thank the Greater Lafayette Commerce and Old National Bank for recognizing the efforts of small businesses and the impact we make in our community.   
Small Business of the Month Award Ceremony Pictures - February 1, 2017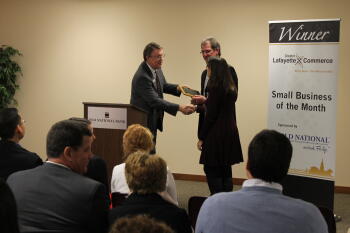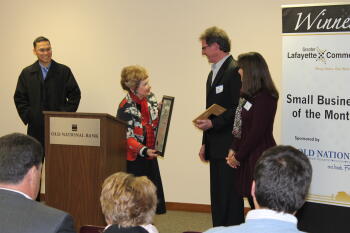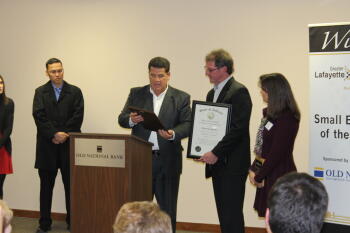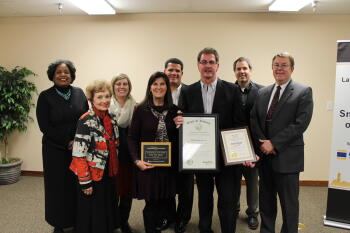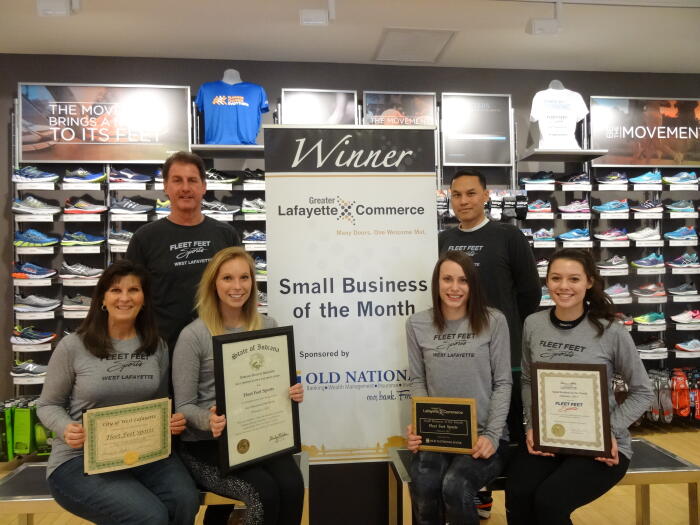 Greater Lafayette Commerce Newsletter - February 2017 Small Business of the Month
Written by:  Kathy Mayer                        January 30, 2017
Fleet Feet Sports Named Small Business of the Month
Hobby, passion, love of people and commitment to community all come together at Fleet Feet Sports, a West Lafayette retailer, running training site, and all around let's-get-moving franchise opened five years ago by Greg and Dawn Lehman. 
For the business's success and community involvement, Fleet Feet Sports—in University Square at 500 Sagamore Parkway West, Suite 3-E (765/588-6222, www.fleetfeetwestlafayette.com) – has been named February Small Business of the Month by Greater Lafayette Commerce.
More Than a Retail Store
"We share two passions: one for being active, and one for helping others achieve their fitness goals," Greg Lehman says. "We are both runners. We do cycling as well, and Dawn has begun to do sprint triathlons." 
The store stocks and sells running and walking shoes, fitness apparel and accessories. It also hosts its own races and supports dozens more each year.
"Fleet Feet is where people come to be inspired, to be fit for products that best meet their needs, to learn about training programs and to get support and assistance," he says. 
Fitness Starts with the Right Shoe 
Making sure the shoe fits—and it's the right style for the athletic challenge ahead—is Fleet Feet's hallmark. 
"Running and walking are different, and they require different stability and support," Greg explains. "We evaluate the amount of support that would appropriately fit customers' feet and the height of the arch, the amount of over-pronation, which is the inward rotation of the foot, and we match them up with one of three categories of shoes: neutral, stability or motion control.
"People come to us because they know we can help determine what the best shoe will be," he says.
Lehmans Met at Purdue
The husband-and-wife team met while Purdue students. Dawn, from Noblesville, was on the pep squad; Greg, from Lima,Ohio, played football. They married in 1981, the year he earned his bachelor's. Dawn graduated one year later, and in 1983, Greg picked up his master's in physiology.
Greg spent 30 years training Purdue athletes as assistant director of strength and conditioning. At Fleet Feet, he oversees operations, including hiring, scheduling and ordering shoes and accessories.
Dawn works full time at Evonik Tippecanoe Labs and devotes her spare time to Fleet Feet Sports, ordering apparel, managing social media and planning events.
Right Business, Right Town
Opening a business locally has been a perfect fit for them. "It's been our home for close to 40 years," Greg says. "We enjoy living here and the people we know and meet. Opening Fleet Feet has been right from day one."
For Dawn, the positives of business ownership have been abundant, from the training programs to building relationships, store activities and the inspiration she gets from the community and customers.  
She especially likes the people she meets in training. "We spend 10 to 12 weeks together, twice a week and we get to see them cross the finish line of their goal race and see the big  smiles on their faces." 
Her joy in new relationships extends to customers and the store's racing team, both the people she comes to know and the connections she sees others form. "Running is very social," she says. 
An unanticipated perk has been "how much the community and our customers inspire us," she says. "There are so many stories of what people have been through and how they've used running to overcome issues. We see how hard they work at their goals."
Giving Time, Product, Financial Support 
Much of their community involvement is running and race related. "We have provided financial support, in-kind support, product donations and event management and assistance for more than 20 races each year," Greg says. 
Some who have benefited from their giving: Almost Home Humane Society, Columbian Park Zoo, Lafayette Urban Ministry, Mental Health America of Tippecanoe, National Alliance on Mental Health and local schools. 
Fleet Feet's biggest annual event, which the two call "our proudest community contribution," is Race Against Hunger 5K, a family walk/run at Cumberland Park on Thanksgiving morning. Instead of an entry fee, participants bring food and/or cash donations for Food Finders Food Bank. In the first five years of the race, contributions that came in amounted to the equivalent of some 55,514 meals. 
"We are blessed to be able to provide for such an event and the response it has initiated in our community," Greg says. 
Dawn adds, "Seeing all the people in the community come in and bring food is very inspirational."