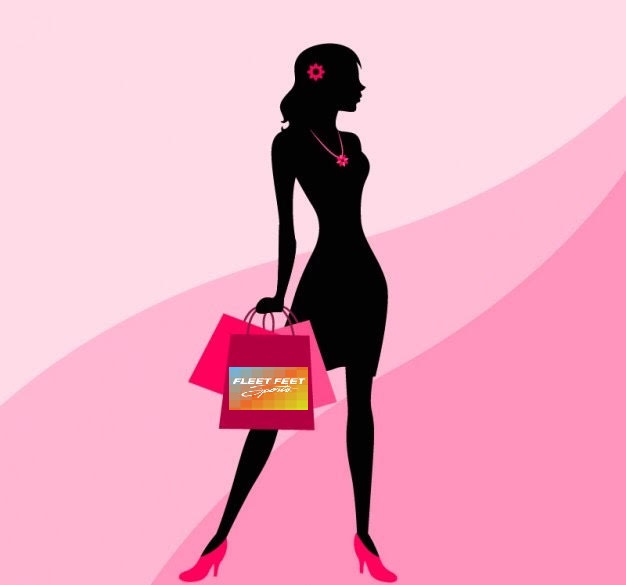 You're invited to a girls' night filled with friends, fun, and wine! In support of Breast Cancer Awareness Month, proceeds will benefit the YWCA Women's Cancer Program. It's a great night to pamper yourself and mix and mingle with other women of Greater Lafayette, all while supporting this great program. There will be giveaways, a silent auction, sales, pampering, chocolate, and did we mention wine?! Come celebrate a night that's just for YOU! 
WHO: Sorry guys, this is a women's only event! 
WHEN: Thursday, October 27, 7:00 - 8:30 PM 
WHERE: Fleet Feet Sports, 500 Sagamore Parkway West, West Lafayette, IN 
WHY: To celebrate YOU & support YWCA! 
ACTIVITIES: 
A silent auction with many awesome items, with all proceeds benefiting the YWCA Women's Cancer Program (see below for a full list)
20% to 30% OFF sport bras
10% OFF entire store (even sale items!!) 
Drawings for free giveaways
Massages
Makeovers & makeup tutorials 
Hand & nail care 
Desserts/wine/snacks/drinks
Goody Bags to the first at the door
Five bags will have a $20 store gift card!
and more!!!!!
AGENDA: 
7:00 PM - Doors open. Giveaways to the first in the door! 
7:00 - 8:30 PM - Pampering, activities, food & fun! 
7:00 - 8:15 PM - Silent Auction 
7:15 - Welcome remarks by YWCA
8:00 - Women's Cancer Program Overview by YWCA 
8:15 PM - Silent Auction winners announced 
SILENT AUCTION ITEMS 
A BIG THANK YOU to all the businesses for supporting the YWCA through this event!!! We truly appreciate your support! 
This list continues to grow! Check back for additional updates! 
One month of unlimited barre, yoga, TKO, dance, and cardio+core - courtesy of Tenley Studio 
Four Express Personal Training Sessions - courtesy of Metamorphic Fitness 
One month of small group personal training sessions- courtesy of Parkwest Fitness 
Yoga mat and yoga block - courtesy of Nike 
Running shirt & tights - courtesy of Brooks 
Sports bra - courtesy of Brooks 
Running shoes - courtesy of Brooks 
Running apparel - courtesy of Saucony 
Long-sleeve base layer - courtesy of Craft 
Runner safety package, with reflective vest, lights, and handheld water bottle - courtesy of Amphipod 
Run Fast. Eat Slow cookbook by Shalane Flanagan and Elyse Kopecky - courtesy of Rodale Publishing 
Spibelt - courtesy of SPI Belt
Giftbox with tea, coffee mug, and chocolate bar - courtesy of Greyhouse Coffee 
Bottle of Wine - courtesy of Village Bottle Shoppe 
Scentsy Warmer and fragrance bars- courtesy of Scentsy consultant Kathryn Foland 
Water bottle, insulated hydration belt, lock laces, & running belt- courtesy of Nathan
Nail wraps, mini heater, & application kit - courtesy of Jamberry consultant Sarah May
Thirty-One 'Tons of Funds' Purse/Wallet - courtesy of Thirty-One consultant Jolie McCartney
The proceeds from this event will benefit the YWCA Women's Cancer Program. Like us on Facebook for updates on this event!! There is no pre-registration. We encourage you to wear something pink to support breast cancer awareness. We hope to see you on Thursday, October 27th for a fun filled night to benefit the Women's Cancer Program!