USA Track & Field Indiana 
Hoosier Cross Country Grand Prix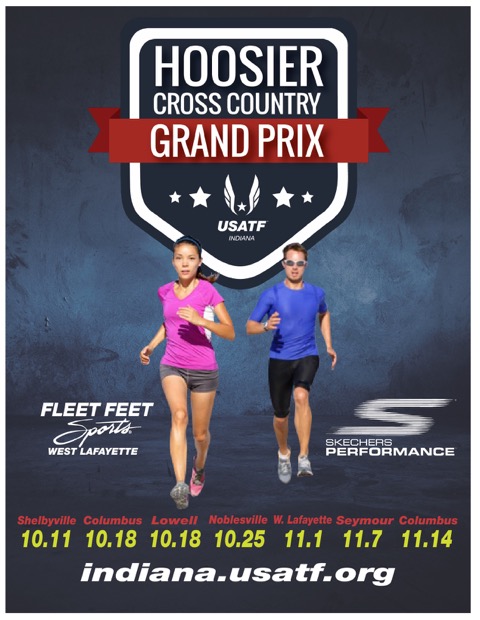 USATF Indiana is proud to present the second annual Hoosier Cross Country Grand Prix. The series consists of seven events across Indiana open to runners of ALL ages and abilities. The cross country distances range from 2K to 4K, depending upon age division. This is a great opportunity for elementary to high school aged runners to extend their season, and a terrific chance for adults to compete in cross country! 
West Lafayette will be hosting the 5th leg of the series on November 1st. The race will take place at the Purdue University cross country course, located just off of McCormick Rd. 
West Lafayette Classic
DATE: Sunday November 1, 2015, 2:00 PM
LOCATION: Purdue University, West Lafayette, IN
ON-LINE ENTRY DEADLINE: 10/29/2015 
RACE DAY REGISTRATION:  12:30 - 1:30 PM
Click here for more information, course maps, and to register for the West Lafayette Classic. 
Registration is open to both USATF members and non-members. USATF members will earn Grand Prix points at each of the meets. Points accumulate towards a year-end Grand Prix score and placing. Click here to learn more about the Grand Prix points and scoring process.
GRAND PRIX SCHEDULE: 
October 11-Shelbyville Classic 
October 18-Columbus Classic 
October 18-Lowell Classic 
October 25-Noblesville Classic
November 1-West Lafayette Classic 
November 7-Seymour Classic 
November 14-Indiana Association Champs 
DIVISIONS: 
Youth 
Open (ages 19-39) 
Masters (ages 40+)